Jointec Optima Pro Aqua Bike
Jointec Optima Pro Aqua Bike
Product Code: jointec-optima-pro-aqua-bike
Price:
$2,499.00

Need Expert Advice? Our friendly and knowledgeable staff is ready to help you. Call us now at 1-800-875-9145!
Jointec Optima Pro Aqua Bike
Jointec Optima Aqua Bike is the look at the future of mainstream conditioning. Adjustability, Customization, Variability and Personalizaton are a few words that describe the experience of using the Jointec Optima Pro Aqua Bike. Built for daily use, Jointec's original Aqua Bike combines the benefits of using a stationary bike with the comforts of water exercise! The Aqua Bike can be adjusted to fit a variety of workout needs. The height of the Aqua Bike can be altered depending on the depth of the pool (suitable for use in 1.1-1.5m [3'8"-4'11"] of water) and the height of the user (best for people who are 1.5-2m [4'11"-6'7"] tall). The seat of the Aqua Bike can also be adjusted forward or backward to suit the user's height. The Jointec Optima Pro Aqua Bike offers water exercise experience like no other.
Four small propeller-like vessels attached to the pedaling mechanism create resistance of varying levels. These vessels catch water as the user pedals, calling on the user's endurance and working muscles throughout the body. Each vessel can be adjusted to create the optimal level of resistance for each user.
Call 1-800-875-9145 to chat with one of our fitness advisors with any questions you may have about the Jointec Optima Pro Aqua Bike. Don't wait to take you workouts to a new level order your Jointec Optima Pro Aqua Bike from FitnessZone.com today!

Therapeutic
Aquabiking is ideal for rehabilitation centers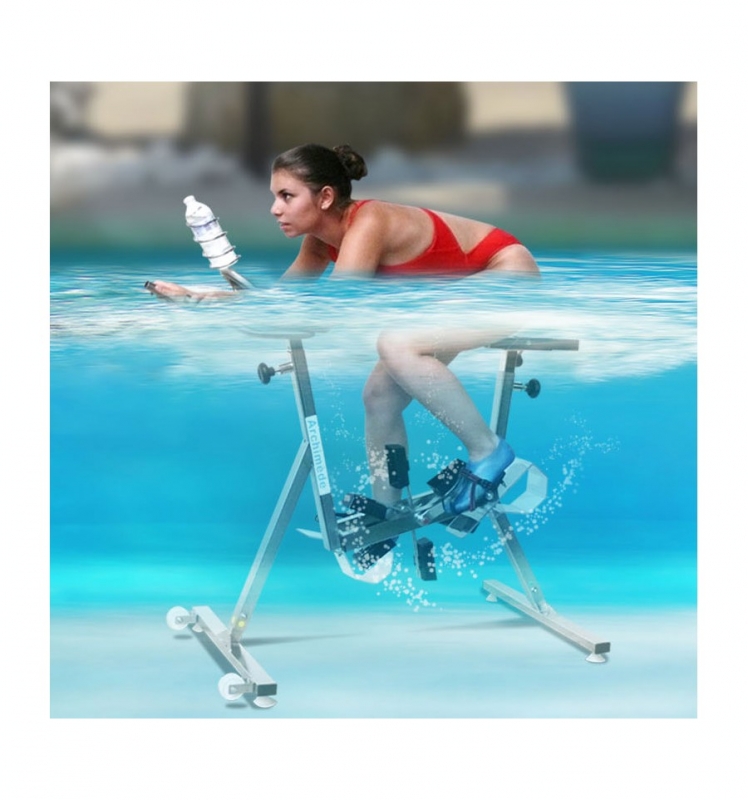 Jointec Optima Pro Aqua Bike - Settings in the pool water

Aquabike with telescopic legs according to the depth of the water (3ft 3in to 6ft 2in) (see references)
Telescopic seat and handlebar adjusted according the person size (4ft 11in to 6ft 6in)


Jointec Optima Pro Aqua Bike - Double specific system




4 adjustable pales which bring variable resistance: according to their orientation, they cut the water with a minimum resistance, or they hurt it as a millwheel with a medium or maximum resistance


2 polycarbonate flaps under the pedals.


They work as an inertia wheel with a fluid pedaling



Jointec Optima Pro Aqua Bike - Seat and
handlebar

Set up sliding on horizontal bars in order to get the right position
Why Aqua Fitness?
Aqua fitness has many benefits over traditional, open-air exercise. When you exercise in water, your body only weighs 1/5 of its weight in the open air. This weightlessness combined with the hydrodynamic resistance of the water allows for easy, painless pedaling and eliminates unnecessary stress on joints. Hydrostatic pressure from the water increases circulation during exercise, which helps prevent lactic acid build-up in muscles, leading to a reduced sense of fatigue after your workout. Aqua fitness allows you to get in a great workout without the pain and discomfort you get from traditional, open-air workouts.
There are also a number of health benefits associated with Aquafitness. First of all, when you use an aqua bike or aqua elliptical, you can boost your metabolism and burn up to 800 calories in just one hour! Aqua biking can also reduce the appearance of cellulite. By pedaling underwater, your movement creates a constant whirlpool massage along your legs and helps to break down the "orange peel" appearance of cellulite. This underwater massage also stimulates and increases blood flow in the legs. Finally, aqua exercise causes less stress on the body's joints than traditional open-air exercise, resulting in a pain-free workout!
Furthermore, aquabiking has many therapeutic benefits for the mind and body. Our machines are often used in rehabilitation centers and are popular among European athletic facilities.


Jointec Optima Pro Aqua Bike Features
Strap-on pedals hold feet in place during workout (water shoes recommended)

Stainless steel frame coated in thermoplastic to prevent corrosion

Suction cups on base hold the bike in place during use

Can be used in both chlorinated and saltwater pools

Wheels attached to front end make the Aqua Bike easy to move when not in use
---
What are the benefits of aqua biking?

Burn up to 800 calories per hour
Boost your metabolism
Swirling water generated from pedaling massages legs and increases blood flow
Less stress on joints than traditional stationary biking

Adjustable Aquabike Features & Pedal Resistance Mechanisms
---
3 Year Warranty
Order your Jointec Optima Pro Aqua Bike from FitnessZone.com today!
Customer Ratings & Reviews
Be the first to rate this item!