Jointec Optima XL Aqua Bike
Jointec Optima XL Aqua Bike
Product Code: jointec-optima-xl-acqua-bike
Price:
$2,899.00

Need Expert Advice? Our friendly and knowledgeable staff is ready to help you. Call us now at 1-800-875-9145!
Jointec Optima XL Aqua Bike
The Jointec Optima Aqua Bike XL combines the advantages of the original Aqua Bike with special features to make the pool biking experience more comfortable for larger individuals. The Jointec Optima Aqua Bike XL comes equipped with a wider, rectangular seat (58cm X 23cm [22.83 X 9.06 in]) and wide-set handlebars. It can accommodate persons weighing up to 200kg (440.9 lbs). The Jointec Optima Aqua Bike XL has one set resistance, so the difficulty level of the workout is determined by effort exerted by the user.
The Jointec Optima Aqua Bike XL is also adjustable based on the water level of the pool and the individual's height. The handle bars and seat can be moved up and down to heights suitable for pools that are 1.1-1.5m (~3.5-4 ft.) deep and individuals who are 1.5-2m (~4′-6'7″) tall. The seat of the Aqua Bike can also be moved forward or pushed back depending on the user's height.
Call 1-800-875-9145 to chat with one of our fitness advisors with any questions you may have about the Jointec Optima Aqua Bike XL. Don't wait to take your workouts to a new level order your Jointec Optima Aqua Bike XL from FitnessZone.com today!
---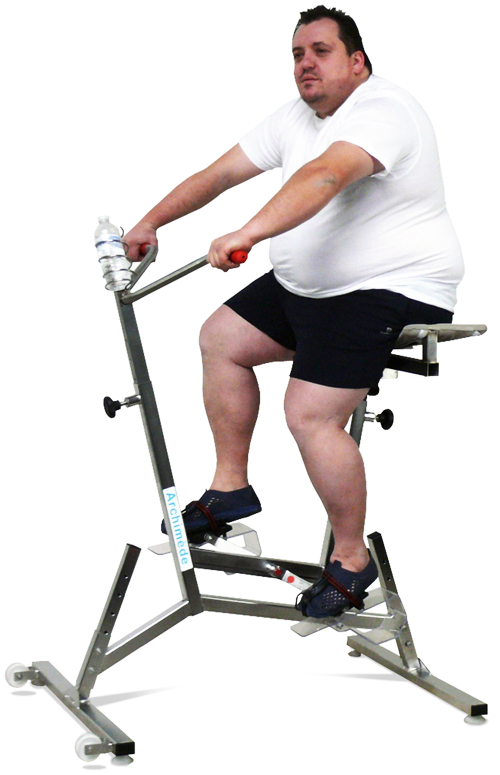 What are the benefits of aqua biking?
Burn up to 800 calories per hour
Boost your metabolism
Swirling water generated from pedaling massages legs and increases blood flow
Less stress on joints than traditional stationary biking
---
| | |
| --- | --- |
| The Jointec Aquabike XL has Wider & Adjustable Seats | |
Why Acqua Fitness?
Aqua fitness has many benefits over traditional, open-air exercise. When you exercise in water, your body only weighs 1/5 of its weight in the open air. This weightlessness combined with the hydrodynamic resistance of the water allows for easy, painless pedaling and eliminates unnecessary stress on joints. Hydrostatic pressure from the water increases circulation during exercise, which helps prevent lactic acid build-up in muscles, leading to a reduced sense of fatigue after your workout. Aqua fitness allows you to get in a great workout without the pain and discomfort you get from traditional, open-air workouts.
There are also a number of health benefits associated with Aquafitness. First of all, when you use an aqua bike or aqua elliptical, you can boost your metabolism and burn up to 800 calories in just one hour! Aqua biking can also reduce the appearance of cellulite. By pedaling underwater, your movement creates a constant whirlpool massage along your legs and helps to break down the "orange peel" appearance of cellulite. This underwater massage also stimulates and increases blood flow in the legs. Finally, aqua exercise causes less stress on the body's joints than traditional open-air exercise, resulting in a pain-free workout!
Furthermore, aquabiking has many therapeutic benefits for the mind and body. Our machines are often used in rehabilitation centers and are popular among European athletic facilities.
Jointec Optima XL Aqua Bike Features
intec Optima Pro Aqua Bike Features
Strap-on pedals hold feet in place during workout (water shoes recommended)
Stainless steel frame coated in thermoplastic to prevent corrosion
Suction cups on base hold the bike in place during use
Can be used in both chlorinated and saltwater pools
Wheels attached to front end make the Aqua Bike easy to move when not in use
3 Year Warranty
Order your Jointec Optima XL Aqua Bike from FitnessZone.com today!
Customer Ratings & Reviews
Be the first to rate this item!