Kettler Coach E Indoor Rower
Kettler Coach E Indoor Rower
Product Code: kettler-coach-e-indoor-rower
Price:
$1,399.00
Need Expert Advice? Our friendly and knowledgeable staff is ready to help you. Call us now at 1-800-875-9145!
Kettler Coach E Indoor Rower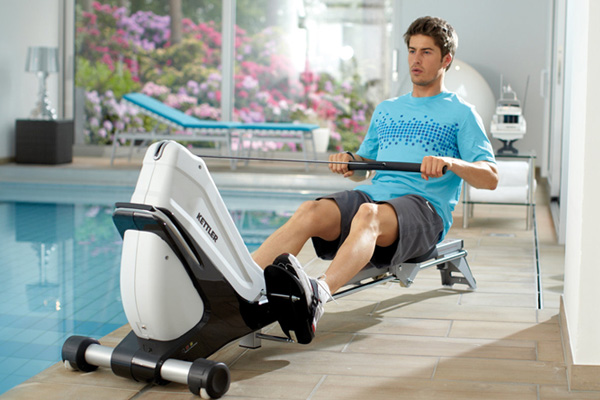 Rowing provides a wide range of motion and effective cardiovascular exercise
Kettler has always remained true to the "Made in Germany" quality principle and it is still the central pillar of the company's management philosophy. This means that even after 50 years of trading all over the world, most of the factories, and particularly the most important ones, are still in Germany.
The Kettler Coach E Rower offers the ergonomics, mechanics, and electronics for an optimal performance for users of all fitness and skill levels. The Kettler Coach E features a smooth eddy-current magnetic resistance system that matches the energy in the drive stroke with the force of resistance automatically. This precise calibration sets the Kettler Coach E apart from just about any other rowers on the market--creating a truly customized workout. Beyond rowing, the Kettler Coach E Indoor Rower comes with a Quick Attach backboard and front footplate that combine to provide 16 additional training exercises. To help you develop, track, and meet your fitness goals, the Coach E is equipped with a Siemens LCD high resolution computer display. The computer provides workout data on time, distance, energy, strokes, pulse rate, and frequency and offers 12 programs that include two heart rate (HR) programs. The Coach E also comes Polar T34 wireless chest strap and a built-in HR receiver that work with the computer to monitor your heart rate during your workout and your recovery.

Decades of making quality rowers have culminated with the development of the new Kettler Coach E Indoor Rower. The Kettler Coach E Indoor Rower combines ergonomics, mechanics and electronics to produce maximum benefits suitable for everyone - beginners to experts. The smooth eddy-current magnetic resistance system of the Coach E rower works on the principal that the amount of energy in the drive stroke is automatically matched with equal resistance.
Rowing is one of the best full-body workouts because it challenges every major muscle group of the body. KETTLER Rowing machines help to strengthen and tone the muscular system while at the same time providing an excellent cardiovascular workout. Rowing machines also offer a well-balanced form of stamina training which improves the performance of both the circulatory and respiratory system. Rowing also improves and maintains flexibility and is impact free. Rowers also provide an excellent way to lose weight, burn calories and rehabilitate muscles, ligaments and joints while also helping to relieve stress. Whether you are a novice or personal trainer, young or old, KETTLER rowers offer the perfect workout suitable for all ages and skill levels.
Rowing Is The New Spinning
Die-hard spinners are jumping off their bikes and onto … rowing machines
BENEFITS OF USING THE KETTLER COACH E INDOOR ROWER:

With each stroke most every part of the body is used which is why rowing machines just might be the most effective exercise ever. Regular rowing workouts are an ideal way to work toward maximum physical fitness. Using a rowing machine can help to build and tone your muscles, strengthen your cardiovascular function and increase your stamina without pounding the pavement on a grueling, long-distance run. Rowing machines are particularly effective for older fitness enthusiasts because they place no strain on your back and joints.
Weight Loss
Rowing with the Kettler Coach E Indoor Rower is the perfect activity to keep in shape, lose weight, cross-train for another sport, compete, or recover from an injury or surgery. Anyone can row at any age despite specific physical challenges because rowing is a low-impact activity. A study has shown that "Competitive rowers expended almost twice the number of calories on a 2,000-meter course as a runner in a 3,000-meter steeplechase."1 However, since rowing is low impact, you will not experience the same wear and tear on your body that you would if you were a runner. Plus, you build strength in your upper body and core.
Cardiovascular Benefits
Using a rowing machine is an endurance exercise that increases heart function and uses carbohydrates to provide the energy required to exercise. Keeping the rowing machine tension at a low level allows you to maintain a high rate of speed with little resistance in order to reach and maintain an aerobic state. Aerobic exercise improves lung, heart and circulation systems and is the cornerstone of an effective exercise routine.
Muscle Toning
Using the Kettler Coach E Indoor Rower virtually uses every major muscle group in your body. With little pressure on the joints, due to the activity's low-impact nature, rowers work their legs, hips and buttocks with each stroke. They also use upper-body muscles, strengthening the back, shoulders and arms. The trunk and core are engaged in the exercise as the rower performs each stroke. You can adjust most rowing machines to create a tighter resistance to increase the rate at which you build muscle.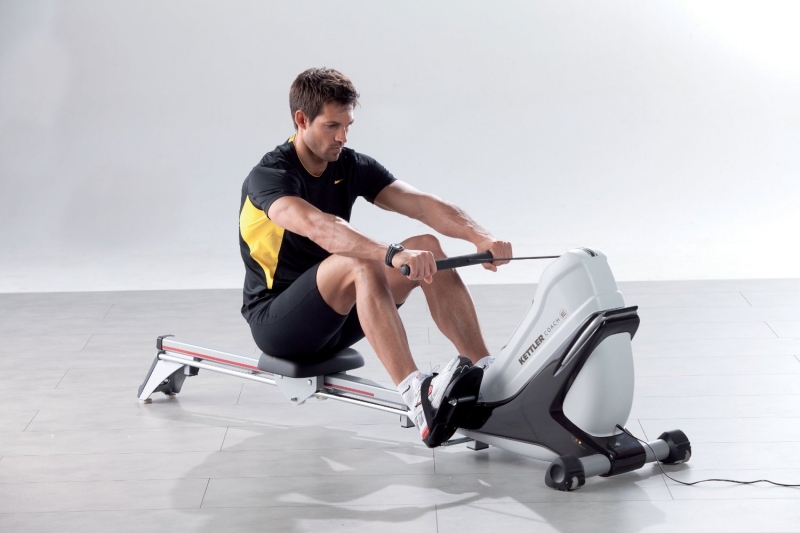 The Kettler Coach E Indoor Rower is a German rower that is built with quality and care in mind. The machine is durable and should last for many years.

The Kettler E has a powder coated steel frame can hold up to 285 pounds, which should accommodate most users looking to purchase the product. Better still, the Kettler Coach E's frame comes backed with a lifetime warranty that ensures peace of mind for the buyer.

The wide range of resistance, ranging from 25 to 500 watts, guarantees that the machine will provide a challenge for rowers of all fitness levels.

With the Kettler Coach E Indoor Rower the actual rowing experience itself is a pleasant one! The machine has a thickly padded seat, quality rollers that allow for efficient gliding motions and the foot design pivots in a biomechanically correct way that allows for an accurate range of motion and complete rowing experience.

The unit is quite easy to store, so those consumers that may be worried about space in their apartment can rest assured that the Kettler is not overly cumbersome or difficult to store.
Kettler Coach E Indoor Rower Features
SIEMENS® electronic LCD high resolution computer display is easy to read and calibrated for maximum accuracy

Informative computer provides the following workout data: Time, Distance, Energy, Strokes, Pulse Rate, and Frequency

Users can select from a total of 12 programs including programs with Heart Rate Control

Computer display includes graphic 450 dot matrix showing program hill profiles

Computer includes 2 Heart Rate Control programs that automatically adjust

resistance in order to maintain one's target heart rate for exercise

Includes a Polar® T34 chest strap heart rate monitor which senses heart rate and wirelessly transmits the data to the computer

Computer includes a recovery feature which provides a cardio wellness grading indexed 1 to 6 to track improvement

Computer includes a scan function enabling it to rotate the workout information to a larger digital readout in the center of the display

KETTLER Induktions Brake System™ provides an extensive range of variable and frictionless electromagnetic resistance for a smooth and challenging workout

Resistance can be adjusted from 25 watts to 500 watts providing enough range to challenge any level of athlete

Biomechanically correct footplates offer a natural pivoting action providing a full longitudinal rowing motion

Thick padding on the seat provides maximum comfort and combines with top grade rollers to yield exceptionally smooth performance

Seat glides fluently along the chrome plated steel rails

Seat is built with sealed ball bearings to eliminate need for lubrication

Unit can be stored in the vertical position in order to free up space

Frame is made of high carbon steel and powder coated and has a lifetime warranty against breakage

Transport castors are built-in to make moving simple and easy

An additional benefit of the innovative design is the ability to perform

16 different exercises

for unmatched flexibility

Quick Attach™ backboard and front step plate are included for performing the additional exercises

A 110-120 volt AC power source is required
Kettler Coach E Indoor Rower Specifications
Country of Origin:Germany
Setup Length/Width/Height:80 x 20 x 26 inches
Package Length/Width/Height:87 x 32 x 12 inches
Residential Warranty: 3 YEAR
Kettler Coach E Indoor Rower Warranty
Three-Year Residential Warranty
Order your Kettler Coach E Indoor Rower from FitnessZone.com today!
Customer Ratings & Reviews
Be the first to rate this item!
Related Products