Kettler Polo M Upright Bike 7664-000
Kettler Polo M Upright Bike 7664-000
Product Code: kettler-polo-m-upright-bike-7664-000
Price:
$549.00
Need Expert Advice? Our friendly and knowledgeable staff is ready to help you. Call us now at 1-800-875-9145!
Kettler Polo M Upright Bike 7664-000
The Kettler Polo M Upright Bike 7664-000 has a contemporary and stunning design. The Polo M delivers twice as much performance and durability usually found in stationary bike. Users are drawn to the Polo M's easy to use LCD display with its recovery feature and numerous resistance levels. The Polo M truly delivers more bang for the buck in its class.
Kettler Polo M Upright Bike 7664-000

has a low step-through feature, and there are bikes that go for twice as much with the quality features that is incorporated into the Kettler Polo M Upright Bike 7664-000. Furthermore, because of the friction-free resistance through the use of magnetic brakes, the Polo M is super quiet, smooth, and capable of really high performance conditioning.
Sometimes it's not about unprecedented perks and extras. Sometimes people just want fitness machine designers to focus on providing exactly what they need to get the metabolic job done. Well, whether going for strength endurance or building mass, the Polo M delivers productive exercise. The entire body is engaged, internal balance and stabilization muscles are in on the show, and the calories seem to melt away.
Call 1-800-875-9145 to speak with one of our fitness advisors with any questions you may have. Order your Kettler Polo M Upright Bike 7664-000 from FitnessZone.com today!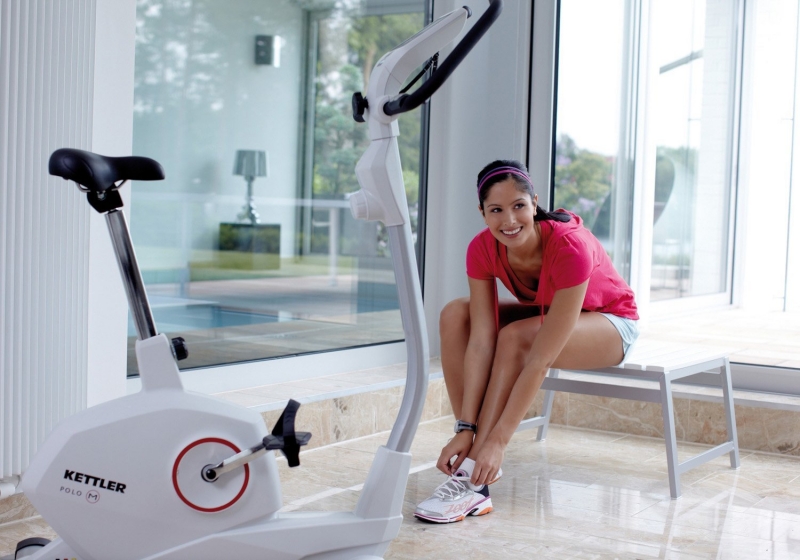 Kettler Polo M Upright Bike 7664-000 Features
LCD computer display provides high resolution and easy to read digital data

Informative computer provides the following work out data: Speed, RPM, Distance, Time, Energy Consumption, and Pulse Rate

Heart rate can be measured in three ways: Telemetric hand grips or by using the optional infrared earlobe clip sensor or Cardio Pulse Set with POLAR® T-34 wireless heart rate chest strap transmitter and receiver

The computer includes a recovery feature which provides a grading a cardio wellness grading indexed 1 to 6 helping to track improvement

The computer includes a scan function enabling it to rotate the workout information to larger digital readout in the center of the display

Frictionless, magnetic brake system provides and extensive range of smooth magnetic resistance to yield challenging workouts and outstanding performance

The variable resistance levels indexed from 1 to 10 providing enough range to challenge beginners through world class athletes

The multi-angle handlebars are designed to provide a variety of grip positions

The handlebars can be rotated to almost any angle one could wish for enabling ensuring everyone can find their ideal grip position

An extra wide, thick padded saddle is provided to ensure maximum comfort

The saddle can be adjusted up or down to accommodate persons of various heights

The pedals are weighted to help keep upright to more easily mount one's foot and include foot straps to aid in keeping proper position as well as lifting on the upstroke

The sturdy, powder coated, high carbon steel frame with a lifetime warranty is built to last

The "Q" factor of the POLO M is 7.5" for comfort and stability

The 15.4 lbs. flywheel is designed to provide smooth performance

Sealed ball bearings are utilized to yield smooth performance and maintenance-free operation

A Poly "V" drive belt is used in the drive system eliminating chain noise proving ultra quiet operation with no required lubrication

Built-in floor levelers adapt to uneven floors

Transport castors are built-in for easy relocating

No AC power source is required. The unit operates using 2 "AA" batteries
Kettler Polo M Upright Bike 7664-000 Specifications
Item No: 7664-000

Description: POLO M

Country of Origin: Germany

Setup Length/Width/Height: 39 x 21 x 56 inches

Setup Weight: 74 lbs

Package Length/Width/Height: 48 x 40 x 31 inches

Package Weight: 120 lbs

Residential Warranty: 3 YEAR

Assembly Required: Yes
Kettler Polo M Upright Bike 7664-000 Warranty
Parts: 3 Years
Order your Kettler Polo M Upright Bike 7664-000 from FitnessZone.com today!
Customer Ratings & Reviews
Be the first to rate this item!