Kettler Stroker Rower & Multi Trainer 7982-500
Kettler Stroker Rower & Multi Trainer 7982-500
Product Code: kettler-stroker-rower-multi-trainer-7982-500
Price:
$699.00
Need Expert Advice? Our friendly and knowledgeable staff is ready to help you. Call us now at 1-800-875-9145!
Kettler Stroker Rower & Multi Trainer 7982-500
The Kettler Stroker Rower 7982-500 not only is great for toning the arms, it is also great for keeping your heart rate up.
One of the most popular models available in the market today is the Kettler Stroker Rower and Multi-Trainer.

The Kettler Stroker Rower 7982-500 rowing machine is well designed for individuals who wish to start rowing training or simply want to stay fit. With its outstanding quality and durability, the Kettler Stroker Rower and Multi-Trainer has a maximum weight capacity of up to 130 kilograms. It also comes with a magnetic brake that you can set in 8 levels according to your particular fitness level. As such, users of all fitness levels will find this product a total joy!
Easy to Store
A unique feature of this rower is the ability to easily fold and store it.
From a fully extended dimensions of 86 x 24 x 32 inches, it can easily be stored in a cupboard or garage without taking up too much floor space
The Kettler Stroker Rower and Multi-Trainer is a wonderful exercise machine for anyone who wants to have a good workout at the comfort of their own homes. Not only does it provide a more convenient options for beginners and fitness buffs alike, it also comes with all essential features that enable users to monitor their progress and attain their fitness goals.
Indeed, with this space-saving, versatile and reliable exercise equipment, individuals regardless of fitness level can definitely improve their endurance, stamina and strength.
Call 1-800-875-9145 to speak with one of our fitness advisors with any questions you may have. Order your Kettler Stroker Rower & Multi Trainer 7982-500 from FitnessZone.com today!
Magnetic Braking

With the built in magnetic brakes, up to 500w of resistance can be applied to the rower. This will give a powerful workout with smooth application of the resistance offering comfort and control.

The resistance in the magnetic brake system can easily be manually adjusted for a more challenging workout. This feature contains indexed settings that range from 1 to 8, which ensure you of a more fulfilling experience while you use the machine.
Easy-to-Read LCD Display.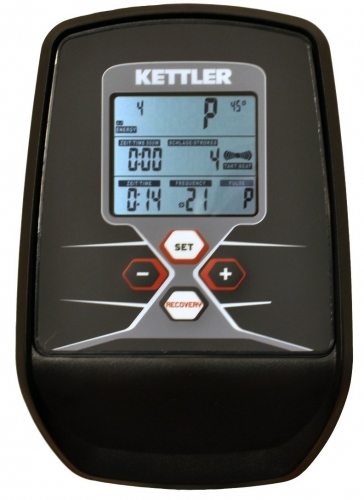 One of the primary features of the machine is the huge LCD display that contains essential details about your workout such as the calories burned, strokes, time and pulse. It offers a simultaneous display of six different functions including the heart rate, kilojoules, oar strokes, time, cumulative distance per training session and cadence. You may also set your preferred pulse maximum limit, and a warning signal is provided when you exceed the said limit.
Comfort and Stability.
This one-of-a-kind exercise machine is built with footplates that are bio-mechanically correct. This allows you to have a natural and smooth pivoting action and a complete rowing motion while you work out. In addition, the seats come with thick padding and high-grade rollers to ensure you are always in a comfortable position as you row.
Integrated Heart Rate Monitoring.
The machine has a chest-strap heart rate monitor that can detect your current heart rate while you're rowing. The details are transmitted to your computer, so you can save the data for further reference. Not only is this great for tracking, it also allows you to determine your cardio wellness with a grading that is indexed from 1 to 6.
Whole Body Workout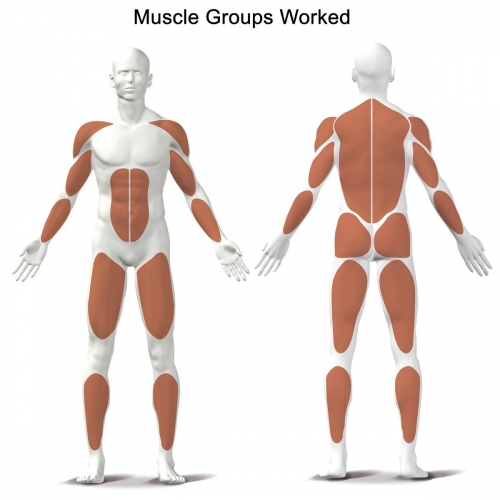 Kettler Stroker Rower & Multi Trainer 7982-500 Features
Vivid LCD displays 6 functions simultaneously - time, oar strokes, current cadence, cumulative distance over a training session, heart rate and kilojoules

Includes a wireless chest strap heart rate transmitter ( Polar T-34 compatible) which senses heart rate and transmits the data to the computer

Computer includes a recovery feature which provides a cardio wellness grading indexed 1 to 6 to track improvement

Magnetic Brake System resistance can be manually adjusted with indexed settings from 1 to 8 providing a wide and challenging range

Biomechanically correct footplates offer a natural pivoting action providing a full longitudinal rowing motion

Thick padding on the seat provides maximum comfort and combines with top grade rollers to yield exceptionally smooth performance

Seat smoothly glides along a steel track

Sturdy,powder coated,steel frame folds-up when not in use reducing wasted space

Transport castors are built-in to make moving simple and easy

Included Steel Platform accessories attach to provide 10 additional exercises

Unit operates using 2 "AA" batteries.No AC power source is required
Kettler Stroker Rower & Multi Trainer 7982-500 Specifications
Item No: 7982-500

Description: STROKER ROWER & MULTI-TRAINER

Country of Origin: China

Setup Length/Width/Height: 86 x 24 x 32 inches

Setup Weight: 104 lbs

Package Length/Width/Height: 54 x 9 x 26 inches

Package Weight: 116 lbs

Residential Warranty: 2 YEAR

Assembly Required: Yes
Order your Kettler Stroker Rower & Multi Trainer 7982-500 from FitnessZone.com today!

Customer Ratings & Reviews
Be the first to rate this item!