Kidsfit 598 Deluxe Climbing Wall Panel
Kidsfit 598 Deluxe Climbing Wall Panel
Product Code: kidsfit-deluxe-climbing-wall-panel-598
Price:
$1,295.00
Need Expert Advice? Our friendly and knowledgeable staff is ready to help you. Call us now at 1-800-875-9145!
Kidsfit 598 Deluxe Climbing Wall Panel
Jacob's Climbing Walls
Jacob's Climbing Walls scream out to the adventurous side of kids. Our climbing walls offer an energetic challenge which builds self-esteem, endurance and overall fitness. Climbing walls are available in either a whimsical design (purple, yellow, green and red highlights) or in a rugged life0like color scheme such as mossy green, black and gray. $795/panel
Getting Kids Active
Nearly 45% of children are either overweight or in danger of becoming overweight. By the year 2016, the numbers could be as high as 75%, according to the CDC. Kids today have developed some risky habits that put them in danger. Children are less active at home and at school and are eating more junk food than ever. The fact is, the fitter the child, the better their brain works- we need to get kids moving!
PANELS ARE SOLD INDIVIDUALLY. EACH PANEL IS 4'X8'.
*3-D SURFACE WITH POP-OUTS AND RAISED BUILT-IN SHAPES FOR ADDED CHALLENGE AND DIMENSION
*ADDITIONAL TEXTURED SURFACE
* MULTI SHAPED GRIPS
*3-D FOOT HOLDS AND HAND GRIPS
*SOLD PER PANEL, UP TO 20 PANELS PER ORDER
Weight limit: 300LBS

Call 1-800-875-9145 to speak with one of our fitness advisors or go to our Chat with any questions you may have. Our staff is available to help you any way we can.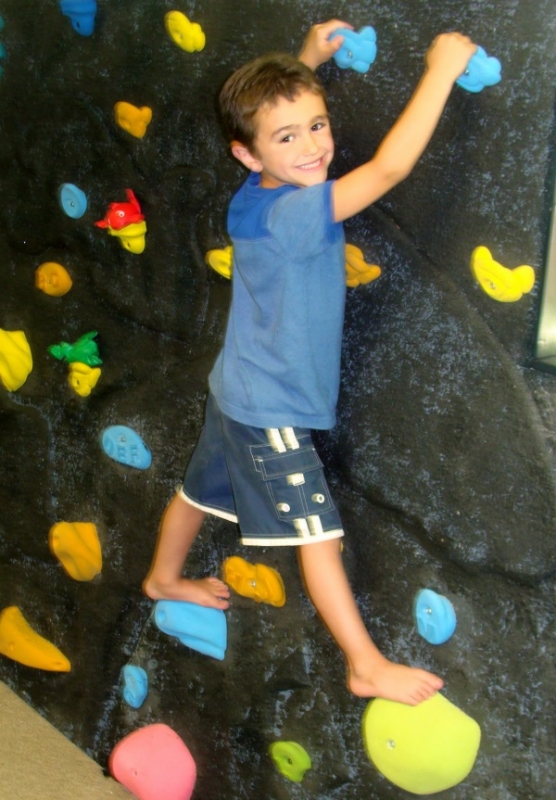 Order your Kidsfit 598 Deluxe Climbing Wall Panel from FitnessZone.com today!
Customer Ratings & Reviews
Be the first to rate this item!