Life Fitness FS4 Dark Walnut Elliptical Trainer
Life Fitness FS4 Dark Walnut Elliptical Trainer
Product Code: life-fitness-dark-walnut-fs4-elliptical-trainer
Price:
$4,299.00

Need Expert Advice? Our friendly and knowledgeable staff is ready to help you. Call us now at 1-800-875-9145!
Life Fitness FS4 Dark Walnut Elliptical Cross Trainer
Item #FS4D-0000-0101
Life Fitness FS4 Dark Walnut Elliptical Cross Trainer is found in the training rooms of professional sports teams, in the athletic facilities of universities, and in the best health clubs around the world.
But you don't have to be an elite athlete to use Life Fitness products. Home exercisers benefit from the combination of expert engineering, state-of-the-art technology, attention to design, and extreme durability that has made Life Fitness the No. 1 brand of fitness equipment in the world.
For more than 45 years Life Fitness have been creating effective, inviting and reliable fitness equipment—cardio and strength equipment that's built not only for elite athletes, but for exercisers of all abilities and fitness levels.
The Life Fitness FS4 Dark Walnut Elliptical Cross Trainer combines a compact footprint and furniture inspired design to create a cross-trainer that compliments any home. Its F-I-T System enables three functional exercise modes, integrates premium aesthetics and tailors the workout experience to your body.
Call 1-800-875-9145 to order your Life Fitness FS4 Dark Walnut Elliptical Cross Trainer. Our Fitness Advisors are ready to answer any questions you may have.
The New Track Interactive Console

4. Intergrated Workouts


NEW FS4 ELLIPTICAL CROSS-TRAINER AND

NEW TRACK CONNECT CONSOLE
TRACK CONNECT
CONNECTED EXPERIENCE
Proximity login via Bluetooth and NFC connects to your smartphone or tablet. Logging in allows connection to apps like Nike+, Garmin and MyFitnessPal through Wahoo's RunFit; and connection to Jawbone, FitBit and RunSocial through the LFconnect app.
DUAL-ZONE DESIGN
Entertainment Zone
Placed at eye level for an ideal viewing experience. The compression rack securely holds all smartphones and tablets, even those with a protective case.
Workout Zone
The lower half of the console offers convenient workout setup and in-workout control. It features capacitive touch keys that illuminate when usable and dim when not in use.
WORKOUT CHALLENGES
Capacitive touch keys allow instant access to HIIT, custom, goal-based and other challenging workouts.
TRACKING
After logging in, exercisers can create a profile and then track their progress and workouts.
| | |
| --- | --- |
| INTERACTIVE WORKOUTS | Connects your mobile devices for real-time tracking and added engagement blue LCD screen |
| LFconnect App Compatibility | Jawbone, FitBit and RunSocial |
| Device Compatibility | Android™, iPhone®, iPad®, iPod® |
| Entertainment | Compatible Apps |
| Number of Workouts | 16 |
| Custom Workouts | 12 |
| User Profiles | 4 |
| | |
App Integration
We are constantly updating the number of solutions that work with our equipment. Look for new solutions to explore!
MOBILE APPS
| | | | | | | | |
| --- | --- | --- | --- | --- | --- | --- | --- |
| | | | | | | | |
| LFConnect | Lost It | SoFit | Pao Fit | Kinomap | Bull Trainer | Cardio Legend | Runtastic |
WEBSITE INTEGRATIONS
| | | | | |
| --- | --- | --- | --- | --- |
| | | | | |
| Fitbit | Jawbone | EveryMove | Refer-All | MyFitnessPal |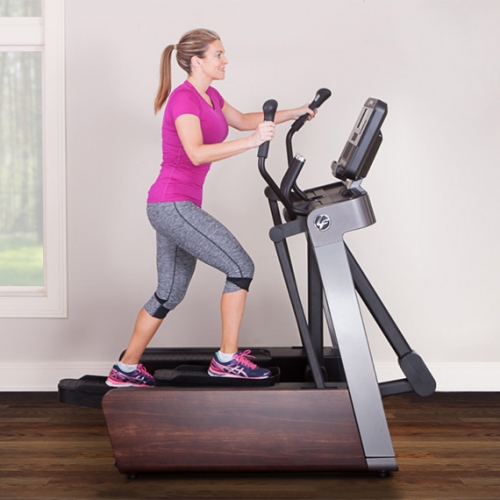 SMALL FOOTPRINT
The FS4 combines a small footprint with premium aesthetics and expert craftsmanship to create a cross-trainer that fits in any home

.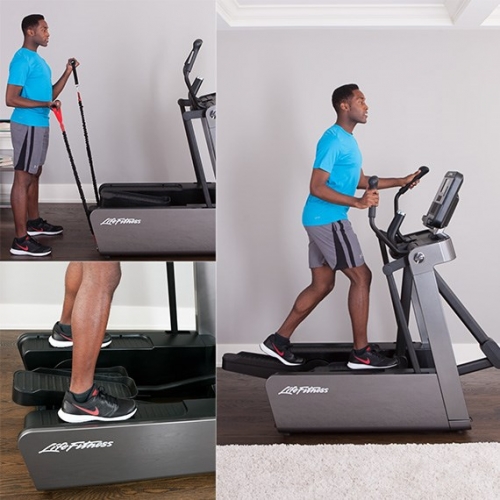 FUNCTIONAL DESIGN
Innovative 3-in-1 design means the FS4 is more than a cross-trainer. Attachment points allow for the use of resistance bands, and platforms on each side allow for upper-body workouts.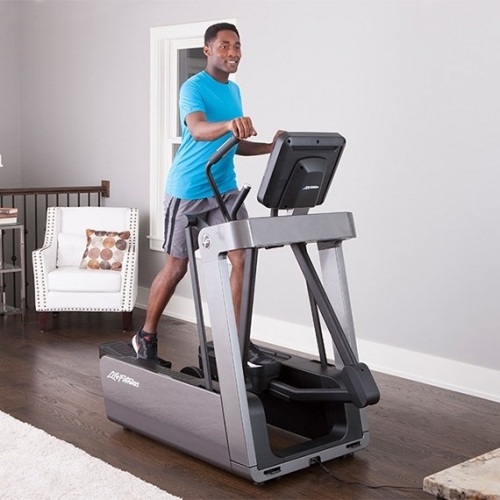 INTEGRATED AESTHETICS
A small footprint and two premium finishes, Dark Walnut and Dark Walnut, allow the FS4 to complement nearly any home or decor.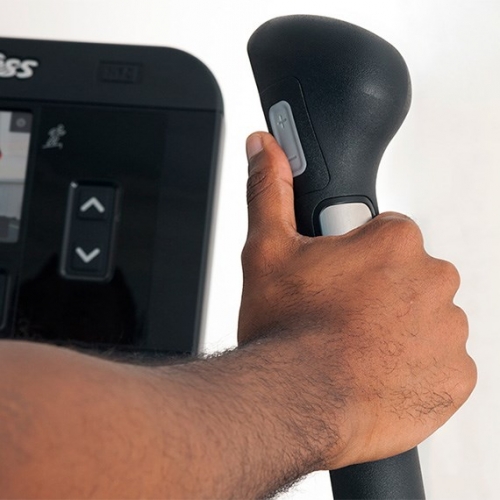 TAILORED TO YOU
Side-Drive™ system ensures a smooth, natural feeling path of motion. Extended RangePedal™ design and QuickGrip™ ergonomic handles enhance comfort for all types of exercisers.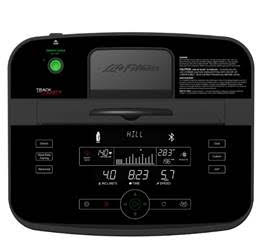 INTERACTIVE CONSOLE
The NEW Track Connect Console offers a dual-zone design clearly separates entertainment and workout specific areas of the console. Bluetooth push data to a growing list of partner apps including Nike+, Garmin and MyFitnessPal through Wahoo's RunFit; and to Apple Health, Jawbone™ and Fitbit by enabling proximity login on the LFconnect app.
The NEW Track Connect Console will replace the current Track+ Console on all F3, T3, T5, C1, C3, RS1, RS3, E1, E3 and E5 products.
Life Fitness FS4 Dark Walnut Elliptical Cross Trainer Specifications
Finishes

Dark Walnut or Titanium

Safety

CE, CSA, TUV, FCC, UL Certified

Step-Up Height

10.5" (27 cm)

Stride Length

Fixed stride length of 22" (56 cm)

Unit Dynamic Length

71" (180 cm)

Unit Height

64.5" (164 cm)

Unit Length

50.5" (128 cm)

Unit Weight

350 lbs (159 kg)
Warranty:
Lifetime on frame; 5-year on electrical and mechanical parts;1-year on labor
Order your Life Fitness FS4 Dark Walnut Elliptical Trainer from FitnessZone.com today!
Customer Ratings & Reviews
Be the first to rate this item!