Life Fitness IC8 Power Trainer
Life Fitness IC8 Power Trainer
Product Code: life-fitness-ic8-power-trainer
Price:
$3,299.00

Need Expert Advice? Our friendly and knowledgeable staff is ready to help you. Call us now at 1-800-875-9145!
Life Fitness IC8 Power Trainer
Model # IC-LFIC8C1-01

"The IC8 is the new standard in power training"
Inspired by the movement of road and triathlon cycling, the IC8 is a high-performance indoor cycle for serious riders and a challenging power trainer for all athletes. With greater power accuracy, wattage and performance data than any other indoor cycle.
The IC8 Power Trainer provides outstanding performance, and is engineered to deliver the ergonomics, drive and feel of both a road and triathlon bike. Riders can be as relaxed or aggressive as training dictates and - with the chain-driven freewheel - experience total control of quick accelerations and coasting to recover.
1. You can directly enter your functional threshold power (FTP) into the Wattrate TFT console and your power training zones are set for you. This lets you execute any training plan based on your FTP and the IC8 Power Trainer console will show you what training zone you are in. With Coach by Color built into the console your screen changes in color depending on what training zone you're in. This becomes an easy guide to keep you true to your training plan.
2. If you don't know your current FTP you can choose between two testing protocols that are built into the console. One option is the four-minute ramp test, the second is the five-minute FTP test. Being able to re-test your FTP every 8-12 weeks keeps you on track with your training progress. Having it accessible in the IC8 console makes it even easier.
3. The chain-driven freewheel. The IC8 comes equipped with an oversized chain to allow for maximum wattage output during HIIT intervals. You can generate up to 3800 watts of output with the IC8.
4. The 155mm Q Factor. This keeps you as close to your road bike positioning as you can get. The transition from riding the IC8 through the offseason to getting on your bike in the spring will be as efficient as possible.
5. Valuable input from the Polar View screen. One of the screens on the IC8 Power Trainer is Polar View (shown on the left). This allows you to see your left side/right side power output. Imagine training through the offseason and being able to work on perfecting your pedal stroke output by seeing what your left leg and right leg are generating. You can focus on your weakness, become more efficient in your pedal stroke output and ultimately see greater performance.
IC8 Features:
Chain-Driven Freewheel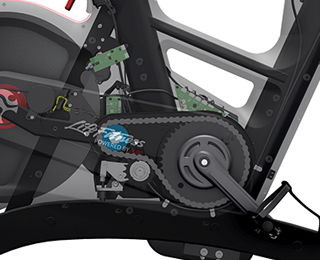 11-to-1 ratio chain-driven freewheel provides complete control of accelerations and allows for coasting to recover. The design allows the IC8 to feel and perform like a high-performance outdoor cycle.
0 to 3800 Watt Magnetic Resistance
The 300-degree dial offers 100 clicked increments and displays the resistance level as 0-100 on the WattRate TFT computer. The large range of watts meets the high-performance demands of athletes.
WattRate Direct Power Meter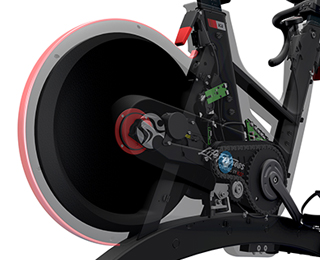 The most accurate power meter in the industry offers a direct measuring tolerance of +/- 1%. Photocells directly measure the torsion of the spindle, and never require recalibration.
WattRate Color TFT Computer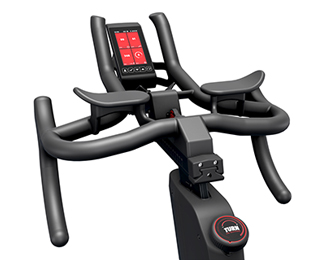 A bright, self-powered, integrated TFT screen and a front LED. This patented feature displays training intensity for both user and trainer/coach. Connects training data to external devices via optional Bluetooth and ANT+.

WattRate Polar View

Detailed data on how exercisers apply force through each pedal stroke and the balance between legs. Improving pedal efficiency increases power and reserves energy.

Handlebars
Road and triathlon inspired handlebars include drops, hoods and time trial forearm rests.
Easy Adjustments
Four-way adjustments ensure a finely-tuned fit for all riders. Handlebar and seat integrated user-assist technology makes adjustments smooth and easy.
Q Factor
A 155mm Q Factor provides the feel of a real road bike. The result is added comfort and improved pedal stroke efficiency.
IC8 Specifications:
Assembled Dimensions 52" L x 20.5" W x 40.2"H(132 cm x 52 cm x 102 cm)

Assembled Weight 119lbs (54kg)

Computer WattRate TFT computer with Polar View

Computer Power Supply Self-powered generator with LiPo battery

Connect Technology Bluetooth und ANT+

Max User Weight 330 lbs (150 kg)

Power Measurement WattRate Direct Power Meter (+/-1%)

Training Intensity Guide Coach By Color (user & instructor)

Workout Tracking ICG Training App

Warranty:

Structural frame – 5 years; Mechanical components – 3 years; Other parts – 1 year; Labor – 1 year
Optional Myride VX Personal Console
Myride VX gives our award winning indoor bikes a full boost of adrenaline. Adding immersive, video-based instruction directly to the handlebar of the IC4, IC5, IC6,IC7, and IC8 redefines your riding experience. Three built-in apps provide advanced data accuracy, results-orientated coaching and stunning footage from around the globe.
Warranty:
Structural frame – 5 years; Mechanical components – 3 years; Other parts – 1 year; Labor – 1 year
Customer Ratings & Reviews
Be the first to rate this item!
Related Products