NOHrD WallBars Ash
Product Code: nohrd-wallbars-ash
Price:
$614.00
Financing Solutions from

Once Approved Call Us To Place The Order!
Need Expert Advice? Our friendly and knowledgeable staff is ready to help you. Call us now at 1-800-875-9145!
NOHrD WallBars Ash
NOHrD WallBars is a multi-functional exercise unit made of fine wood. Its special feature is the foldout bar at the top. The WallBars is an elegant, sturdy and safe piece of exercise equipment. Its extensive range of exercise possibilities render it its multi-functional, all-rounder status. Above all, the WallBars is a functional space-saver, able to store accessories like the CombiTrainer, exercise bench and Multi-Adapter, directly onto the unit.

Training on the WallBars is possible for practically all levels of fitness. Three areas of exercise are especially effective: building and increasing strength, coordination and mobility.
There's a simple principle that applies to wallbars: the higher and wider, the better. Long (wide) rungs guarantee a variety of new exercise possibilities. Wallbars, however, should not be too bulky, as space can often be limited in home fitness.

NOHrD WallBars have been manufactured to sustain full weight and adhere to highest quality workmanship standards. Handcrafted and easy to assemble: each rung is individually attached for the whole unit to be mounted onto the wall.

A Classic Piece of Wooden Fitness Equipment
Classic wallbars are made of wood while some manufacturers use metal. Exercise wall units are standard equipment in fitness studios, physiotherapy practices and gyms, but are now also becoming increasingly popular in private homes. NOHrD's wooden fitness equipment is especially suited to blend into the home interior and meet all aesthetic and functional demands.
Number of Rungs
The amount of rungs (bars) per wallbars unit will vary. NOHrD WallBars models come in 10 or 14 rungs. In general, we suggest the 14-rung WallBars, as the higher number of rungs provides more angles to hold on to (or fasten optional equipment to) and therefore an overall higher range of possible exercises.
The WallBars rungs are round and individually screwed into the side planks to guarantee a secure grip. The distance between rungs has been determined to ensure optimal use of training space on the entire unit.
Holds up to 120 kg / 265 lbs.
NOHrD WallBars are sturdy pieces of exercise equipment, made of high-quality wood.The rungs are made to enable a comfortable grip and the entire unit will sustain a maximum weight of up to 120kg / 265 lbs without any problem.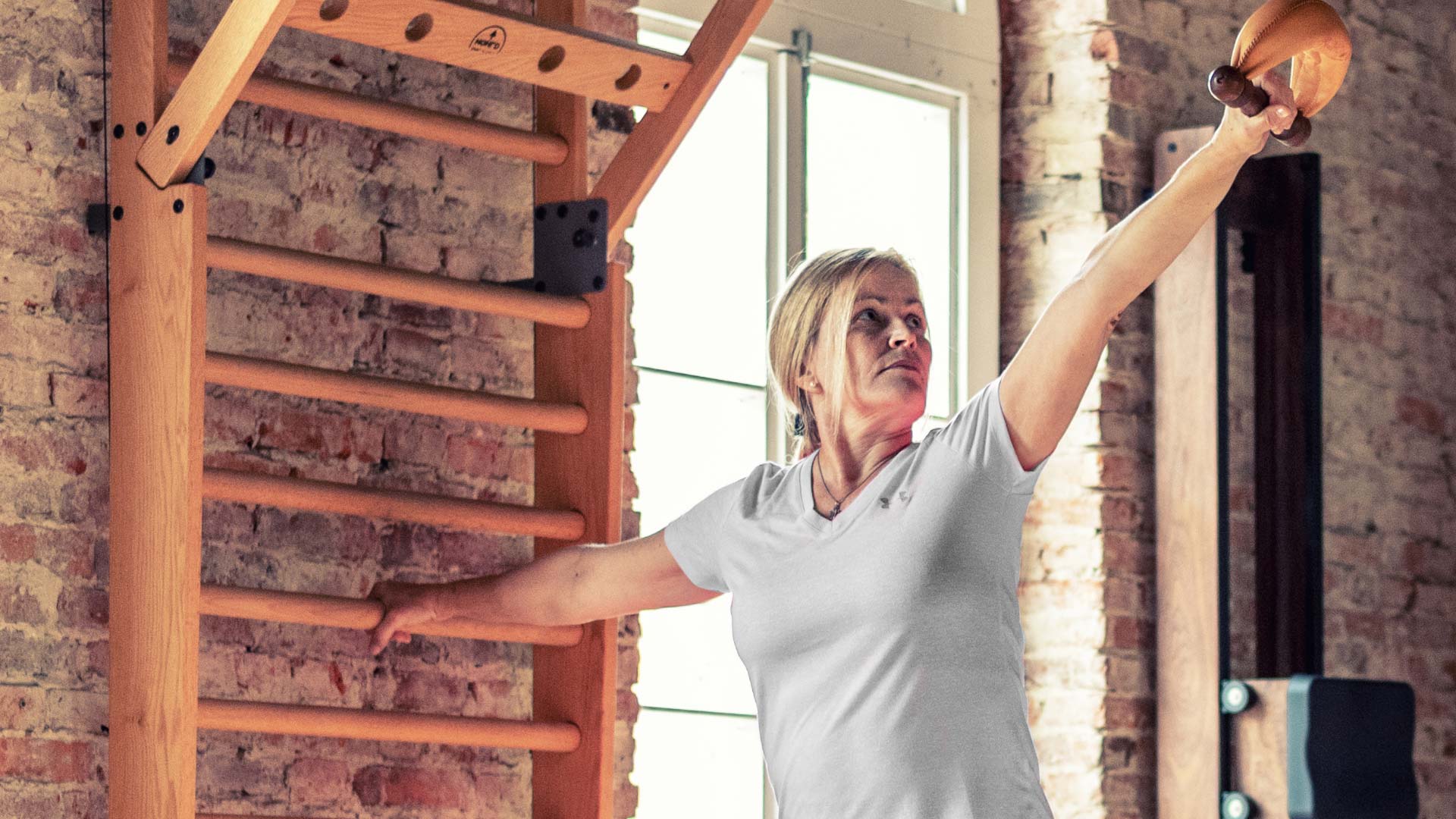 Focus on Strength Training
Challenge your whole body on the NOHrD WallBars and work entire muscle groups effectively on this unit. The main functions of the WallBars can be used for a wide variety of exercises - no accessories necessary- making it an optimal choice for beginner strength training.
Increase Mobility
In these days of long office hours and sitting down for lengthy periods of time, regular movement and exercise are a must. Sports and fitness experts are acutely aware of this and you'll hardly find a physiotherapist without a wallbars unit. As a stand-alone piece of equipment for building muscle and workout support - the NOHrD WallBars suits any gym, practice or home interior.
Improve Coordination
Wallbars training requires concentration: focus on the necessary move and learn how to implement your body. Consistent balance and swinging exercise will further improve the athlete's performance. Wall bars exercise is also ideal for children to increase coordination and overall mobility.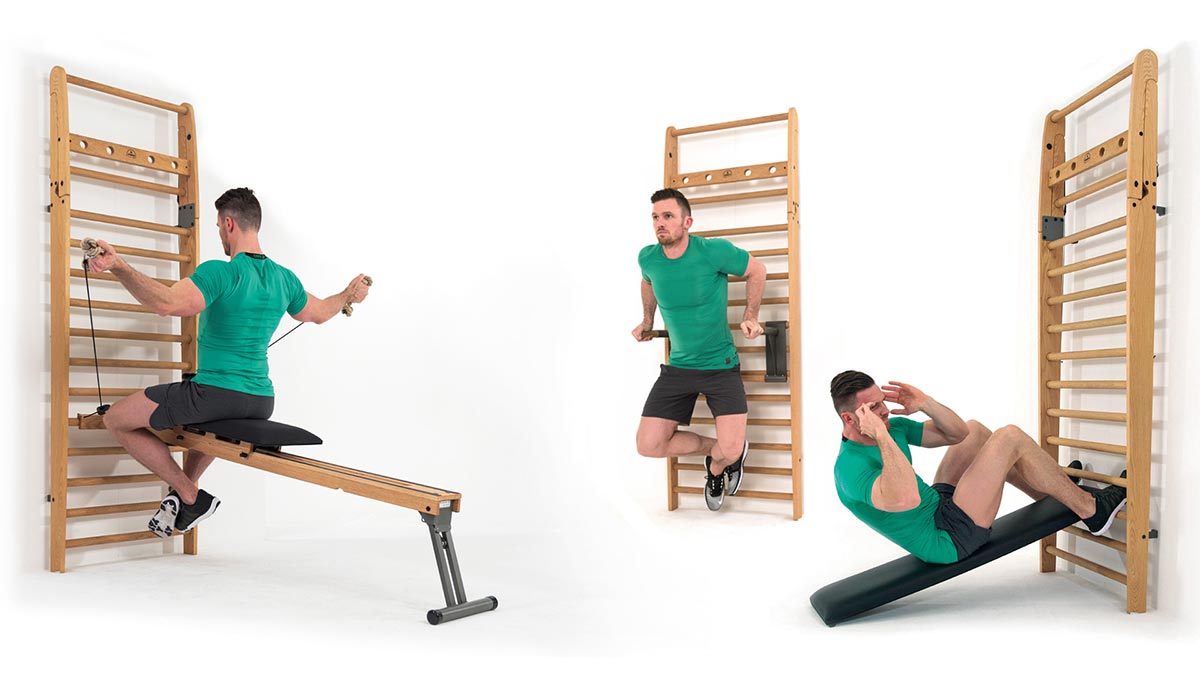 CombiTrainer
The CombiTrainer considerably extends the range of exercise possibilities on the WallBars - using bodyweight resistance only.
Regardless of body position, you will exercise against your own bodyweight, pulling the cables along ball bearing pulleys and with the bench gliding smoothly back and forth.
- dimensions: approx. 75'' x 24'' (l x w)

- lying surface: approx. 33'' x 14'' (l x w)

- features fold-out foot stand

- can be hooked in at various heights
MultiAdapter
The MultiAdapter is a single piece accessory with two functions.
The MultiAdapter is an ideal accessory, developed from a simple, basic idea and providing a whole range of new exercises. Hook into any rung for use the handlebars for triceps dips or turn over for the horizontal bar to fold out. Both options will let you add specific exercises to complete your workout.
- dimensions: approx. 28'' x 20'' x 13'' (W x D x H)

- weight: approx. 12 kg

- made of metal and wood

- can be hung into rung of your choice
Workout Bench
Classic exercises with a workout bench - whether used for sit-ups or free-weight training: simply hang into the rung of your choice.
The WallBars bench is a workout bench and back support in one. By hanging the bench into various rungs, you will expand your exercise routine. Simply store this sleek accessory directly onto the WallBars, post workout.
- dimensions: approx. 54'' x 13'' (L x W)

- made of black stained wood and genuine leather

- can be hung at varying heights
Order your NOHrD WallBar from FitnessZone.com Today!
Customer Ratings & Reviews
Be the first to rate this item!