Polar M400 Black Sports Watch with Heart Rate 90051339
Polar M400 Black Sports Watch with Heart Rate 90051339
Product Code: polar-m400-black-hr-90051339
Price:
$229.95

Need Expert Advice? Our friendly and knowledgeable staff is ready to help you. Call us now at 1-800-875-9145!
Polar M400 GPS Running Watch Black Monitor with Heart Rate
The Polar M400 has good battery life, can sync wirelessly with your phone, includes GPS and activity tracking, charges through a normal Micro-USB and supports wireless heart-rate monitors. It also has automatic sleep tracking, an always-on display with a backlight, inactivity alerts and is waterproof.
Polar M400 is feature-packed and waterproof. Polar M400 offers a good set of features for beginners and advanced runners a like. It also provides feedback on your daily activities and sleep.
Polar M400 is an exceptional blend of sporty design, integrated GPS and advanced training features, along with plenty of options to keep an eye on your activity 24/7. The M400 gives runners the freedom to explore new, more adventurous routes: you can measure your pace, distance and altitude and find your way back home.
Polar's latest watch looks to further bridge the gap between activity trackers and GPS running watches. The Polar M400 is the company's second GPS watch that includes tracking for things like steps taken, distance traveled, calories burned and sleep.
The Polar M400 is slimmer than other running watches, but not nearly as discrete as say the Microsoft Band. It utilizes a rubber watch strap with a security loop to sit snug on your wrist. The strap is quite soft, which makes the watch comfortable to wear, despite being so large. Don't get me wrong, though, you can still feel it on your wrist. It's not like other activity trackers, such as those from Fitbit or Jawbone, that are small and lightweight, although as far as running watches go, it's relatively comfortable.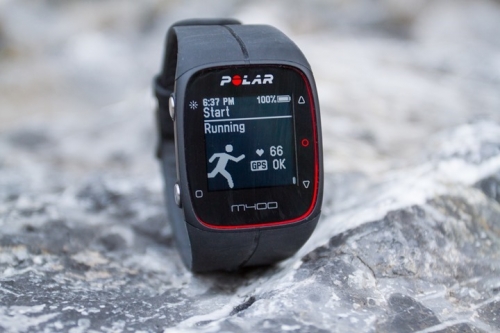 More than just GPS; M400 combines the best 24/7 activity and GPS features and provides you with helpful data for lifestyle and training improvement

Tracks your pace, distance and altitude with integrated GPS; Get guidance to beat your personal best; Explore new routes with Back to Start feature

24/7 activity tracking - displays steps, calories and daily goal; Inactivity alert motivates you to move; Plus tracks sleep time and quality

Compatible with H7 Bluetooth Smart heart rate sensor (Sold separately, not included); Water resistant; Rechargeable battery

Plan, sync and share your training with Polar Flow app and web service; Plus, play and share video highlights of your workout journeys with Relive
Here's the low-down of the M400. The M400 is Polars second GPS watch that integrates activity tracking, following the much more expensive V800 multisport watch. The M400 is designed as a runner's watch, but blends in support for other activities such as cycling and…horse back riding. Given that it's a runner's watch however, it doesn't support cycling sensors, nor horse gait pods.
With the internal accelerometer the unit will track steps, distance, and sleep (along with calories), throughout your day.
It doesn't however use the internal accelerometer to give you cadence while running nor pace/distance on a treadmill – you'll need a footpod for both of those.
The battery life gets about 8-hours in GPS-on mode, like most watches in the category, and gets about three weeks in regular day to day watch time/activity tracker mode.
Like most Polar watches the M400 includes a number of 'Smart Coaching' features. However, one unique feature being introduced with the M400 is the Running Estimator option, which estimates how long it'll take you to complete your run of a set distance at the current pace you're running – thus taking the complex mid-marathon mental math out of the equation.
They've also added in PR support (Personal Records/Bests), which will tell you each time you break a new PR for a given distance/time/watermark.
Lastly, the unit is well waterproofed at 30-meters, despite using just a standard micro-USB connector. Though, while it is waterproofed, it won't give you heart rate underwater, as it only supports Bluetooth Smart heart rate transmission and not the analog frequency used on some of Polar's other water-friendly watches.
Call 1-800-875-9145 to speak with one of our fitness advisors with any questions you may have. Order your Polar M400 Black Monitor with Heart Rate from FitnessZone today and Enjoy!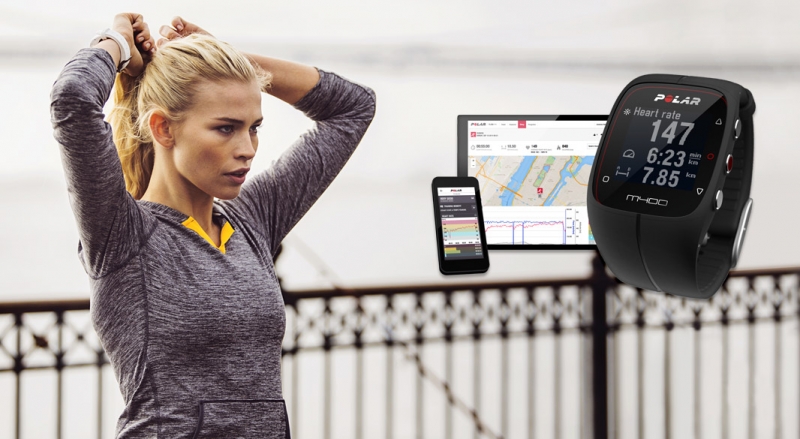 Polar Flow web service
Enables planning and in-depth training analysis
Track pace, distance and altitude with the built-in GPS
Follow your 24/7 activity, calories and steps
Plan, sync and share your training with Polar Flow mobile app and web service
Set targets to beat your personal best
Polar Flow mobile app
Syncs automatically and displays training data instantly
Explore new routes and find your way back home with Back to Start
Train at the right intensity within your personal heart rate zones (requires H7 heart rate sensor)
Supports smart notifications: receive alerts and notifications from your phone to your training computer (iOS only)
Track your total calorie intake and expenditure by connecting with the MyFitnessPal app (iOS only)
Polar Flow

Flow Web Service

Create sport profiles and tailored views for each sport you do.

Create detailed training targets, like interval workouts and sync them to your device.

Gain deeper insight and learn from what you do, analyze every detail of your training in Polar Flow.

Flow Mobile App

Get a quick visual overview of your training and analyze your achievements.

Stay motivated with feedback that's delivered to you immediately after exercise.

Easy sync with Bluetooth Smart.



SMART COACHING FEATURES
Fitness Test

Polar Fitness Test measures your aerobic fitness at rest in just five minutes. The result evaluates your maximal oxygen uptake (VO2max). Fitness testing will motivate and inspire you to start, maintain or increase physical exercise.

Training Benefit

Get motivating feedback immediately after exercise by syncing your M400 with Polar Flow app or web service.

Running Index

Running Index is based on your heart rate and speed data measured during your run. It gives you information about your performance level, aerobic fitness and running economy. Improvement in running efficiency indicates improved economy of running performance.

Smart Calories

The most accurate calorie counter on the market. The calculation is based on your individual data: your weight, height, age, gender and the intensity of your physical activity.



24/7 Activity and Inactivity Alert

The M400 tracks your daily activity and shows steps, distance and calories burned. The M400 gives you your daily activity goal and guides you on how to reach it. The M400 also reminds you when you've been sitting still for too long.

Built-in GPS

The M400 tracks your ride, run or hike with its integrated GPS sensor. It measures your speed, distance and route, guides you back home and counts your Running Index, which shows you how your performance is developing.

Smart Notifications

Get alerts from incoming calls, messages and push notifications from social media apps.

Bluetooth Smart Sensors

Pair the M400 with the Polar H7 Bluetooth Smart heart rate sensor to measure your every heartbeat during training, and find out if you're mostly burning fat or improving your fitness. This is the most accurate way to measure calories burned in heart rate based training.

The Stride sensor Bluetooth Smart is ideal for runners who want to improve their technique and performance. Whether you're running on a treadmill or the muddiest trail, you'll see information about your speed and distance on the M400's display.
Polar M400 Black Monitor with Heart Rate Features
Features
Body measurement features

Activity features

Training features

Polar Flow web service features

Polar Flow mobile app features

Integrated GPS features

Recording features

Data transfer
WATCH FEATURES
Backlight

Battery life: Up to 8h training time (when both GPS and HR in use), 24 days in time mode with daily activity monitoring

Rechargeable battery with standard micro-USB cable

Smart Notifications

Firmware update

Date and weekday indicator

Button lock

Time of day (12/24h) with alarm and snooze

Water resistant – 30m
In The Box
Polar M400 with heart rate
M400 training computer
Polar H7 heart rate sensor
USB cable
Polar M400 Getting Started Guide
Available in black, white, pink and blue
Polar M400 Black Monitor with Heart Rate Warranty
Polar Electro Oy/Polar Electro Inc. guarantees the original consumer/purchaser of this device that the product will be free from defects in material or workmanship for two (2) years from the date of purchase.
Order your Polar M400 Black Monitor with Heart Rate from FitnessZone.com Today!
Customer Ratings & Reviews
Be the first to rate this item!