Polar M450 White Bike Computer with Heart Rate 90055542
Polar M450 White Bike Computer with Heart Rate 90055542
Product Code: polar-m450-white-bike-computer-hr-90055542
Price:
$199.95

Need Expert Advice? Our friendly and knowledgeable staff is ready to help you. Call us now at 1-800-875-9145!
Polar M450 White Bike Computer with Heart Rate
Polar, one of the world's top sports training brands, has revealed the M450 Bike Computer to cycling aficionados of all types at the legendary Alpe d'Huez. Cycling enthusiast and industry media from all over the world took to the famed French Alps and put the Polar M450 to the test during a multi-day ride. Moments from the adventurous ride, as well as their first experience with the M450 can be found online with the hashtag #RideTheWayYouWant. During this event Polar also revealed plans for integration with Strava. This connectivity will become available at the end of October 2015.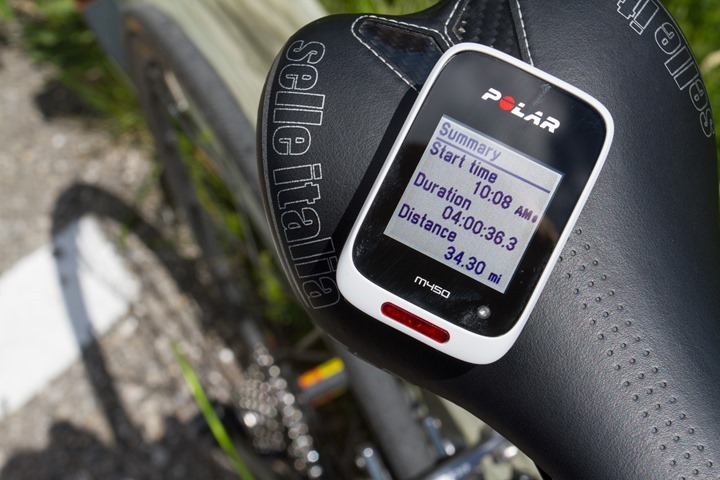 Passionate cyclists of all types can benefit from the M450's GPS, altitude and heart rate-based features. The lightweight, splash proof and aerodynamic M450 Bike Computer continues Polar's proud track record of high quality and innovative product design. Combining two accessories in one with an integrated smart visibility LED light, the M450 puts safety top of mind while minimizing handlebar clutter.
Regardless of a cyclist's goals, the M450 adjusts to individual metrics and generates personalized feedback. By entering training background, current physical condition and completing Polar fitness and orthostatic tests, the M450 can give personal guidance to optimize training for peak performance. Customizable views on the M450's display provide just the right information. Compatible with Polar Bluetooth® Smart accessory sensors including H7 for heart rate, Speed and Cadence sensors and Keó Power, Polar's M450 captures all the data needed to perform well in any cycling scenario.
The M450 is equipped with state-of-the art GPS technology and integrated barometer that guarantees high GPS and altitude accuracy with minimal power consumption. Polar's innovative Back-to-Start feature will even guide riders home after a long ride. The M450's unique Polar-exclusive Smart Coaching provides training guidance, including detailed analysis of training load and recovery time in Polar Flow web service.
Marco Suvilaakso, Group Product Director at Polar says: "Compared to any other product in this category, Polar M450 offers something unique: customizability in Smart Coaching features and the functional and modern design. The M450 even connects with Polar Flow for Coach, our powerful online training tool for coaches and personal trainers. It's especially convenient for young amateur riders training with a coach and traditional bike shop customers."
The free Polar Flow web service and app complete the Polar M450 experience. The app (for iOS and Android) allows easy syncing on the go via Bluetooth® Smart. For deeper analysis, the user can log on to Polar Flow web service and sync data via an Internet connection and a USB cable that is also used for charging. The Polar Flow ecosystem enables future firmware and software updates. Polar Flow provides training analysis and weekly, monthly and yearly summaries, and helps the user plan future rides and follow their progress in modern visual style. Polar Flow even enables sharing accomplishments with friends or the whole sports community in Polar Flow or via sync with Strava.
Call 1-800-875-9145 to speak with one of our fitness advisors with any questions you may have. Go to FitnessZone.com today to order your Polar M450 White Bike Computer with Heart Rate.
Whether you're training, commuting, or trail riding, the M450 caters to your personal cycling needs so you can #RideTheWayYouWant
Tracks your cycling speed, distance and route

Includes integrated GPS and precision barometer. Changeable color covers lets you customize the M450 to match your bike

Includes Smart visibility front LED light for safety

Compatible with Polar Bluetooth Smart H7 heart RATE sensor and cycling accessories. (Sold separately, not included)

Generates personalized feedback and guidance to optimize training. Plus, Syncs to the free Polar flow app and web service for workout planning and more
SMART COACHING
Orthostatic test

An easy and reliable way to determine your current condition. Repeat the test regularly to learn what to expect from your heart rate and what can affect it, then adjust your training to allow your body to recover when needed.

Fitness Test

A five-minute test that measures aerobic fitness from your resting heart rate, heart rate variability and your background information. Complete the test regularly to see the progress you're making.

Training Benefit

Delivers motivating feedback immediately after the ride describing the effect of the training session.

Smart calories

Lets you know exactly how many calories you've burned based on your weight, height, age, gender, your individual maximum heart rate (HRmax) and how hard you're training. OwnCal is the most accurate calorie counter on the market. It calculates the number of calories expended during a training session based on your weight, height, age, gender, your individual maximum heart rate (HRmax) and how hard you're training.


Training Load

Shows you how your training affects your body and helps you compare the load of different rides. Monitor your load continuously to recognize your personal limits and adjust training intensity and duration accordingly.


Recovery Time

Shows you the time necessary for recovery before the next ride. Find the perfect balance between training and rest and get a true picture of your recovery status before getting out there again. Recovery status is based on the cumulative load of all your activities including your training sessions and data on the small activities you do every day. Continuous monitoring of recovery status helps you plan your training so that you avoid over- and undertraining.

Polar M450 White Bike Computer with Heart Rate Features
Gps
Track your speed, distance and route with state-of-the-art GPS powered by a fast satellite connection.
Precision barometer
Integrated barometer to ensure precise altitude functions.
Heart rate guidance
Heart rate is your most reliable fitness indicator. Monitor your heart rate to train effectively.
Tests
Learn to know yourself by measuring your condition and progress with Fitness and Orthostatic Tests.
Training load and recovery time
Find your limits by following your Training Load and learn how much Recovery Time is needed after the ride.
Safety focus
A smart visibility front LED light for your safety.
Polar M450 White Bike Computer with Heart Rate Specifications
Measurements

| | |
| --- | --- |
| Weight | 51g |
| Thickness | 14,0 mm |
| (with mount | 19,4 mm) |
| Display size | 3.5cm x 3.5cm |

Tech

High precision barometer
Sensitive and accurate GPS
64Mb flash memory
35 hours of recording time*
Rechargeable 385mAh battery
Battery duration up to 12 hours of training with heart rate and GPS on
Splash proof (IPX7)

Connectivity

USB connectivity for data sync with PC or Mac via Polar FlowSync
Bluetooth® Smart
Polar Flow web service compatibility with Mac OS X 10.6 or later and PC Windows XP, 7, 8.
Updatable software
UI languages English, Spanish, Portuguese, French, Danish, Dutch, Swedish, Norwegian, German, Italian, Finnish, Polish, Russian, Chinese, Japanese
What's Included
Polar M450
Bike Mount
Micro USB Cable
H7 Heart Rate Monitor
Polar M450 Warranty:
Polar Electro Oy/Polar Electro Inc. guarantees the original consumer/purchaser of this device that the product will be free from defects in material or workmanship for two (2) years from the date of purchase.
Order your Polar M450 White Bike Computer with Heart Rate 90055542 from FitnessZone.com today!
Customer Ratings & Reviews
Be the first to rate this item!