Polar RC3 GPS Heart Rate Blue Sports Watch 90050617
Polar RC3 GPS Heart Rate Blue Sports Watch 90050617
Product Code: polar-rc3-gps-hr-blue-sports-watch-90050617
Price:
$329.95

Need Expert Advice? Our friendly and knowledgeable staff is ready to help you. Call us now at 1-800-875-9145!
Polar RC3 GPS Heart Rate Blue Sports Watch 90050617
The Polar RC3 is a GPS-enabled watch that runners and cyclists can use to track their speed, distance and route during their training sessions. If users pair the device with a heart-rate monitor, they can use their heart-rate data to train more efficiently, and with the right intensity. The device is easy to use and inspiring, especially if you are training for an upcoming event, such as a race or marathon.
For runners — or even beginners with big training goals, such as running a marathon — the Polar RC3 GPS watch can be a motivating addition to training routines. It can provide useful information to help you make the most out of each session, and the Polar personal trainer website gathers the information in an organized way.
The Polar RC3 GPS watch comes in black, blue, and orange. It is light and comfortable, and the design is sleeker than those of other sport watches, which tend to be quite bulky. The screen is very large and easy to read, and the five buttons surrounding the screen are easy to access while you're working out.
The heart-rate sensor attaches to an adjustable strap that goes around the chest. The sensor and the watch communicate wirelessly and in real time. Chest-strap sensors are generally more accurate than wrist-worn devices for measuring heart rate.
Although the Polar RC3 GPS can withstand water splashes, you can't wear it while bathing, which means swimmers can't use it to track data during their workouts.
The Polar RC3 GPS watch comes with access to a free training website called Polar personal trainer. There, you can upload your training data for review, or create a training program for running or cycling and download it to your watch. The website and the watch communicate with each other using a program called Polar WebSync, which you can download to the watch from the personal training website. I found both the software and the website easy to navigate, with designs that were simple and intuitive.
The Polar RC3 watch uses GPS capability, so it measures the distance that you've run or cycled more precisely than regular activity monitors — such as fitness trackers — can. It's worth noting that the GPS only works if you train outside.
During a workout, the watch gives you quite a lot of information. You can toggle among eight screens, and each of them shows several pieces of your training data — for example, your real-time heart rate, distance covered and pace.
When you start to use the watch, you can take the Polar fitness test, which aims to gauge your current fitness level. The test measures your heart rate at rest and how much it varies during rest, and also uses information such as age, gender and weight to come up with a fitness score.

However, you should know that measuring heart rate is just one method for estimating one's level of aerobic fitness. The more precise method of determining aerobic fitness level requires the use of laboratory equipment to measure a person's oxygen uptake during strenuous exercise.
One feature of the watch that sets it apart from some other devices is that it shows you how much time during your workout you spent in each of five "sport zones," which range from very light to very hard activity based on your heart rate. The device also has an interesting option called ZoneOptimizer. When the option is turned on, the watch automatically measures the changes in your heart rate during the warm-up and determines your personal sport zones. Using all of these options can give you a wealth of data about your workout, but I can see how it could be overwhelming for more casual runners, who may be looking for a more streamlined picture of their runs.
The watch also allows you to "lock" into a sport zone. For example, if, for training purposes, you'd like to stay in sport zone 3, the watch sounds an alarm every time your heart rate falls out of the range of that zone.
The Polar Personal Trainer website acts as a diary for your training sessions and upcoming events, such as road races. It has a section where you can review your progress by comparing training results, such as distance covered, time spent in each sport zone and the duration of training sessions. The website has several useful calculators, such as a calorie calculator and daily calorie needs based on your information. You can also define new "challenges" for yourself and even share them publicly with other users
Tracks your route, speed and distance using built-in GPS
Shows GPS based altitude during and after training
Training Benefit gives you instant feedback after your session
Running Index scores your performance
Improves performance with endurance training programs, downloadable for free from polarpersonaltrainer.com
Compatible with Polar running and cycling sensors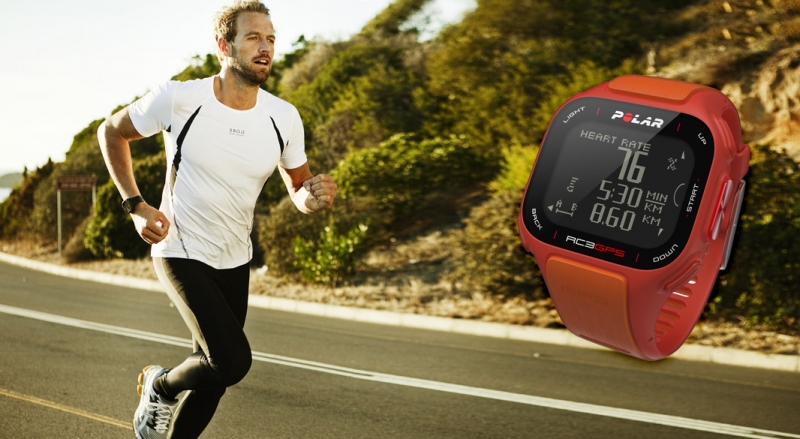 Polar RC3 GPS Blue Sports Watch with Heart Rate Features
Body measurement features -


Training features

Integrated GPS features

Recording features

Polarpersonaltrainer.com features

CS cadence sensor W.I.N.D. features

CS speed sensor W.I.N.D. features

s3/s3+ stride sensor features

Data transfer

Watch features
Body Measurment Features

HRmax (user set)

HRmax (age-based)

Polar Fitness Test

Polar OwnCode® (2.4 GHz W.I.N.D.) – coded transmission

Polar OwnCal® – calorie expenditure with fat percentage

Average and maximum heart rate of each lap

Average, minimum and maximum heart rate of training

Heart rate – bpm / %

Polar ZoneOptimizer - personalized sport zones

Polar sport zones

Training Benefit

Training Features

Interval trainer guided workouts – heart rate / pace / distance

Number of laps – 99

Sport Profiles (5 fixed sport profiles)

Graphical target zone indicator

Automatic lap recording

ZonePointer

ZoneLock

Integrated GPS Features

Back to start

Speed/Pace – current, average and maximum

Running Index

GPS based altitude

Distance – training, lap, and total

Route mapping – opt. with polarpersonaltrainer.com web service
Recording Features


Totals

Training files (with summaries) – 99

Weekly history

Polarpersonaltrainer.com Features

Training Load

Training diary

Training programs

Map view

Endurance programs

Advanced training analyzing

CS cadence sensor W.I.N.D. Features

Cadence – current, average and maximum
CS speed sensor W.I.N.D.Features

Speed – current, average and maximum

Autostart/stop

Bike settings – for two bicycles

Distance – training, lap, and total

s3/s3+ Stride Sensor Features

Speed/Pace – current, average and maximum

Running Index

Cadence – average and maximum

Average stride length

Distance – training, lap, and total

Watch Features

Backlight

Date and weekday indicator

Display text in English, German, French, Spanish, Portuguese, Italian, Dutch, Danish, Finnish, Norwegian and Swedish

Dual time zone

Button lock

Low battery indicator

Rechargeable battery

Battery life: 12h in continuous use with GPS on, 11 days when training 1h/day with GPS on

Time of day (12/24h) with alarm and snooze

Water resistant – IPX7
In The Box
Polar RC3 GPS with heart rate

Polar RC3 GPS training computer
Polar H3 heart rate sensor
USB cable
RC3 GPS Getting Started Guide
An extra blue strap in the RC3 GPS Blue set
Polar RC3 GPS Blue Sports Watch with Heart Rate Warranty

Polar Electro Oy/Polar Electro Inc. guarantees the original consumer/purchaser of this device that the product will be free from defects in material or workmanship for two (2) years from the date of purchase.
Order your Polar RC3 GPS Blue Sports Watch with Heart Rate from FitnessZone.com today!
Customer Ratings & Reviews
Be the first to rate this item!