Powertec Workbench Levergym WB-LS16 BY
Powertec Workbench Levergym WB-LS16 BY
Product Code: powertec-workbench-levergym-wb-ls16-by
Price:
$1,249.00

Need Expert Advice? Our friendly and knowledgeable staff is ready to help you. Call us now at 1-800-875-9145!
Powertec Workbench Levergym WB-LS16-BY
TO ORDER CALL 1-800-875-9145
The WB-LS16 Workbench LeverGym features a Newly Designed Workbench, Bench Frame, it allows users to adjust theseating area by sliding the Seat Assembly on it"s Sealed Bearings Carriage. The New Backrest can be adjusted at different settings and still provide addedstability. The Isolateral Arms can be used independently or locked together andbe used as Conventional Bench Press Arms.
Powertec's new design makes the Powertec Workbench Leverage Gym WB LS16 stand out from the rest. There are over 20 of the most effective classic strength training exercises built into this gym that will allow you to work every muscle group to the max providing precise function. The Powertec Leverage Gym WB-LS16 incorporates a lock and load removable bench section opening up the lever area for power exercises such as squats, shrugs and rows. The bench has wheels for easy in and out access and includes handlebars for gripping during leg exercises. The Powertec Workbench Leverage Gym WB-LS16 series gives you that powerful, rugged feeling you're looking for.
WEIGHT PLATES NOT INCLUDED!
Matted Paint Finish
The new systems feature a Matted Paint Finish, the Frozen look like colors give the s stem an added special look. As on the Workbench Muli-System Powertec introduces the LeverGym in Four Color Combinations where customers have the option of choosing their Color Combinations and Mix and Match from Matted Powertec Yellow, Matted Black, Black/Yellow and Yellow/Black colors.
Available Colors:
Four-Color Combinations:
| | |
| --- | --- |
| WB-LS16-YY Powertec Yellow | WB-LS16-YBPowertec Yellow / Black |
| WB-LS16-BB Black | WB-LS16-BYBlack / Powertec Yellow |
NEW COLOR OPTIONS:
| | | | |
| --- | --- | --- | --- |
| WB-LS16-YB Yellow / Black | WB-LS16-YY Yellow | WB-LS16-BB Black | WB-LS16-BY Black/Yellow |
| | | | |
An access tube and knob lock pin have been incorporated into the LeverGym™ providing the new "Workbench Machine Accessories" to be added to your gym.
MATTED

BLACK FRAME AND YELLOW DETAIL FINISH
Powertec Workbench Levergym WB-LS16-BY Specifications
Model# WB-LS16 ( Matted Black and Construction Yellow)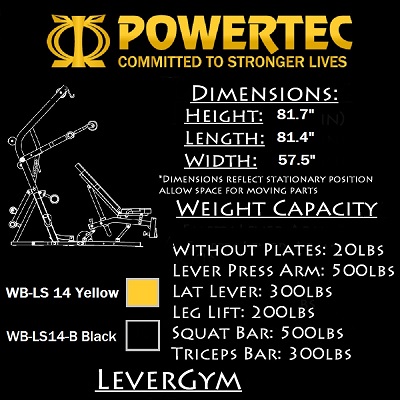 Weight Capacity Max Load (lbs):
Press Arms: 500lbs. Cable: 300 lbs.
StartingWeight(lbs):Press Arms: 20 lbs. Cable: 5 lbs.
Dimension (HxWxL) :81.7 x 57.5 x 81.4
WB-UB16 Unity Bench included

LIFETIME WARRANTY
Order your Powertec Workbench Levergym WB-LS16-BY from FitnessZone.com today!
Customer Ratings & Reviews
Be the first to rate this item!