Precor TRM 811 Treadmill
Product Code: precor-trm-811-treadmill
Price:
$7,395.00
Financing Solutions from

Once Approved Call Us To Place The Order!
Need Expert Advice? Our friendly and knowledgeable staff is ready to help you. Call us now at 1-800-875-9145!
Precor TRM 811 Treadmill
The new Precor TRM 811 treadmill delivers exercisers a smooth and natural performance with next generation Integrated Footplant™ Technology (IFT) and Ground Effects® Impact Control (GFX). Facility operators will experience exceptional durability and optimal performance.
New technology uses your preferences and exercise data to deliver a personalized workout experience that promotes better results and saves you time. The Precision Series is club-proven reliability in a treadmill personalized for your home.
Your lifestyle is fitness. And your equipment needs to go the distance. The new Precor TRM 811, Precision™ Series Treadmills are commercial models for your home.
Top-of-the line entertainment, superior technology and fitness expertise are all built-in to the Precor TRM 811 Treadmill. With your iPod®/iPhone® Compatibility you can catch up on the news or browse Facebook® while you run. You'll look forward to running on your Precor TRM 811 Treadmill!
There are many benefits to running on a treadmill. Having a machine like the Precor TRM 811 means you can benefit from variations in terrain that may not be available locally, as well as a way to supplement your outdoor routine when the weather turns colder.
Being the top treadmill in Precor's Precision range has resulted in a wide range of features that are designed to provide stride support, cushion your foot fall, and even increase the lifespan of the machine.
Call 1-800-875-9145 to speak with one of our fitness advisors with any questions you may have. Go to FitnessZone.com today to order your Precor TRM 811 Treadmill!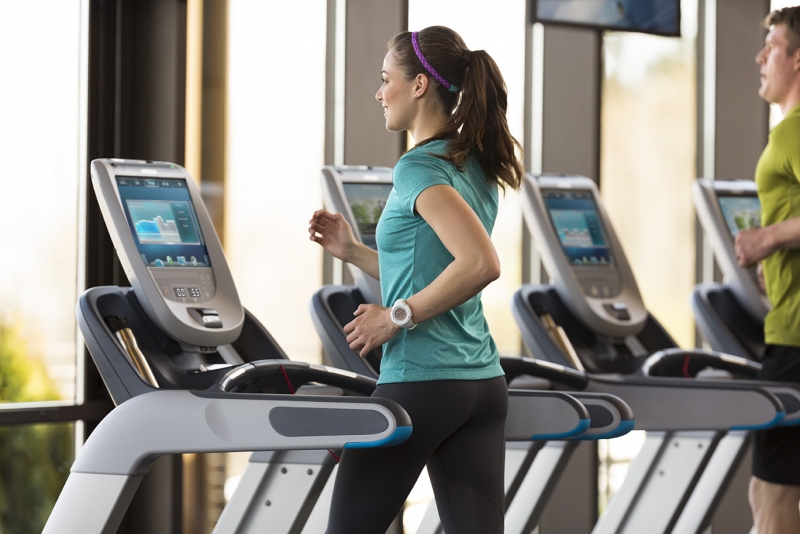 Precision™ Series

Precor – Proven Reliability

Patented Precor Technologies

3 HP Motor / Run or Walk Downhill
Precor TRM 811 Treadmill Features
Ground Effects® Impact Control System

New and improved progressive shock absorption system that absorbs high impact movements and supports a solid and controlled push off.

Ground Effects® Technology

Yes

Integrated Footplant Technology™

Fully complements exercisers natural running stride, reducing joint stress and fatigue.

Motor

IFT-Drive controller works with a new, high efficiency 4 HP AC motor that delivers improved performance and a smooth, natural feel.

Deck and Belt

Seigling E8 multi-ply polyester belt with optimized lubrication integrated into the material, exclusive to Precor.

The running belt is combined with a pre-waxed deck that offers added lubrication especially during the initial break-in period of the treadmill.

The combination of the exclusive optimized running belt with pre-waxed deck yields a long lasting system. However, when the running belt does need to be replaced and the deck flipped, this service can be completed in less than 20 minutes.

The deck is mounted to the GFX system independent of the frame resulting in a stable, quieter treadmill.

Reversible Deck

Yes

Elevation System

Elevation system generates up to 1000 lbs of thrust and operated in compression for reliable operation.

Rollers

Steel tapered rollers keep the belt centered to reduce maintenance and noise.

Frame

New frame design results in an ultra-stable console, solid feel, and quiet operation.

Water Bottle and Accessories Holder

Dual holders with rubber over mold cradles exercisers water bottle to keep it stable. Accessory tray securely supports exercisers cell phone, keeping it front and center, along with ample room for keys, membership card, etc.

Emergency Stop

Safety clip and lanyard attached to the stop switch to immediately turn off power bringing the treadmill to a stop. The lanyard and safety clip can be conveniently attached to a thoughtful tab located underneath the front handrail.

Auto Stop

Yes

Power-Factor Correction

Yes

Transport Wheels

Yes

Cable Management

Optional
Precor TRM 811 Treadmill Specifications
Network Capabilities
| | |
| --- | --- |
| CSAFE Ready | Yes |
| FitLinxx Compatible | No |
| Diagnostics | Ability to set club parameters, e.g. limit exercise time, set default language and pause time. |
Equipment Specifications
| | |
| --- | --- |
| Speed Range | .5 - 12 mph / .8 - 19.3 km/h |
| Decline / Incline Range | 0 - 15% in 0.5% increments |
| Running Surface (L X W) | 60 L x 22 W inches / 153 L x 56 W cm |
| Maximum User Weight (lbs / kg) | 400 lbs / 181 kg |
| Step-up Height | 9.5 inches / 24 cm |
| Power Cord Management | ICE 320-C19 inlet supporting Schuko and BSI plugs |
| Handrail Length (inches / cm) | 24 inches / 61 cm |
Equipment Dimensions and Weight
| | |
| --- | --- |
| Height | 62 inches / 157.5 cm |
| Height with PVS | 78 inches / 198 cm |
| Machine Weight (base equipment) | 420 lbs / 190 kg |
Precor TRM 811 Treadmill Warranty
| | |
| --- | --- |
| Frame and Weldments: | Lifetime |
| Parts and Wear Items: | 10 years |
| Console: | 3 years |
| Labor: | 1 year |
Order your Precor TRM 811 Treadmill from FitnessZone.com today!
Customer Ratings & Reviews
Be the first to rate this item!