Precor UBK 815 Upright Bike
Precor UBK 815 Upright Bike
Product Code: precor-ubk-815-upright-bike
Price:
$3,195.00
Need Expert Advice? Our friendly and knowledgeable staff is ready to help you. Call us now at 1-800-875-9145!
Precor UBK 815 Upright Bike
Looking for a low-impact cardio workout, or starting a fitness program? The UBK 815 Upright Bike is an excellent choice. It is the exact same commercial bike used in fitness centers worldwide, with a variety of programs, features and custom-designed handlebars to make your ride more comfortable.
The self-powered UBK 815 upright bike features custom-designed handlebars with integrated handheld heart rate for maximum comfort and efficient workout experience. One-handed seat adjustment on or off the bike, redesigned saddle for riding comfort, and improved knee over pedal spindle (KOPS) geometry for efficient pedaling mean a smooth, comfortable workout.
The Precor UBK 815 Commercial Series Upright Exercise Bike offers an ergonomic, comfortable cardio workout in a machine just like you'd find in the gym. Used in gyms around the world, this commercial cycle is built to last, standing up to the most challenging workouts and providing a wide range of cycling challenges. Along with ergonomic styling including an adjustable seat and handlebars, there are six pre-programmed workouts and 25 levels of resistance.
Precor has been providing serious fitness equipment for commercial and home use since 1980. Over the past 30+ years, the company has become a well-respected leader in hard-working cycling equipment.
The Precor UBK 815 Exercise Bike offers low-impact cardio and lower-body toning through an ergonomically-designed frame that's built to last. Users may select from six pre-programmed workouts and move between 25 levels of adjustable resistance. With options, adjustability, and ongoing tracking of fitness metrics such as calorie burn and heart rate, this cycle meets the needs of the serious home cyclist. With its commercial quality, the UBK 815 will stand the test of time, providing ever-challenging workouts for years to come.
Call 1-800-875-9145 to speak with one of our fitness advisors with any questions you may have. Go to FitnessZone.com today to order your Precor UBK 815 Upright Bike!
Six workout programs

25 levels of resistance

Heart rate monitoring (telemetry/touch), including target heart rate zone

Lasting commercial quality

Adjustable, 14-position ergonomic comfort seat

Adjustable, three-way handlebars

Dual-sided, wide pedals

Smooth, quiet operation and smooth resistance

LCDF console displays calorie burn, distance, speed, time elapsed, time remaining, and percent complete

Includes built-in water bottle/accessory holder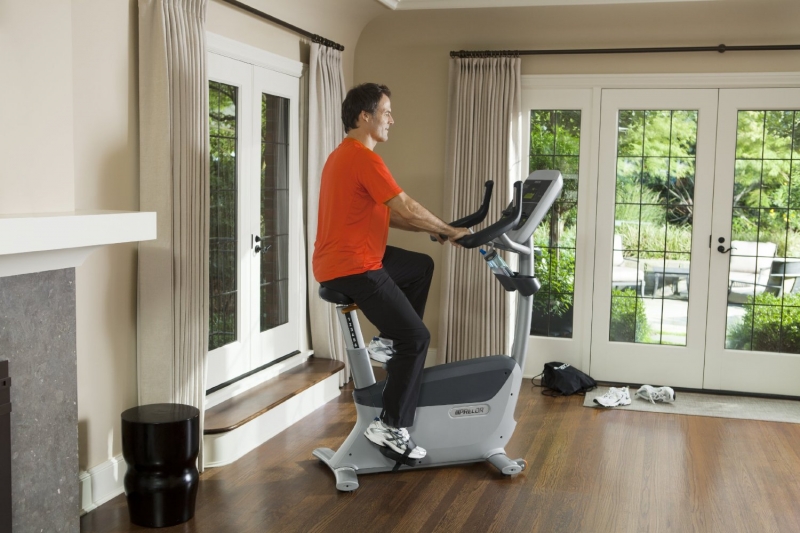 Precor UBK 815 Upright Bike Features
Precor UBK 815 Features
| | |
| --- | --- |
| Handlebars | Handlebar design offers three riding positions - upright, cruising, and road racing. The overall width of the handlebars places the user in better ergonomic position with the forearms more directly under the shoulders. In the road racing position, the ergonomic-shaped handlebars position the wrists in a natural, neutral position. |
| Seat | Ergonomic seat design with comfort groove. 10.5 inches (27 cm) width that quickly tapers to a narrow nose for improved riding comfort. Universal seat post allows easy installation of your own saddle. |
| Biomechanics | KOPS Biomechanics (Knee Over Pedal Spindle) - to achieve proper pedaling biomechanics, the seat post and seat post offset from the crank is key to aide in efficient pedaling and reduced shear force on the knee. The seat post angle is 74 degrees with a 5 inch (13 cm) offset from the crank axle. This places the forward knee directly over the ball of the foot (or pedal spindle) when the pedals are in a horizontal position. |
| Pedals | Dual-sided pedals can be used without the pedal straps. The extra wide pedal comfortably accommodates feet of all sizes. |
| Color | Pacific Blue-Gray and Silver Gray |
| Seat Adjustment | Seat has 14 levels of adjustments and can be adjusted while you are on or off the bike |
| Transport Wheels | Yes |
Resistance System
| | |
| --- | --- |
| 3-Piece Crank | 3-piece crank tightens positively, reducing the need for periodic adjustments. The 170 mm crank arm accepts any standard road or mountain bike pedal. |
| Drive System | The two-stage drive system yields a smooth, comfortable, quiet operation with a lower start-up resistance and more consistent resistance progression than single-stage drive systems. |
| 3-Phase Generator | 3-phase generator / eddy current resistance system requires no backup battery in order to efficiently power the bike. |
| Belt Drive | Belt drive for smoother, quieter operation and reduced maintenance. |
| Resistance Levels | 25 |
Precor UBK 815 Upright Bike Specifications
Precor UBK 815 Specifications
| | |
| --- | --- |
| Frame | Two-step powder coating process applies rust-resistant undercoat and cosmetic topcoat to steel frame. |
| Bearings | Pedal axles and bearings are designed for smooth operation and exceptional durability. |
Precor UBK 815 Dimensions and Weight
| | |
| --- | --- |
| Length | 48 inches / 122 cm |
| Width | 21 inches / 53 cm |
| Height | 57 inches / 146 cm |
| Equipment Weight | 160 lbs / 73 kg |
Precor UBK 815 Upright Bike Warranty
Lifetime Warranty on the Frame and Welds

10 year or 5 year Warranty on Parts and Wear Items

1 year Warranty on Labor

See below for commercial products purchased for home use.
Order your Precor UBK 815 Upright Bike from FitnessZone.com today!
Customer Ratings & Reviews
Be the first to rate this item!