Prism Hyperwear Vest Pro (Medium)
Prism Hyperwear Vest Pro (Medium)
Product Code: prism-hyperwear-hyper-vest-pro-Medium
Price:
$199.99
Need Expert Advice? Our friendly and knowledgeable staff is ready to help you. Call us now at 1-800-875-9145!
Prism Hyperwear Vest Pro (Medium)
SKU: 400-373-020
Hyperwear's Hyper Vest Pro's patented control system and fabric holds weights comfortably in place even during vigorous multi-plane movement. Use the hyper vest pro for sports performance training (such as pullups, dips, plyometric box jumps, and walking lunges), tactical training for fire, police, and military, general fitness and weight loss, and prevention of osteoporosis.
The Prism Hyperwear Vest Pro has generously-cut armholes and v-neck that will allow for full range of motion, and short waist increases freedom of movement. Cinching drawstrings at waist and sides provide a secure fit for all sizes, builds and compression requirements. So thin, you can wear it under a shirt and no one will know.
The Hyper Vest PRO weighted vest features a revolutionary control system and fabric described as the best weight vest by Men's Health Magazine. The innovative design of the Medium Hyper Vest PRO holds high-density steel weights firmly and comfortably close to the core, even during vigorous, multi-plane movement.
Each vest ships with 10lbs of weight; extra 5lb "booster packs" are also available.
The Hyper Wear 5-lb Booster Pack® contains 35 individual weights (5lbs), each weighing 1/7th of a pound. Each pocket on the Hyper Vest PRO can hold up to 2 individual weights.
Professional-grade weight vest based on a patented design and fabric

Comes with 10lbs of high-density steel weights with capacity for more

Thin profile provides full range of motion

Stretch fabric is wicking, odor resistant, cool and comfortable; open side for ventilation

Unisex design with side lacing for highly-adjustable fit
Different vest sizes have different maximum weight capacities, as follows: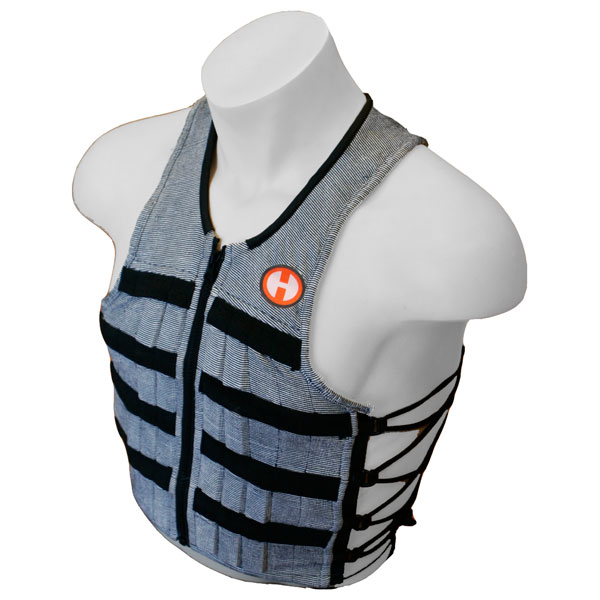 Small, 20lbs max weight
Medium, 25lbs max weight
Large, 30lbs max weight
XLarge, 45lbs max weight
XXLarge, 60lbs max weight
Order your Prism Hyperwear Hyper Vest Pro (Medium) from FitnessZone.com today!
Customer Ratings & Reviews
Be the first to rate this item!