ProForm Smart Hiit Trainer
Your Personal iFit Coach At Home!
ProForm Smart Hiit Trainer
Product Code: proform-smart-hiit-trainer
Price:
$999.00
Need Expert Advice? Our friendly and knowledgeable staff is ready to help you. Call us now at 1-800-875-9145!
ProForm Smart Hiit Trainer
Model #PFEL09915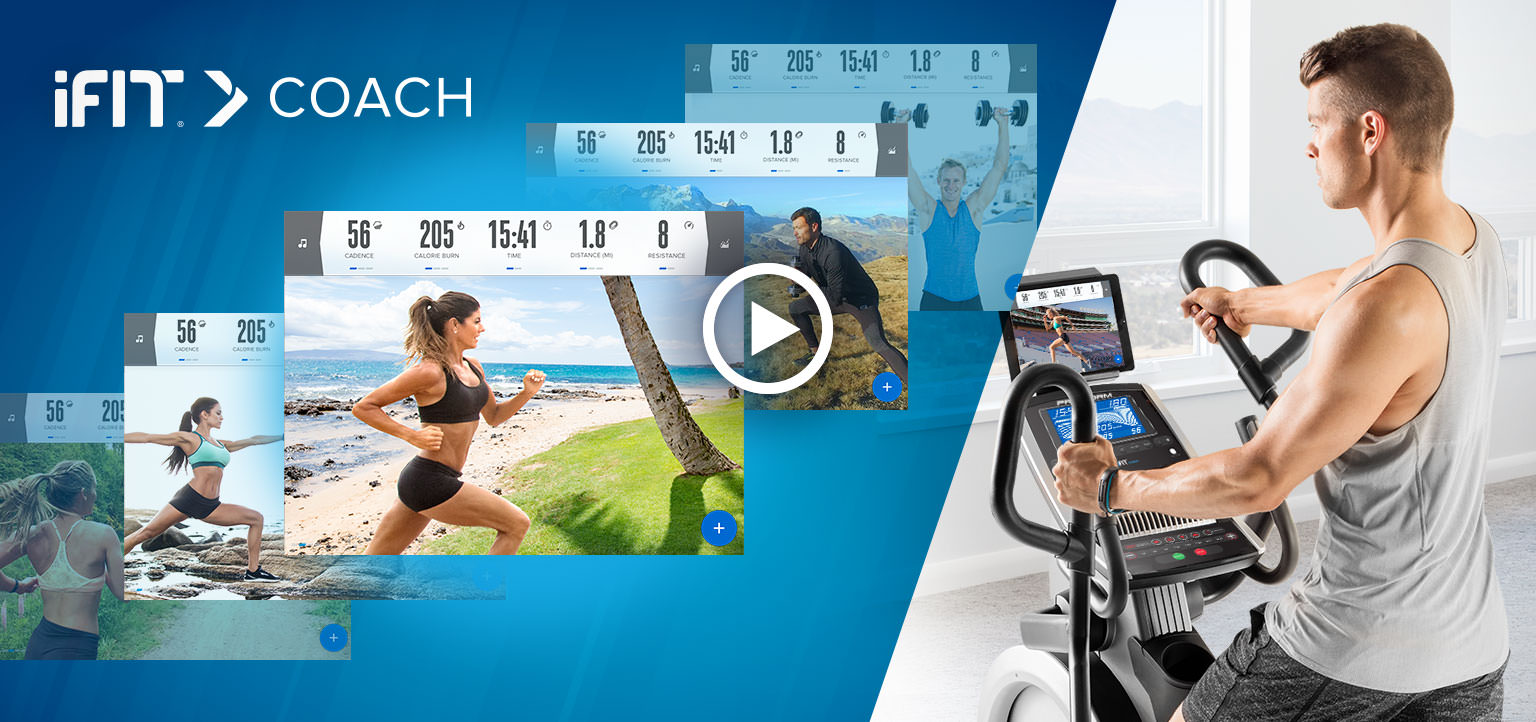 Discover Trainer-Led Workouts From All Around the World
Engage in a whole new fitness experience as certified personal trainers take your exercise all around the world. ProForm® SMART equipment, like the SMART HIIT Trainer, comes fully equipped with a 1-year membership to iFit® Coach, giving you full access to an expansive collection of worldwide workouts that will get you moving and sweating on and off your machine.
*Connect your included 1-year iFit® Coach membership on your Android™ or iOS tablet. Tablet not included. Review your iFit® Coach account on a computer, tablet, or smartphone. After 1 year, subscription auto renews with fee.
What is HIIT?
High Intensity Interval Training, or HIIT, is a training technique that involves repetitively giving 100% effort for a set amount of time followed by short recovery periods. You'll get and keep your heart rate up, burning more calories and building strength throughout your workout.
Burn More Calories in Less Time With HIIT
Step up to new heights on the SMART HIIT Trainer. Combining the movement of climbing stairs with the intensity of boxing, each workout helps you activate more muscles throughout your whole body while burning more calories.
Activate More Muscles
Combining a 10-inch vertical elliptical stepping path with powerful, upper-body punching actions, the SMART HIIT Trainer simulates stair climbing and boxing, allowing you to activate your calves, hamstrings, quads, glutes, biceps, and triceps—all in a single movement.
Unique 10" Vertical Path
Unlike other stepper machines, the SMART HIIT Trainer is designed for your feet to travel on a 10-inch vertical and 5-inch horizontal elliptical path. This motion puts you on track to burning more calories and building more strength.
Smooth Moving
Put your joints at ease while in the middle of a challenging workout. With the SMART HIIT Trainer, your feet never leave the pedals, giving you a zero-impact experience to help reduce stress on your joints and back.
SMR™ Silent Magnetic Resistance
Forget noisy air resistance trainers. The SMART HIIT Trainer brings SMR™ Silent Magnetic Resistance to your training. It's quiet, smooth, and durable so you can focus on your workout—without disturbing your home.
Keep Your Floor Space Yours
One of the biggest concerns people have about in-home fitness equipment is the amount of space it takes up. The SMART HIIT Trainer resolves those concerns. The compact footprint takes up half the space of a normal elliptical exercise machine, leaving you with room to roam.
Smooth Performance
Use the built-in 7" backlit display to swipe through your speed, time, distance, calories burned, heart rate, and more. Large, easy-to-press buttons make it simple to change your resistance level in an instant. Control your workout effortlessly by managing your audio, fan, workout programs, and much more.
Precision Training
Build the strength you need without the hassle. The SMART HIIT Trainer comes equipped with precise Quick Touch controls. Instantly change your resistance level at the touch of a single button.
Tracking Meets Entertainment
We know when you've made up your mind about getting fit, you mean business. So we made sure your workout stats are right in front of you as you work out. And, add entertainment to your training by putting your own tablet into the attached tablet holder.
Tech Specs:
Technology
iFit®: 1-Year iFit® Coach* Membership Included
Display: 7" Backlit Display
Programs: 32 On-Board Workouts
Heart Rate: EKG Grip Pulse Heart Rate Sensor with Included Chest Strap
Engineering
Stride: 10" Vertical, 5" Horizontal
Upper-Body Grips: Multi-Function Handlebars
Pedals: Oversized, Cushioned Pedals
Flywheel Weight: 28 Lb. Effective Inertia-Enhanced Flywheel
Resistance Levels: 24 Resistance Levels
Comfort
Fan: CoolAire™ Workout Fan
Tablet Holder: Built-In Tablet Holder
Audio: Audio Auxiliary Port
Transport Wheels: Front-Mounted Transport Wheels
Leveling Feet: Oversized Leveling Feet
Water Bottle Holder: Water Bottle Holder
Additional
Construction: Commercial-Gauge Steel Construction
Weight Capacity: 350 Lb. Weight Capacity
Footprint: 66.7" H x 29.25" W x 52" D
Power Requirements: 9 Volt, 2 Amp
Warranty: Lifetime Frame, 3-Year Parts, 1-Year Labor
Order your ProForm Smart Hiit Trainer from FitnessZone.com today!
Customer Ratings & Reviews
Be the first to rate this item!