Rhino Roller
Product Code: rhinoroller
Price:
$79.99
Ratings Snapshot
Would recommend this product.
Financing Solutions from

Once Approved Call Us To Place The Order!
Need Expert Advice? Our friendly and knowledgeable staff is ready to help you. Call us now at 1-800-875-9145!
Rhino Roller
The Rhino Roller is very firm and is very much like a deep tissue massage, your body will adapt over time. The Rhino Roller penetrates deep into the muscle forcing fluid into the disc, if it would be any softer, it would merely be a gimmick. Since you are using your own body weight you are able to control your own intensity; meaning if the feeling your having is to severe, it is to your discretion to continue or rest. However this roller is designed to put pressure on certain areas of your back and there should be some discomfort. Over time as your core develops this discomfort will lessen.
The Rhino Roller can be used by kids, there is no harm in children strengthening their core, however due to their light body weight they will have minimal results for the discs and vertebrae. It can handle being outdoors in all climates, but it is not recommended in a large body of water, or as a flotation device.
The Rhino Roller could be used as often as needed, however due to the strain on your core eventually you will want to rest, your core is a muscle and gets worked like any other body part. We recommend 3 times a day in 2 minute intervals for each body part. You can use Rhino Roller at any time, although it is better when you are fully hydrated, so fluids flow freely into your discs.
The product is very durable and should not flatten over time, depending on your weight and if used everyday the Rhino Roller has a life expectancy of 5 years. So far we have seen no evidence of a Rhino Roller breaking down.

History of the Rhino Roller
The Rhino Roller was born out of true necessity by Co-Owner Brandon Selvaggio. In 2008, he was hit by a drunk driver in a head-on car accident that left him bed-ridden for nearly six months. His back pain was so excruciating, he was forced to crawl around his house. Mr. Selvaggio was frustrated with the lack of progress made during physical therapy. He even met with some of the world's top doctors at the Cleveland Clinic, but wasn't convinced that their proposed surgery was the best option.
During the time he was bed-ridden and healing from spinal injury, he took what he already understood about the human spine and began researching ways to alleviate his pain.
Brandon then collaborated with some of the top experts in spinal care to start building a solution. With a strong understanding about how the bones and the vertebrae are intended to work together, he began developing an innovative idea to aid in his recovery.
What he developed was the initial prototype of the Rhino Roller, designed to allow space in between intervertebral disks and allow fluid to flow freely. In Mr. Selvaggio's case, this increase of fluid was needed to return his spine to a functional state.
Within six months of using his Rhino Roller daily, Mr. Selvaggio was returning to his active lifestyle of playing basketball, racket ball and other sports that he loves. Since inventing the Rhinoroller, Mr. Selvaggio has been recognized for his ingenuity by chiropractors, fitness experts and athletes alike. Both experts and novices are amazed with the results the Rhino Roller can produce for both spinal health as well as muscle pain relief..
In a recent interview, chiropractor Dr. Roger Huang said Brandon's Rhino Roller is one of the most innovative products he's seen for spinal health and recovery.
Call 1-800-875-9145 to speak with one of our fitness advisors with any questions you may have. Order your Rhino Roller from FitnessZone.com today!

"I can't imagine a patient who couldn't benefit from the Rhino Roller," said Dr. Huang. "Whether you're recovering from an injury or practicing preventative maintenance, the Rhino Roller will help you maintain a healthy spine.
APPLICATION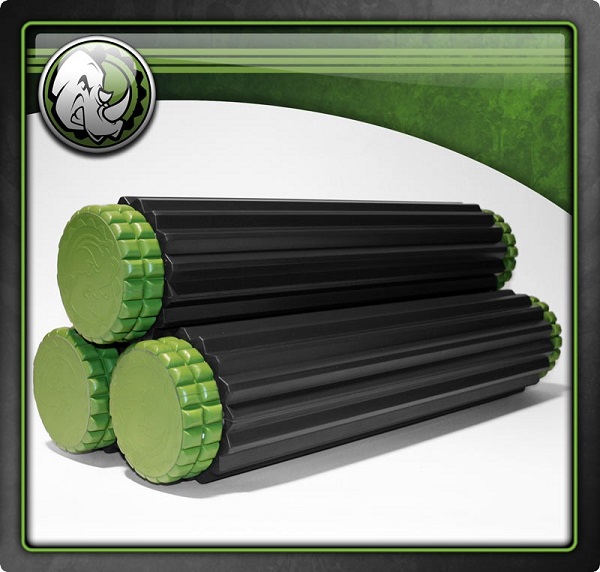 Spinal Disc Decompression
Vertebrae Alignment
Strengthens Core
Direct Myofascial Release
Deep

Spinal Rehab and Decompression Exercises
Lower Back Exercise

Rhino Roller gently opens the discs in your lower back, allowing space for fluids to penetrate discs.

Latissimus Exercise

Lie on your side on the floor, with your arm outstretched and over the top of the foam roller.

Quadriceps Exercise

Support yourself on your elbows and forearms, and keep your abdominal and back muscles lightly flexed to stabilize your spine.

Place your upper back on top of the foam roller. Keep your abdominal muscles flexed and your head and neck in a neutral position.



Hamstring Exercise

Sit with back of your thighs on top of the foam roller and both hands on the floor behind you.

Myofascial Release Exercise

Myofascial release is a technique that utilizes gentle but constant pressure on the soft tissue while applying traction to the fascia.

Iliotibial Tract (IT Band)

Position yourself on your side, with your lower leg extended and on top of the foam roller, and your upper leg bent.

Calves Exercise

The gentle compression of the Rhino Roller allows normal blood flow to return and restoration of healthy tissue.
Order your Rhino Roller from FitnessZone.com today!

Spinal Disc Decompression
Vertebrae Alignment
Strengthens Core
Direct Myofascial Release
Deep Tissue
Customer Ratings & Reviews
Ratings Snapshot
Would recommend this product.
Would recommend this product.
I love this roller
Mr. Awesom
Location: Cleveland Ohio
Date: February 12, 2018
Great for "rolling out" built up tension in muscles of the back and legs.