Spirit Medical Total Body Recumbent Stepper MS350
Spirit Medical Total Body Recumbent Stepper MS350
Product Code: spirit-medical-total-body-recumbent-stepper-ms350
Price:
$5,399.00
Need Expert Advice? Our friendly and knowledgeable staff is ready to help you. Call us now at 1-800-875-9145!
SSpirit Medical Total Body Recumbent Stepper MS350
Medical Total Body Recumbent Stepper with Removable Seat for Wheelchair Access
Spirit Fitness (MS350)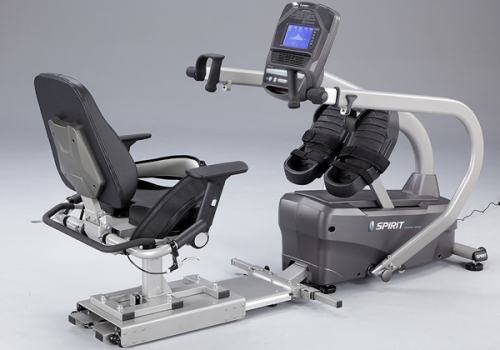 The MS350 adjustable seat not only provides a customized fit, but is also removable for wheelchair access. Patients can experience full body exercise through coordinated, linear, and natural 1:1 leg and arm motion. Self-adjustable stroke length accommodates patients' specific range of motion capabilities, providing low impact movement for knees, ankles, and hips in a safe semi-recumbent position.

Versatile for different training emphasis, the MS350's unique quadrilateral exercise pattern allows users to selectively distribute different extent of exercise efforts across their four limbs. Limbs that input more force can efficiently lead less involved limbs to functional movements and maintain elevated heart rate. A low inertia starting at 5 watts translates to smoothness; the work rate can increase up to 750 watts, accompanied by different step speeds of the user's choice.
The MS350 Medical Stepper adjustable seat can be removed for wheelchair access which allows wheelchair-bound patients easy access to the cardio machine without need for physical transfer from a wheelchair to a fixed seat. Therapists can have the patient pedal to improve range of motion after surgery in the knees, hips, ankles, shoulders, or wrists. If a patient does not have use of the legs, the arms can be used alone without having to engage the stepping motion with the feet to still provide upper body strengthening and cardiopulmonary workload. Because the MS350 can be used with either with or without a wheelchair, it is for users with limited mobility or active aging exercisers, especially in assisted living facilities for seniors and can be used outside mecical applications.
Spirit Medical Total Body Recumbent Stepper MS350 Features:
Step-through frame design
360 degree full seat rotation
Removable seat for direct wheelchair access
Linked upper and lower body linear pattern
Natural Motion: 1:1 leg to arm ratio
Upper Body Movement: Arms can be used alone without stepping with feet
Adjustable position handles: With articulating hand grips
Cushioned footplates: With stabilization straps
Adjustable step range: From 1 inch to 12.5 inches
Self adjustable step length: Allows patients to pedal in smaller range of knee motion, from 5 degrees to full range
Resistance mode: Isokinetic - Step speeds from 10 to 210 steps/minute
Low inertia: Starting resistance of 5 watts
Work Rate: Range from under 5 watts up to 750 watts
Heart rate monitoring: Both handle held and telemetry
Multiple seat adjustments: 8 position swivel seat with seat belt for patient safety and ease of patient ingress and egress | 6 position recline seat back for hip angle adjustments | Fore/aft patient positioning
User height range: Indexed seat positioning accommodates users from 4' 10" to 6' 7"
Intuitive interface for ease of operation
Large, easy-to-read displays: Time, Speed (steps per minute), Step Length, Step Count, Watts, Calories, METs, Heart Rate, Resistance Level, Symmetry, and much more
Programs include: Manual, Hill, Plateau, Interval, Facility, HR, Symmetry, Patient Set Up
Unique Symmetry program: Measures and displays power throughout the pedal stroke. Biofeedback encourages patients to maintain power between right and left side
Graphic bio-feedback display: If measuring arms only the graph and power readings will be reversed
Measurement of Bi-Lateral Power: Example: "Left 41 watts - Right 34 watts"
Isokinetic resistance: Safe and accommodating resistance that is patient determined throughout the entire range of motion
Power Train: Heavy duty, 8 groove poly-v belt for smooth, quiet operation. The foot pedal assembly rides on high-end linear bearings and guides
Braking Device: Eddy Current Brake (Quiet, frictionless and maintenance free). Small flywheel mass ensures a minimum starting torque providing low inertia
Spirit Medical Total Body Recumbent Stepper MS350 Specifications:
Net Weight:
306 lbs.
Max User Weight:
440 lbs.
Overall Dimensions:
67" x 35" x 48"
Power:
100–240 Volts: 50/60 Hz: 0.6-0.4A
Sinpro model # HPU32A-105, 30 watt
Spirit Medical Total Body Recumbent Stepper MS350 Optional Accessories:

MA906 Hand/Wrist Stabilization Set - Sold as a Pair
An additional component of the MA902, the Hand/Wrist Stabilization Set allows users with limited or no hand strength or control to enjoy the benefits of the Spirit MS300 Rehabilitation Seated Stepper. Patients with hand and wrist deficiencies will find comfort and security in maintaining a stable hand position throughout the exercise session.
Stable and correct hand position throughout the workout
Support for the wrist while minimizing wrist flexion
Reduction in pressure points
A full and natural range of motion for the upper body movement
The ability to keep the hands in place during exercise
Easy attachment and removal on the pivoting hand grips
MA902 Lower Body Lateral Stabilizer: The Bi-Lateral Calf Support Component offers advanced support for patients experiencing lower body deficiencies or weaknesses that require additional leg and foot alignment to achieve maximal results. The MA902 offers the following features: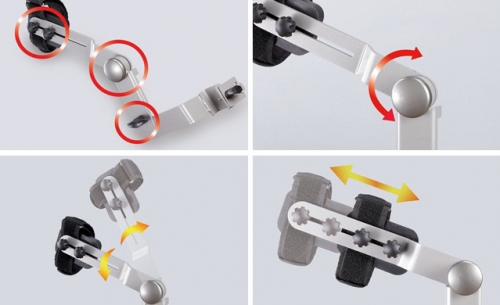 Sold as a set (pair)
Features attachment just below the knee, thereby eliminating any knee torque
Fully adjustable to keep the lower limb in proper alignment
Pivoting allows the ankle to move freely in its normal path
Minimizes lower limb adduction or abduction
Lightweight yet durable construction
Easy attachment and removal on footplate assembly
MS350 Full Commrcial Warranty
Lifetime - Frame
5 Years – EMS brake
3 Years – Parts
3 Years - Labor
Order your Spirit Medical Total Body Recumbent Stepper MS350 from FitnessZone.com today!
Customer Ratings & Reviews
Be the first to rate this item!