SPRI Deluxe Covered Training Rope 33lbs
SPRI Deluxe Covered Training Rope 33lbs
Product Code: spri-deluxe-covered-training-rope-33lbs
Price:
$279.98
Need Expert Advice? Our friendly and knowledgeable staff is ready to help you. Call us now at 1-800-875-9145!
SPRI Deluxe Covered Training Rope 33lbs
This premium polydac training rope has light, durable, textured metal handles providing a firm and stable grip. Tubular nylon webbing cover protects and extends the life of the rope, while allowing it to move freely. Available in lengths 30, 40 or 50 feet, in a 1.5" or 2" diameter with weights ranging from 20-50 pounds. Sold individually.
2" Thick x 30' Long, 33lb.
SKU: 07-71260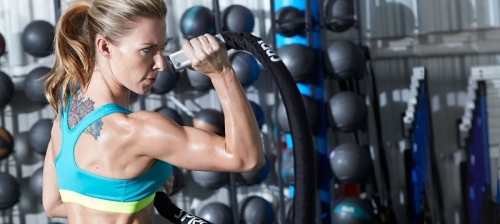 Order your SPRI Deluxe Covered Training Rope 33lbs from FitnessZone.com today!
Customer Ratings & Reviews
Be the first to rate this item!