Stamina AeroPilates Reformer Plus 356 (Limited Edition Pad Design)
Stamina AeroPilates Reformer Plus 356 (Limited Edition Pad Design)
Product Code: Stamina AeroPilates Reformer Plus 356 (Limited Edi
Price:
$549.99

Need Expert Advice? Our friendly and knowledgeable staff is ready to help you. Call us now at 1-800-875-9145!
Stamina AeroPilates Reformer Plus 356 (Limited Edition Pad Design)
The AeroPilates Reformer Plus 356 (55-4356A-10) is one of our most recently upgraded reformers, complete with improved quality straps, a more user friendly strap length adjustment, better quality metal pulleys and much larger wheels for easy transportation. The additional accessories and large DVD library included in this package will delight you with years of full body workouts.

The Reformer Plus 356 is a limited edition featuring a colorful platform decorated with a beautiful floral design.

The 4 black cords allow you to achieve the correct level of resistance, making your workout as intense as you can endure.

The patented Freeform Cardio Rebounder will help you reach and maintain your desired weight, flatten your stomach, strengthen your pelvic floor and target your goal heart rate as effectively as with a treadmill but without any of the impact nor stress.

The Reformer Plus 356 upper body Pull-Up Bar is included to specifically target your arms, shoulders, and upper back. It also allows you to adjust the height of the straps, which alters the angle and intensity of each exercise.

The stand needed to raise this reformer off the ground is the Medium Stand.

The complete set of Level 1 and 2 DVDs and the 30-Day Jumpstart program, featuring Marjolein Brugman, will keep you motivated and excited for years to come.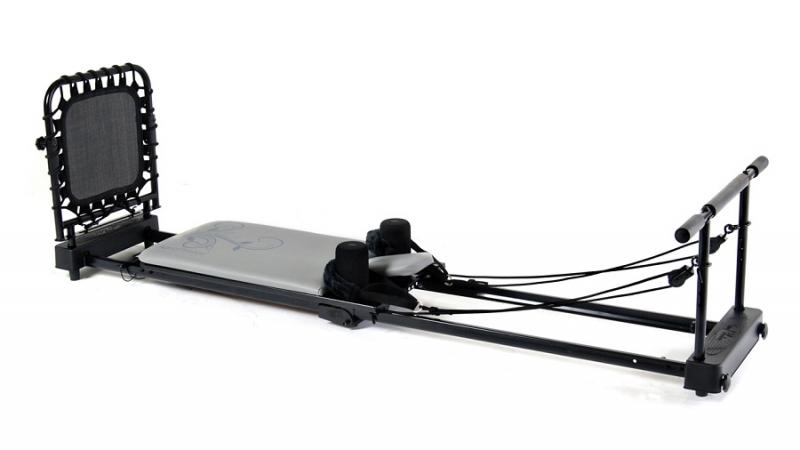 Stamina AeroPilates Reformer Plus 356 Features
Adjustable resistance with 4 heavy-duty, elastic bungee cords

Silver steel frame

Dove Grey padded platform (17.6" wide)

Silver Cardio Rebounder

Padded foot bar

High density foam shoulder pads

Upper body Pull-Up Bar included

Padded, 3-position adjustable head rest

Furry hand & foot Straps for added comfort

Six non-skid supports, two on each end and two in the middle, for added stability

Upgraded steel pulleys and better quality straps

2 DVD's with 7 Workouts

o Introduction to AeroPilates

o AeroPilates Level 1 Pure Pilates

o AeroPilates Level 1 Simply Cardio

o AeroPilates Level 1 Integrated

o AeroPilates Level 2 Pure Pilates

o AeroPilates Level 2 Simply Cardio

o AeroPilates Level 2 Integrated

AeroPilates full-color workout wall chart

Pull-Up Bar chart inside manual

30-Day Jumpstart Program ($30 value)

Foldable frame with larger wheels for easy portability and storage

Easy strap adjustment with Velcro on the handles

Supports up to 300 lbs.

Product weight: 63 lbs.

Dimensions assembled: 85"L x 17.5"W x 9"H

Dimensions folded: 44"L x 17.5"W x 9"H

Requires Medium Stand

Warranty: 3 years on frame, 90 days on parts

As always, please consult your personal physician before beginning any diet or exercise program.
Stamina AeroPilates Reformer Plus 356 Specifications
Material: Steel frame
Product Color: Black frame with gray pad
Resistance: 4 cords
Comfort Elements: Oversized Pad
Includes: Cardio Rebounder, 2 workout DVD, wall chart, pull-up bar attachment, owner's manual
Assembly: Some assembly required
Dimensions: 86 x 30 x 26
Product Weight: 64 lbs
Weight Limit: 300 lbs
Warranty: 3 years frame/90 days parts
Order your Stamina AeroPilates Reformer Plus 356 from FitnessZone.com today!
Customer Ratings & Reviews
Be the first to rate this item!