Stamina Avari Magnetic Elliptical A550-110
Stamina Avari Magnetic Elliptical A550-110
Product Code: stamina-avari-magnetic-elliptical-a550-110
Price:
$599.99

Need Expert Advice? Our friendly and knowledgeable staff is ready to help you. Call us now at 1-800-875-9145!
Stamina Avari Magnetic Elliptical A550-110
Using the Stamina Avari Magnetic Elliptical A550-110 can be less stressful on your knees, hips and back than running on a treadmill. Walking on a treadmill, however, exerts about the same force as using an elliptical. The Avari Magnetic Elliptical is
equipped with movable upper body handles or poles, similar to ski poles. These allow you to exercise both your arms and your legs.
Most elliptical machines can be pedaled in reverse, which allows you to work your calf and hamstring muscles a bit more than does forward motion.

Avari elliptical trainer offers the benefit of a low-impact workout, The Avari magnetic elliptical exercises both your upper and lower body. Unlike the treadmill the Avari elliptical allows your feet sliding back and forth like they would on skis, the pedals will move in an oval or elliptical pattern. Since your feet never leave the pedals, your feet don't strike the ground so there is less stress and strain on your joints. It is like walking or running in midair.

The shape of the elliptical movement mimics the natural path of the ankle, knee and hip joints during walking, jogging or running. In comparison, when you walk or run, every step causes a jolt to your body. This affects not only the joints in your legs, but also your lower back.

What makes an elliptical trainer unique is the combined upper and lower body workout. That is why many refer to an elliptical as a cross-trainer.

Using the Avari magnetic elliptical trainer, you work your quadriceps, hamstrings, glutes, chest, back, triceps and biceps. The obvious benefit from exercising more muscles is that you tone more of your body and burn more calories and fat in less time. Of course, to get the full benefit of the dual action workout, it is important that you distribute the resistance between your upper and lower body. Many people who exercise on an elliptical trainer place most of the resistance on their lower body and only go through the motions with the upper handlebars.
To mount the machine from the side, grab the handle bar for balance and step on the pedals. The pedals have no resistance to your weight so be careful when climbing on and off. Once you have begun the pedal momentum, you simply keep pedaling while the elliptical trainer automatically begins to record your time and distance manually. Get acquainted on how to use the programs and pick a timed workout that suits your fitness goals.

The Avari magnetic elliptical trainer's stationary handrails are there to help you keep your balance. You should not lean or slouch on the rail; the proper position is to keep your body upright and your head straight. To get a better workout on your trunk and legs, drop your hands to your sides. This will demand more work on your core muscles as you strive to maintain balance while pedaling.

Another important aspect in elliptical trainer use is the pedaling direction - you can pedal forwards or backwards. The elliptical is a cross between a treadmill and a cross country ski machine, but instead of your feet sliding back and forth, the pedals will move in an oval or elliptical pattern.
Call 1-800-875-9145 to speak with one of our fitness agents with any quesitons you may have about the Stamina Avari Magnetic Elliptical A550-110.
Stamina Avari Magnetic Elliptical A550-110 Features: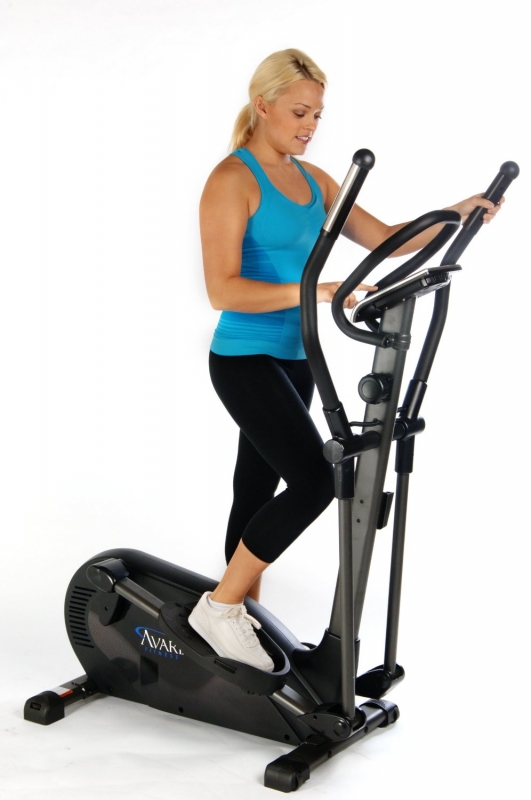 Low-impact aerobic exercise
Quiet, smooth, magnetic resistance
Dual-action handlebars
Adjustable pedals allow customized foot positions
Stationary hand grips
Use with dual-action handlebars for upper and lower body
workout or with stationary hand grips for lower body only
Multi-function display shows workout time, speed,
distance, calories burned, and heart rate
Easy-to-reach tension control knob
Hand pulse sensors built into stationary hand grips
Foam padded handlebars
Leveling stabilizer caps
Wheels for easy portability
Assembled dimensions:
14" stride length
Holder for cell phone or MP3
Stamina Avari Magnetic Elliptical A550-110 Specifications:
Recommended use: For best results, use three times per week.
Material: Steel Frame, Plastic Housing
Product Color: Black/Grey
Resistance: Magnetic
Comfort Elements: Adjustable pedals to fit most users; Padded handlebars
Targeted Training: Cardiovascular fitness to aid in weight loss, tones hips thighs, legs, and upper body
Assembly: Assembly required
Dimensions: 44.5 x 24 x 60
Product Weight: 0 lbs
Weight Limit: 250 lbs.
Stamina Avari Magnetic Elliptical A550-110 Warranty:
90 days on parts, 3 years frame
Order your Stamina Avari Magnetic Elliptical A550-110 from FitnessZone.com today!

Customer Ratings & Reviews
Be the first to rate this item!