Star Trac Studio 7 Bike
Product Code: star-trac-studio-7-bike
Price:
$2,395.00

Need Expert Advice? Our friendly and knowledgeable staff is ready to help you. Call us now at 1-800-875-9145!
Star Trac Studio 7 Bike
Model #9-7290-CRINTP0
The Star Trac® Studio 7 bike combine user-focused features, best-in-class biomechanics and a high degree of adjustability to deliver the optimal bike fit for riders of all shapes, sizes and abilities. To maintain uncompromising quality ride after ride, Studio bikes also feature a patent pending bottom bracket that exceeds industry standards, rust-defying materials and rock solid construction.
Micro fore and aft adjustment with multi-position handlebars

Find your perfect riding position with easy micro seat adjustments

eavy perimeter weighted flywheel powered by a smooth and whisper quiet poly-v belt drive

Morse taper pedals with toe cage and SPD clips

Compatible with Star Trac Group Cycling Computer

Frame: Metallic Charcoal or Candy Apple Red
All components on the Star Trac Studio 7 Bike are low maintenance and offer uncompromising quality ride after ride. Durable and threadless Morse Taper design keeps the pedals fastened tightly to the bike and prevents breakage. With a best in class bottom bracket Q factor and smooth belt drive, the drive train provides a comfortable ride that users will love.
Call 1-800-875-9145 to speak with one of our fitness advisors with any questions you may have about this incrediable Star Trac Studio 7 Bike.
Star Trac Studio 7 Bike Group Training Markets:
Fitness Centers

Non-Profit Fitness

Multihousing

Hospitality

Military

Education

Pro Sports

Corporate Gyms

Wellness

Municipalities, Parks and Recreation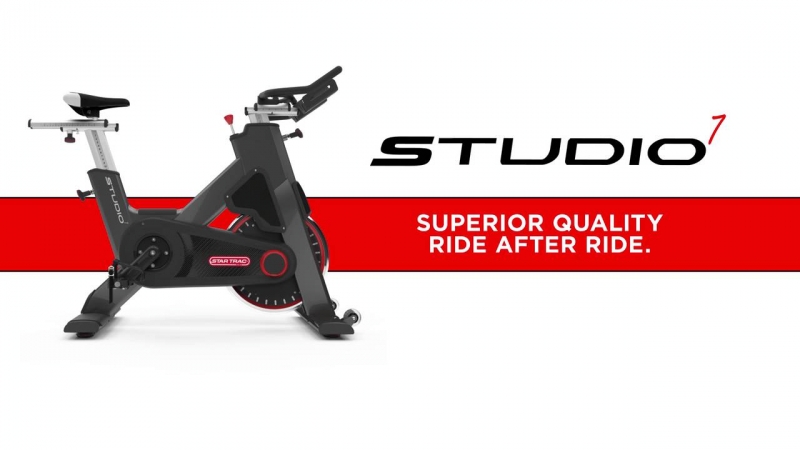 MICRO FORE AND AFT ADJUSTMENT

WITH MULTI-POSITION HANDLEBARS

HEAVY PERIMETER WEIGHTED FLYWHEEL POWERED BY A

SMOOTH AND WHISPER QUIETPOLY-V BELT DRIVE




LIGHTWEIGHT, POWDER-COATED, ALUMINUM FRAME

FIND YOUR PERFECT RIDING POSITION WITH EASY MICRO

SEAT ADJUSTMENTS
Here are 5 incredible benefits happening to your body while you cycle your way to great health:
1. Cardiovascular:
Healthy adults aged 18-65 years old should participate in aerobic physical activity for a minimum of 30 minutes, 5 days per week or vigorous intensity, aerobic activity for a minimum of 20 minutes, 3 days per week. The Star Trac Studio 7 Bike will help you achieve the cardiovascular health you need to stay healthy and active at any age.
A well-directed indoor cycling class will steadily keep your heart rate well within a likely vigorous range for approximately 45-60 minutes. Over time, continuous cardiovascular activity (including interval training often practiced in indoor cycling) can help lower your risk of coronary artery disease, can help lower blood pressure and LDL cholesterol, and can help lower your overall resting heart rate.
2. Lowered Stress Levels:
Indoor cycling with the Star Trac Studio 7 Bike you will experience a release of those happy-mood inducing neurotransmitters known as endorphins. Endorphins are known to create feelings of euphoria, lower your stress level and enhance the body's immune response.
3. Increased Muscular Endurance:
The Star Trac Studio 7 Bike will increase the muscles ability to continually and repeatedly exert force over an extended period of time. This happens when you pedal against resistance, which can greatly increase the endurance of the muscles in the legs: quadriceps, hamstrings, gluteus, and even the calf muscles. Working out these muscles will also help to strengthen the surrounding bones, tendons and ligaments. This increased strength means you'll be able to perform your daily activities with greater ease. Walking a quarter mile to your car with shopping bags while talking on your cell phone will be a no-brainer for you!
4. Major Calorie Burn:

If your fitness goals include weight and/or fat loss, the Star Trac Studio 7 Bike is right for you. Individuals can burn anywhere between 400-600 calories per average 45-minute class. Since it takes 3,500 calories to burn one pound of fat, just 5-8 indoor cycling classes, combined with a healthy diet can help you whittle down your body fat.
5. Low Impct:
For such a high-intensity workout, cycling with the Star Trac Studio 7 Bike is surprisingly low impact. Many people who have recently recovered from orthopedic injuries (and who have been cleared by their physician) turn to indoor cycling to help them get back on track. When done correctly, there is minimal impact on the hip, knee and ankle joints. When your bike is set up properly and you have appropriate footwear, you'll never have to worry about leaving your Star Trac Studio 7 Bike with throbbing knee pain or stiffness in the hip joints. The circular motion allows for proper flexion and extension, while avoiding the pounding often brought on by other activities such as running or traditional aerobics classes.
There are countless benefits of using your Star Trac Studio 7 Bike in addition to the ones listed above -- Keep an open mind and allow yourself to fully experience a great ride. Get ready to fly.
Star Trac Studio 7 Bike Specifications:
Overweight: 120lbs

Height: 40"

Length: 57"

Width: 21"

Flywheel Weight: 41lbs
Star Trac Studio 7 Bike Commercial Warranty:

Frame (against structural failure): 10 Years
Flywheel Assembly, Brake Knob Assembly, Handle Bar Assembly, Seat Post, and Foot Adjustments: 3 Years
Handle Bar Post Plastic Sleeve, Seat Post Plastic Sleeve, Bottom Bracket Assembly, Seat Saddle Assembly, and Pop-Pin Assembly: 2 Years
Pedals, Chain, Brake Pad Assembly, Rubber Frame Guard, Brass Brake Nut and remaining parts: 1 Year
Order your Star Trac Studio 7 Bike from FitnessZone.com today!
Customer Ratings & Reviews
Be the first to rate this item!