Troy Pro Style Straight Black Barbells Set 120-130lbs PFB-120-130-R
Troy Pro Style Straight Black Barbells Set 120-130lbs PFB-120-130-R
Product Code: troy-pro-style-straight-black-barbell-120-130
Price:
$699.00
Need Expert Advice? Our friendly and knowledgeable staff is ready to help you. Call us now at 1-800-875-9145!
Troy Pro Style Straight Black Barbells Set 120-130lbs PFB-120-130-R
Troy Pro Style Straight Barbells with black end caps - Set 120-130lbs - are quality engineered and built to last. These commercial pro style fixed barbells are pre-assembled to ensure that all TROY products meet the standards required in heavy used commercial applications.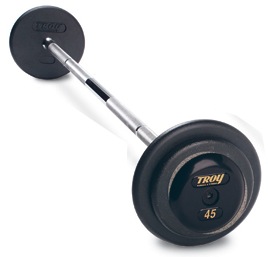 These encased barbells are Troy's top of the line and offer the highest quality available today! Large easy to read numbers on each of the barbell allow for easy weight selection.
All of our pro style straight bars use solid steel bolt design; bigger, longer and stronger than the competition. These bars feature special deep set knurling for functional performance and our top of the line TROY high grade gray or black plates.
Set Includes: (1) ea. 120lb - 130lb Barbells in 5lb increments - Black Plates & Black Rubber Caps
The Troy Pro Style Straight Black Barbells - Set 120-130lbs - set is a high quality, commercial grade barbell set designed for any heavy use setting. The knurled grips provide a good surface for a secure hold that is safe and feels good in the hand. Barbells are great for developing definition and muscle mass. This 120 to 130lb set comes with one barbell in 10lb increments.
Available in: Curl bars or Straight bars
Advantages of Barbell Training:
The barbell is very simple tool, so it is easy to learn the basic lifts quickly. With proper coaching, anyone without any debilitating pre-conditions can learn most barbell exercises in under an hour. The olympic lifts may be an exception for some, but I was taught each one in about an hour's time.
The weight is fixed and stable, so the tool itself is less likely to deviate from a normal range of motion. This is an advantage for the barbell because, when under heavy load, you do not want the barbell to deviate at all, as this could result in immediate injury. This could also be seen as a disadvantage, because intelligent training should have components programmed in that will take the trainee outside the scope of their sport or activity – effectively training extreme ranges of motion as a safety-valve for when a movement does deviate from what is expected.
Another advantage of the barbell is that unlimited progression is possible because you can always add more weight to the bar. Of course, every lifter has their own genetically pre-determined maxes that they can handle. So, in theory, one could reach a point in their training where further progression is impossible. Being able to add more weight easily makes progressing with this tool very simple.

The barbell is just a tool, and often incorrectly used as a system itself, instead of the other way around. As part of an effective training system, one can use the barbell to reach a variety of training goals.
Troy Pro Style Straight Black Barbells Set 120-130lbs Features
Commercial quality rubber heads
Solid construction
Hard-chrome bar
Troy Pro Style Straight Black Barbells Set 120-130lbs Warranty

5 year warranty
Order your Troy Pro Style Straight Black Barbells Set 120-130lbs from FitnessZone.com today!
Customer Ratings & Reviews
Be the first to rate this item!