Troy Regular 160lb Threaded Weight Set (B) RSS-160T
Troy Regular 160lb Threaded Weight Set (B) RSS-160T
Product Code: troy-regular-160lb-threaded-weight-set-rss-160t
Price:
$399.00
Need Expert Advice? Our friendly and knowledgeable staff is ready to help you. Call us now at 1-800-875-9145!
Troy Regular 160lb Threaded Weight Set (B) RSS-160T
USA SPORTS Black Cast Iron Threaded Weight Set

Build muscle with the USA Sports by Troy Regular 160lb Threaded Weight Set (B) RSS-160T. Working out with this Troy weight set will leave you feeling like a champion. The Troy Regular 160lb Threaded Weight Set (B) RSS-160T comes with 14 USA Sports weight plates, a 5' standard bar, two 14''dumbbell bars and six spring collars. Each weight plate is made with the highest quality iron casting available and coated with a black enamel finish to protect the plate. The three bars are made with solid steel for years of use. The 5' bar has 36'' of grip space between the weight collars. The USA Sports by Troy Barbell 160 lb. Standard Threaded Weight Set will look great in your home gym!
Stack your weight plates quickly on the bar, giving you freedom to work out any upper or lower body section you desire. Squats, lifts and bicep training are perfect with this home gym addition.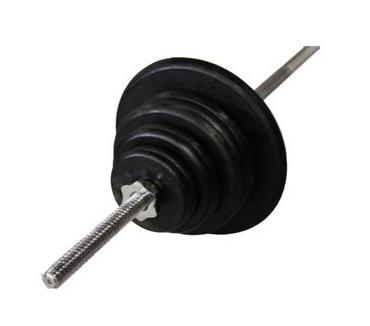 Call 1-800-875-9145 to speak with one of our fitness advisors with any questions you may have about any of our barbells and plates. Get Motivated! - Step up your fitness program today and go to FitnessZone.com to order your Troy Regular 160lb Threaded Weight Set (B) RSS-160T.
Set Includes:
6 pcs. of 10 lb. plates
4 pcs. of 5 lb. plates
4 pcs. of 2.5 lb. plates
2 pcs. of 25 lb. black plates
(1) 6' chrome threaded standard 1" bar
(2) 14" standard threaded chrome dumbbell handles
(6) star lock collars.
All plates are standard 1" black
Standard Plate Rack


Item SKU: GRSR

Product Dimensions:

Product/Shipping Weight : LWH : 20" x 18 1/4" x 51 1/4"

Product Options:

Available In : No Options Apply

Product Description: This versatile standard A-frame plate rack with welded 1" weight horns accepts all 1" or 2" plates for convenient storage. Simple 2 piece assembly. Frame color: Black. Weight capacity: 400lbs.
Troy Regular 160lb Treaded Weight Set (B) RSS-160T Features
USA Sports Standard Threaded Weight Set Comes with 14 USA Weight Plates: Four 2.5 lbs., Four 5 lbs. and Six 10 lbs.
Set Includes One 5' Threaded Bar / Two 14'' Dumbbell Bar / Six Spring Collars with Rubber Grips Hold Plates Securely on All 1'' Bars
Cast Iron Plates Are Made from ASTM Grade 20 Iron / Coated with a Durable Black Cast Finish
Threaded 5' Bar is Made from Solid Cold Rolled Steel / Diameter: 1'' / Weight: 14 lbs.
Dumbbell Bars are Drop Forged from One Piece of Solid Steel for the Strongest Construction Possible / Bars are Fully Adjustable to Allow Easy Adding
90 Day Warranty
Order your Troy Regular 160lb Threaded Weight Set (B) RSS-160T from FitnessZone.com today!
Customer Ratings & Reviews
Be the first to rate this item!