Vicore Fitness Core Chair
Vicore Fitness Core Chair
Product Code: vicore-fitness-core-chair
Price:
$675.00

Need Expert Advice? Our friendly and knowledgeable staff is ready to help you. Call us now at 1-800-875-9145!
Vicore Fitness Core Chair
The Vicore Fitness Core Chair is a staple in just about every gym on the planet. Now take this concept and add Vicore's innovative designs, soon to be legendary quality and the patented body link system - and you now have the hardest working most popular piece on the entire floor. The Vicore Fitness Core Chair allows for so many progressions within a workout routine that you will literally never get bored or top out. The Vicore Fitness Core Chair is also incredible in the world of physical therapy, as many patients who are elderly have been injured when physio balls roll out from under them.
The Vicore Fitness Core Chair soft surface training is a phrase which describes a phenomenal advancement in the area of core strength, ergonomics, balance, and coordination. Simply put, the Vicore Fitness Core Chair provides a better way to work out. Performing the same exercises as you normally would on a Vicore bench, increases balance, core strength, neural synapse and agility. A major component of every piece of Vicore Fitness equipment is a very dynamic component Vicore calls the Body Link System. It is an enormously strong membrane, which, when filled with air creates a very unstable surface. It is this instability that causes the user to engage all of their core muscles in order to maintain their balance. Throw in some weights and you have the best formula ever devised for not only building your extremity muscles (shoulders, arms chest, abs and so on), but also at the same time greatly enhancing your coordination, balance and agility.
The Vicore Fitness Core Chair, with its unstable surface, offers benefits that traditional benches cannot. By requiring your core to transfer energy throughout the body, it also develops better balance, coordination, posture and physical stamina, all in addition to sculpting the target muscle groups.
The Vicore Fitness Core Chair is an adjustable DUAL body-link air suspension system links extremity muscles and core muscles. It will cause the average person to reach total muscle fatigue almost 35% faster than with traditional workout benches.
Recommended for Shoulder Presses, Seated Fly, Seated Bicep Curl, etc. The number of exercises which can be done is almost unlimited.
It also includes hooks that can be used for resistance bands, offering more exercise variations!
Vicore Fitness, innovators of Soft Surface Training, was awarded the prestigious Ztoty Gold Medal for outstanding quality and exceptional innovation.
Get smarter workouts and faster results with quality training with the Vicore Fitness Core Chair and start your journey to a stronger, healthier and bigger body. Order your Vicore Fitness Core Chair from FitnessZone.com today and achieve a rapid path to good health and physical fitness.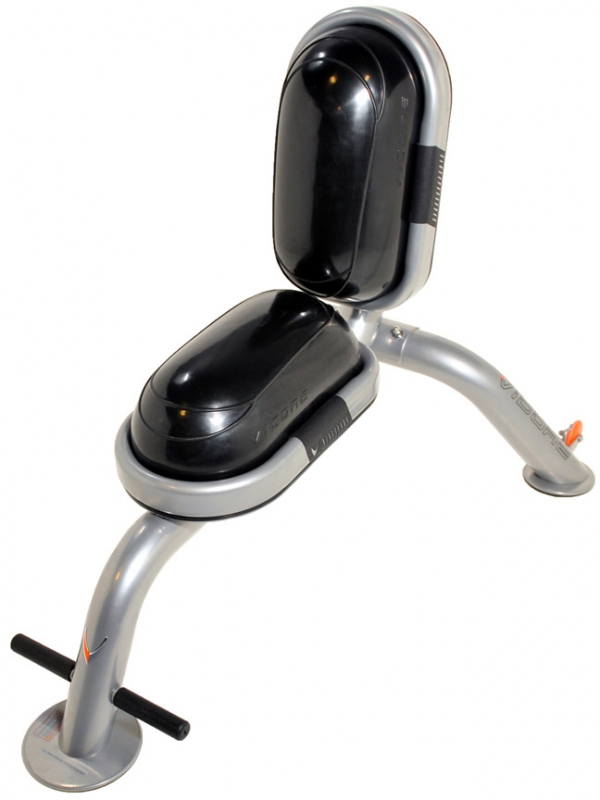 Don't let its size fool you. This is the workhorse of Vicore Fitness' fleet and will quickly become one of the most important parts of your routine. Shoulders, back, triceps – it doesn't matter which muscles you are targeting. Using Vicore's Body Link System will tie them all directly to your core. A set of shoulder presses on a regular bench are, well, regular. Now sit on the Vicore System and watch things start to get "jiggy" (literally) as you struggle to balance your way through a set. Your core muscles will be firing in ways you never thought possible.
Remember, being truly physically fit is far more than just bustin' your shirt; it is a combination of things called "Functional Fitness", including balance, coordination, reflexes and agility. If you gain these benefits while building muscles and burning fat, would there be a downside to that? We didn't think so.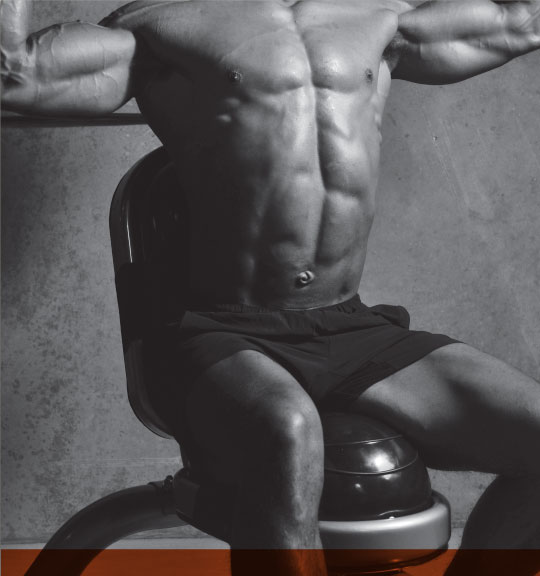 Vicore Fitness Core Chair Features
Commercial grade 75mm diameter tubing with 11 gauge steel
Bearing inlaid urethane wheels for easy transport
Specifically designed rubber foot pads safe for all floors
Removable rubber coated foot pegs
Bodylink surface tested to 4,500 lbs. (2,041 kgs)
Incorporated hooks on wheel brackets for resistance band workouts
Proprietary 2-step paint process
BodyLink Surface infused with antimicrobial agent and protected with UV inhibitors
Silver Frame with Black Air Surface
Vicore Fitness Core Chair Specifications

Model #4419-PS
Assembled Dimensions: 48" L x 32" W x 34" H
Assembled Weight: 53 lbs.
Shipping Dimensions (Boxed): 48" x 23" x 11"
Shipping Weight: 65 lbs.
Vicore Fitness Core Chair Warranty

Frame - Lifetime against any and all incidents due to manufacturer defects (with the exception of scratches and damage to paint finish)
Moving Parts - 5 Years against all incidents due to manufacturer defects
Body Link Air Surface - 2 Years against all incidents, manufacturer or otherwise
Order your Vicore Fitness Core Chair from FitnessZone.com today!
Customer Ratings & Reviews
Be the first to rate this item!
Related Products