Vicore Ham Glute Machine
Product Code: vicore-ham-glute-machine
Price:
$1,595.00

Need Expert Advice? Our friendly and knowledgeable staff is ready to help you. Call us now at 1-800-875-9145!
Vicore Ham/Glute Machine
Nothing follows our company mission of "A better way to do things" than
The New Vicore Ham/Glute Machine. With our Patent Pending AIR INFUSION
TECHNOLOGY every part of this machine that makes contact with your
body is 100% dynamic and three dimensional, allowing you to workout
harder and longer- with zero stress points. Hip flexors, shins, achelies,
glutes all float on a cushion of air, virtually eliminating the bad kind of pain
in exchange for "The Good Kind".
With it's quick trigger adjust the Vicore Ham/Glute Machine is quickly positioned to fit any
body size or type, while the Vicore Terra Grip Surface makes for a safe and
secure dismount. Have we made a believer out of you yet?
What happens when you take a tried and true piece of equipment and pump it up like the Vicore Ham/Glute Machine? The answer: a bench that moves, reacts and engages more to your body than any other equipment on the gym floor. With the Vicore Ham/Glute Machine, you strengthen your back, while boosting your balance and cranking your coordination. The Vicore Body Link technology takes ergonomics to an entirely new level, eliminating pressure points experienced on lesser equipment in the thigh and hip flexor regions.
Vicore Fitness products are designed around the universal law that every action has an opposite and equal reaction. Working in conjunction with this irrefutable truth, Vicore Fitness has manufactured a line of exercise equipment using time tested and proven methods for increasing strength and building muscle. However, that is where the similarities stop....

Soft surface training is a phrase which describes a phenomenal advancement in the area of core strength, ergonomics, balance, and coordination. Simply put, the Vicore Ham/Glute Machine provide a better way to work out. Performing the same exercises as you normally would on a Vicore bench, increases balance, core strength, neural synapse and agility. A major component of every piece of Vicore Fitness equipment is a very dynamic component Vicore calls the Body Link System. It is an enormously strong membrane, which, when filled with air creates a very unstable surface. It is this instability that causes the user to engage all of their core muscles in order to maintain their balance. Throw in some weights and you have the best formula ever devised for not only building your extremity muscles (shoulders, arms chest, abs and so on), but also at the same time greatly enhancing your coordination, balance and agility.
Call 1-800-875-9145 to speak with one of our fitness advisors and let us help your gym or home with our Vicore products. Order your Vicore Ham/Glute Machine from FitnessZone.com today!
Vicore Ham/Glute Machine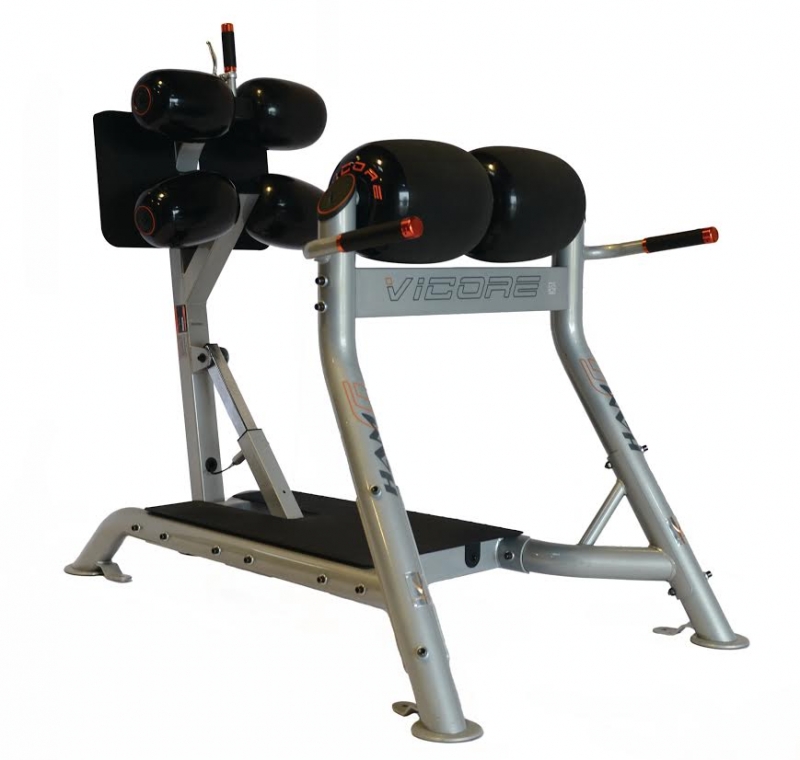 Vicore Ham/Glute Machine Warranty
Frame - Lifetime against any and all incidents due to manufacturer defects (with the exception of scratches and damage to paint finish)

Moving Parts - 5 Years against all incidents due to manufacturer defects

Body Link Air Surface - 5 Years against all incidents, manufacturer or otherwise
Order your Vicore Ham/Glute Machine from FitnessZone.com today!

Customer Ratings & Reviews
Be the first to rate this item!