VTX Olympic Grip Weight Sets GOSS-500V
VTX Olympic Grip Weight Sets GOSS-500V
Product Code: vtx-olympic-grip-weight-set-500lb
Price:
$709.99
Need Expert Advice? Our friendly and knowledgeable staff is ready to help you. Call us now at 1-800-875-9145!
VTX Olympic Grip Weight Sets GOSS-500V
Affordable quality! Our VTX high grade, wide flanged, "quiet iron" Olympic grip plates feature 3 slotted gripping areas (45lb, 35lb, 25lb and 10lb only) that actually raises them off of the ground, providing easier lifting and loading from a prone or angled position. The durable coating protects the plates, floors and other equipment from damage. Raised reinforcements on both sides of each grip slot help make it a true institutional plate and the choice of trainers, world wide. Center bores are precision drilled for a snugger fit on most 2" Olympic bars.

The VTX Olympic Grip Weight Sets GOSS-500V is what you need to keep up with your workouts? The Troy VTX line of coated grip plates offers superior quality and looks at a great price!
The VTX Olympic Grip Weight Sets GOSS-500V offers stylish Coated VTX Olympic Plates with a three grip design. Plus, this 500 lb Olympic Set comes complete with the Troy USA Sports GOB-86 Chrome Olympic Bar.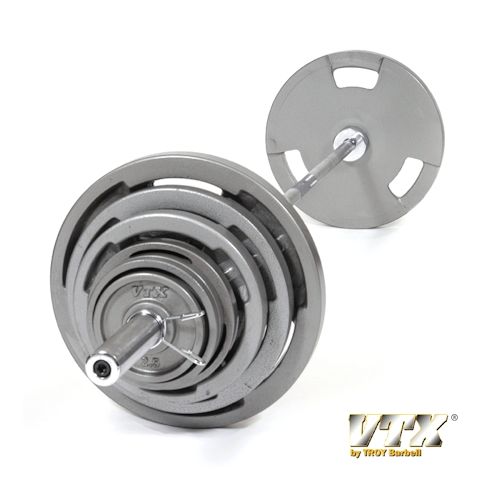 This Troy VTX 500 lb Olympic Weight Set offers a light commercial grade olympic grip plate combined with a home use olympic bar.
You can experience some of the highest quality Olympic & Regular weight sets on the market today with VTX. FitnessZone carries only the finest affordable weight sets using the best ASTM-Grade 20 iron, precision milled rims & radius edges for a truer shape & dimensions. All plates are individually weighed, inspected and calibrated to ensure that our sets are consistent in weight, size and quality.

Call 1-800-875-9145 to speak with one of our fitness advisors with any questions you may have about any of our barbells and plates. Get Motivated! - Step up your fitness program today and go to FitnessZone.com to order your VTX Olympic Grip Weight Sets GOSS-500V.
This is a great set for high school weight rooms or for the home gym owner looking for a premium set.
500 Lb. Set includes: (6) 45lb. (2) 35lb. (2) 25lb. (4) 10lb. (4) 5lb. (2) 2.5 lb. plates (1) 7 ft. - 45 Lb. Chrome Olympic Bar (2) Olympic Spring Collars
Olympic Plate Tree


Item SKU: T-OPT

Product Dimensions:

Product/Shipping Weight: 41 lbs

Product Options:

Available in: Black

Product Description: The Olympic Plate Tree hold all 2" plates and can be used for home or institutional applications.
VTX Olympic Grip Weight Sets GOSS-500V Features
2" premium grade wide flanged grip plate
Durable gray finish
500lb Test Chrome Bar
1 Year Limited Warranty.
VTX Olympic Grip Weight Sets GOSS-500V Specifications
Weight: 44 lbs
Bar Length: 7 ft
Finish: Chrome

VTX Olympic Grip Weight Sets GOSS-500V Warranty
VTX product line comes with a full 1-year warranty, against manufacturer's defects or breakage through proper use to the original owner.
Order your VTX Olympic Grip Weight Sets GOSS-500V from FitnessZone.com today!
Customer Ratings & Reviews
Be the first to rate this item!