Endurance Treadmills
Put fitness on your schedule. Fit exercise into your lifestyle. Achieve endurance in your home.
Endurance treadmills are built to perform to the scrutinizing standards of commercial health club equipment. Compare the features of these extraordinary machines, and you'll discover the qualities that make Endurance the premier name in home cardio fitness:
Try to find a better treadmill or a more efficient workout, and you'll end up at the gym. These exceptional treadmills are built to challenge you to a lifetime of cardio fitness that fit your schedule, your lifestyle... your home.
Pick up the pace of your in-home workout. The benefits of regular exercise cannot be overstated, and developing a high quality home fitness regimen can get you on the fast track to a healthy lifestyle.
The Endurance features the flexibility to put you in total control of an exhilaratingly efficient cardiovascular workout every time.
Where club-style features intersect with commercial performance to provide you with the ultimate fitness experience in your home.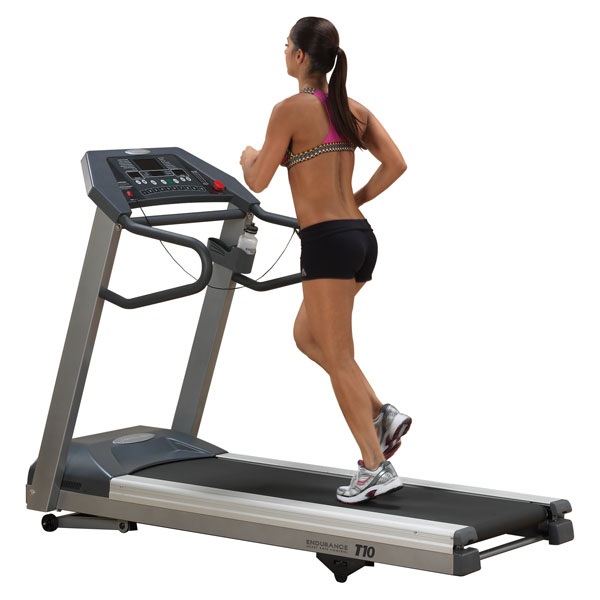 One of the most popular types of home exercise equipment is the treadmill, which provides a straightforward, efficient aerobic workout. For many, treadmills are a good choice to begin a new exercise routine because walking is well tolerated by most individuals regardless of fitness level and for most back conditions. As strength and endurance are developed, the treadmill can be used for jogging and/or for interval training.
The Body-Solid Endurance Commercial Treadmills are specially designed to give you a great cardio workout. The Body-Solid Endurance Commercial Treadmills are one of the best ways to work your body in a safe and efficient manner.
Choosing the right piece of equipment is an important investment in your health. The Body-Solid Endurance Commercial Treadmills will allow you to achieve your cardio goals and get you on the path to good health and physical fitness. Call 1-800-875-9145 to chat with one of our fitness advisors with any questions you may have about any of our Body-Solid Endurance Commercial Treadmills. Order your Body-Solid Endurance Commercial Treadmill from FitnessZone.com today for the ultimate fitness experience that will take you to a new level of workout motivation.
Advantages to Using a Treadmill

The treadmill is a relatively easy piece of exercise equipment to use

The treadmill has a predictable surface that is much easier to negotiate than sidewalks, curbs or trails and the risk of tripping is reduced

All aspects of the workout can be controlled by the user: speed, incline, warm up period, cool down period, and energy spend

Generally, users can design custom programs to fit the time they have to exercise

Multiple users can use the same equipment without adjusting the structure

Some treadmills have special features such as step counters and heart rate monitors so fitness progress can be tracked

Running on a treadmill generally burns calories faster than most other forms of in-home exercise, such as biking
Musculoskeletal Strength and Tone
Joint Flexibility
Reduced Disease Risk
Weight Management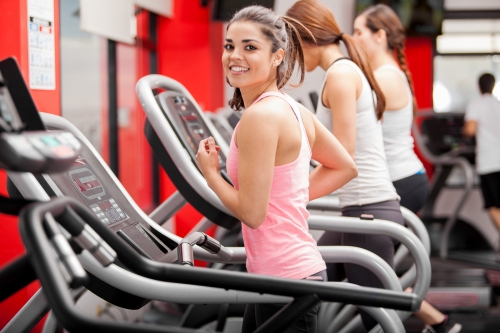 When you run, you primarily target your quadriceps, hamstrings, glutes and calf muscles, but your abdominal muscles are also used to help maintain posture and to assist with the slight rotation of your spine. If you do not jog regularly, focus on building a solid foundation first. You should be able to run 30 minutes without stopping within eight weeks of training, according to the "Runner's World" website. Switch between walking and jogging intervals to build the foundation. With each workout, try to jog a little longer than the time before. Once you can run continuously for 30 minutes, you have the appropriate foundation to tackle speed intervals and add the incline. But be aware that running is a high-impact exercise that can lead to discomfort in your joints. If you have knee or ankle issues, running may worsen the problem. If this is the case, you may want to stick to brisk walking on the treadmill to minimize the impact.
Walking is one of those things people often take for granted. A common misconception is that a physically active lifestyle requires uncanny or extreme dedication and sacrifices. Nevertheless, simple things like brisk walking on a treadmill can greatly contribute to your overall physical well-being. Walking may actually enable you to lose weight, strengthen your immune system, relieve stress and add some years to your life. Walking is the #1 fitness activity in the world. Treadmills builds on this everyday motion and makes it exponentially more effective.
EXTRAORDINARY RESULTS FROM AN EVERYDAY MOTION
FitnessZone®
is the premier fitness superstore on the Internet for treadmills. We carry a wide selection of top quality and reliable home treadmills or commercial treadmills. The
FitnessZone®
superstore offers the largest selection of folding treadmills and non-folding treadmills for your home or office. Folding treadmills will provide a great workout and folds up easily for storage in half the space. Our treadmills may have several different features like heart rate control monitoring, LCD TV built in, or custom programs. We offer such a huge selection of treadmills at the best prices so you don't have to waste time searching for a lower price.
Products