Powertec Fitness-Powertec Strength Equipment
Call 1-800-875-9145 For Questions On Powertec Products!
TURN YOUR HOME INTO A POWERHOUSE with POWERTEC
Powertec Fitness Home Gyms
At FitnessZone we believe in taking a balanced lifestyle approach to exercise, activity, and nutrition. We realize that fitness activities and an active lifestyle are essential to improved health. We help educate our customers to empower them. We endeavor to help our clients understand the "why" behind their choices, and break down as many barriers to success as possible. By helping our customer they are more successful at creating lasting lifestyles that will continue well beyond short-term goals.
Strength Training is an important part of an overall fitness program. Here's what strength training can do for you -- Physical and mental health benefits that can be achieved through resistance training -- Get started with Powertec and put Power in your training
Powertec Dealer Nationwide!
Over 20 of the best and most effective classic strength training exercises built into our leverage gyms work every muscle group to its maximum providing precise function.
The Leverage Advantage:
The Lever Arm drives the exercises. Weight plates are loaded directly onto the lever which simply replaces the barbell thus providing the natural feel and resistance of free weight with the safety and control of a machine.
Power Lifting Access: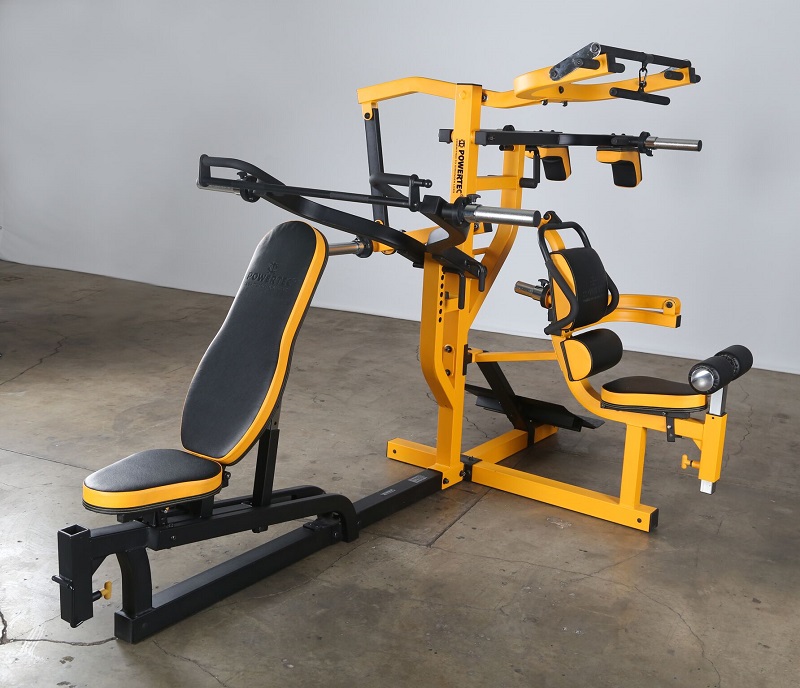 The Leverage Gym incorporates a lock and load removable bench section opening up the lever area for power exercises such as squats, shrugs and rows. The bench has wheels for easy in and out access and includes handlebars for gripping during leg exercises.
Powertec is dedicated to making exercise a compelling experience, so that people want to make health and fitness a lifelong commitment. Through a combination of user-friendly, innovative products and education, Powertec continues to change the way in which exercise and fitness influences peoples lives, from the beginner to the professional athlete.
Research has shown that strengthening exercises are both safe and effective for women and men of all ages, including those who are not in perfect health. Powertec strength machines will benefit people with health concerns—including heart disease or arthritis—often benefit the most from an exercise program that includes lifting weights a few times each week.

Strength training, particularly in conjunction with regular aerobic exercise, can also have a profound impact on a person's mental and emotional health.
There are numerous benefits to using Powertec Fitness strength training equipment regularly, particularly as you grow older. It can be very powerful in reducing the signs and symptoms of numerous diseases and chronic conditions, among them: It's never too late to start a fitness training program and Powertec Fitness has the equipment that will meet your strength training needs.

Resistance training is based on the principle that muscles of the body will work to overcome a resistance force when they are required to do so. When you do resistance training repeatedly and consistently, your muscles become stronger.

Powertec has a large selection of work benches, power racks, functional trainers, levergyms, olympic benches, all the equipment that will give you a well-rounded fitness program that includes strength training to improve bone, joint function, bone density, muscle, tendon and ligament strength, as well as aerobic exercise to improve your heart and lung fitness, flexibility and balance exercises.
OUR WORKBENCH NOW HAS FOUR GREAT COLOR OPTIONS
| | | | |
| --- | --- | --- | --- |
| WB-MS16 YB | WB-MS16 BY | WB-MS16 BB | WB-MS16 YY |
POWERTEC COMMITTED TO STRONGER LIVES
What are you waiting for - Feel Great and Look Great - Live the Life you Deserve

Nothing is more satisfying than the feeling of a great workout.
Call 1-800-875-9145 to speak with one of our fitness advisors and let us help you formulate a Powertec Fitness Program that will help you acquire a more stronger, healthier and vibrant body.
Call 1-800-875-9145 For Questions On Powertec Products
Featured Products