Body-Solid SPR500P2 Commercial Half Cage Package
Body-Solid SPR500P2 Commercial Half Cage Package
Product Code: body-solid-spr500p2-commercial-half-cage-package
Price:
$1,316.00
Need Expert Advice? Our friendly and knowledgeable staff is ready to help you. Call us now at 1-800-875-9145!
Body-Solid SPR500P2 Commercial Half Cage Package
The Body-Solid SPR500P2 Commercial Half Cage Package includes the Body-Solid SPR500 Half Rack and the SFID425 Full Commercial Adjustable Bench.
The Body-Solid ProClub Line SPR500 Commercial Half Rack is a full commercial half rack built for heavy weight training in any facility. The SPR500 Commercial Half Rack is designed to excel in heavy use facilities like high schools, colleges and universities, police and fire departments, military facilities, sports performance training facilities, and any commercial gym or training studio.
The SFID425 bench is one of the strongest and toughest benches in the industry with thick, durable padding and multiple independent back and seat adjustments. The SFID425 also features a foot hold for serious decline workouts.
The SPR500 Commercial Half Cage and the SFID425 Commercial Adjustable Bench combine to form a formidable gym package allowing for incline, decline and flat bench presses, shoulder presses and more workouts across the entire body.
Body-Solid SPR500P2 Commerical Half Cage Package Options:
SPR500HALFBACK Rack Extension
Extend the SPR500 Half Rack and add 4 Olympic Wight Horns for additional storage and safety.
SPRSA Spotter Arms
Constructed from 3"x3" 11-gauge steel, with welded ends, each spotter arm is over 22" long and will handle over 1000 lbs.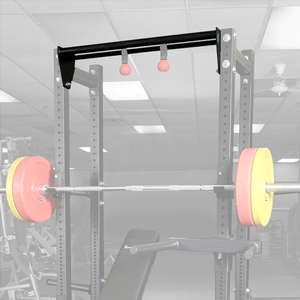 SPRDCB Dual Chin-Up Bar
The SPRDCB Double Chin Bar offers both a traditional and a fat diameter chin bar in the same section for unmatched effectiveness.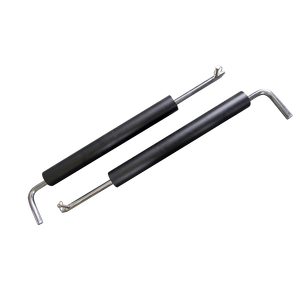 SPRPS Pin & Pipe Safeties
The SPRPS Pin and Pipe Safeties have a weight capacity of 1,000 lbs and will reduce wear and tear on your Olympic bar.

SR-BHV Bar Holder Attachment
Add style and functionality to your Hexagon Rig or Commercial Power Rack with our SR-BHV Bar Holder. An easy-to-use, convenient accessory that allows you to store a barbell on the exterior of your Rig.
SR-STEP Plyo Step Attachment
The SR-STEP Plyo Step allows for all the same plyo box exercises in a fully-adjustable platform.
SR-UL U-Link Attachment
These U-Link add-ons allow you to attach Body-Solid Training Ropes for a high-level CrossFit/MMA-style conditioning workout.

SPRST Storage Tray
Keep your workout space or studio clean and organized with the SPRST Storage Tray.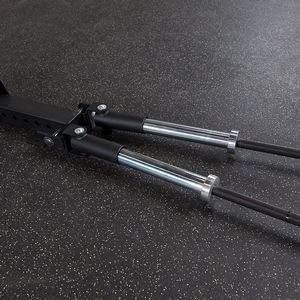 SPRTB Dual T-Bar Platform
Ramp up your row workouts with the Body-Solid SPRTB Dual T-Bar Row Platform.
Body-Solid SPR500P2 Commercial Half Cage Package Features:
Space-saving rack and fid bench

Ideal for Olympic lifts, deadlifts, squats, bench presses (flat, incline and decline) and more

3" x 3" 11-gauge steel mainframe

Premium J-cup liftoffs

Safety spotter arms

Integrated chinning bar

Bench goes flat, 15, 30, 45, 60 and 80 degrees incline as well as a -18 degree decline

Weight Capacity: 1000lbs
Body-Solid SPR500P2 Commercial Half Cage Package Specs:
Product Weight: 302lbs

Product Dimensions: 81"L x 52" W x 89"H
Body-Solid SPR500P2 Commerical Half Cage Package Warranty:
In-Home Lifetime

Full Commerical
Order your Body-Solid SPR500P2 Commerical Half Cage Package from FitnessZone.com Today!
Customer Ratings & Reviews
Be the first to rate this item!