Marpo Kinetics Rope Trainer
Marpo Kinetics Rope Trainer
---
---

The Marpo VMX Rope Trainer is a multi-mode rope trainer with three exercise modes - vertical pull, diagonal pull and horizontal pull. Each mode delivers unparalleled variety of strength and cardio exercises that target your entire body. Users can easily switch between modes with a simple and safe one-step carriage move.
The VMX Rope Trainer features multi-mode adjustment for vertical, diagonal, horizontal and reverse pull. The easy-to-adjust sliding carriage allows for increased versatility for strength, cardio and functional training. The ability to alternate rope heights, grips and pull directions makes the VMX Rope Trainer the ultimate functional training tool.
Marpo Kinetics is the world's authority on rope training for strength and cardio fitness. Used by the US military, the NFL, and fitness and rehab facilities worldwide, Marpo equipment is renowned for its intense and highly customizable workouts, Marpo Rope Trainers have proven themselves to be unparalleled in developing cardiovascular endurance and strength conditioning.
Visit www.marpokinetics.com and follow Marpo on Facebook and Twitter to learn more about rope training and fitness.
Marpo X8 Mountable Rope Trainer
VIEW DETAILS
Experience dynamic resistance rope training with the Marpo X8 - MOUNTABLE ROPE TRAINER.

The X8 - MOUNTABLE ROPE TRAINER also allows for multi-direction rope workouts through the use of AUXILIARY PULLEYS.

It is designed to mount on group training cages or other rack like equipment as well as on concrete walls. It's compact design form makes it very easy to fit in small foot print areas and when installed in clusters, it is the perfect group training tool.
TheMarpo X8 Mountable Rope Trainer is a compact, lightweight and easy-to-use model that accommodates facilities with ceiling height limitations while delivering the same intense exercise experience provided by larger models. The Marpo X8 Mountable Rope Trainer allows for strength and cardio conditioning, rehabilitative exercise and provides a safe, accessible and more versatile rope climbing alternative for sports training programs.
The benefits of using the Marpo X8 Mountable Rope Trainer are no longer the exclusive province of elite athletes. Now, safe and effective rope-pulling exercise is available to athletes, students, fitness enthusiasts, and even for injury-rehabilitation purposes. No need to worry about the risks and inconvenience of hanging rope from the ceiling.
Marpo VMX THREE60 Rope Trainer
Experience dynamic resistance rope training with the Marpo VMX THREE60 Rope Trainer. This multi-user, multi-mode, multi-functional training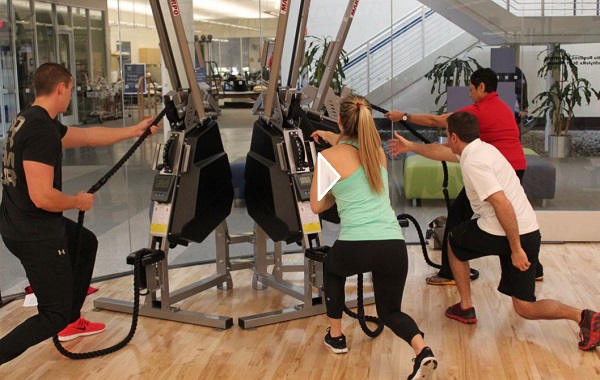 system allows for competitive team challenges, multi-user training sessions, full body strength, power and/or endurance workouts. The Dynamic Magnetic Braking (DMB) System builds functional grip strength through dynamic grip and re- grip patterns and consistently provides optimal resistance that can be adjusted for endurance, strength, power or combination training. The rope angle can also be adjusted to provide an array of functional movement patterns - push, pull, squat, lunge, bend and rotate.
The VMX THREE60 Rope Trainer is a weight-assisted model that simulates actual rope climbing. The levitating seat moves with the user for instant feedback and a true climbing experience that engages the entire core, back, arms and grip. The weight-assist offsets body weight to allow those of all fitness levels to benefit from this uniquely effective exercise. Features a quick-release seat to allow for lower body, standing exercises and wheelchair accessibility. The VMX THREE60 Rope Trainer delivers an exceptional strength and cardio conditioning workout that is as intense as it is safe.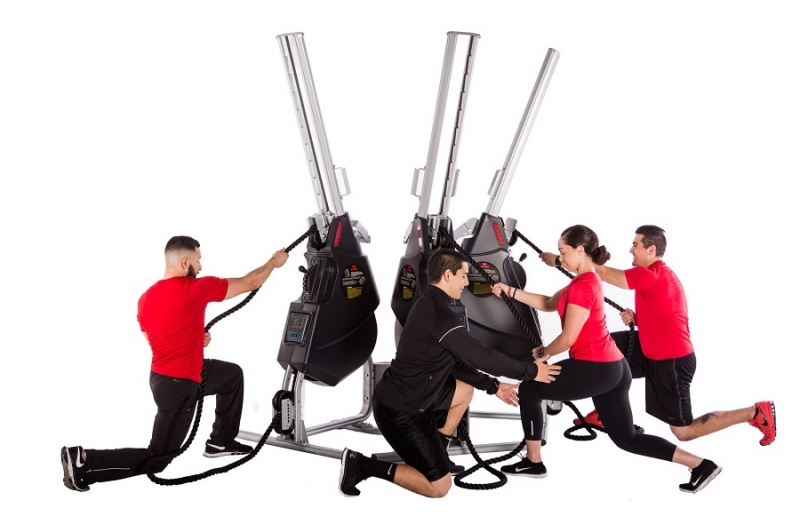 ---
FitnessZone® is the premier fitness superstore on the Internet for Fitness training equipment. The FitnessZone® superstore offers the largest selection of strength equipment. We offer such a huge selection of strength training equipment at the best prices so you don't have to waste time searching for a lower price. Marpo Kinetics Rope Trainers were designed specifically to increase strength and conditioning, cardiovascular condition, and anaerobic conditioning. All in one machine and virtually no impact to the joints. Order your Marpo Kinectics Rope Trainer from FitnessZone.com today!
In the Fitness Industry, Marpo Kinetics Rope Trainers is a must have for any workout routine. From beginner to professional, FitnessZone® will be able to help you obtain your fitness goals and meet your budget! We have service technicians on call 7 days a week throughout the World for our customer's service needs. Call 1-800-875-9145 to speak with one of our fitness advisors and let us help you choose the right Marpo Kinetics Rope Trainer that will fit your fitness needs. Order your Marpo Kinetics Rope training equipment at FitnessZone®.Com today!
Confused?
Let the FitnessZone® sales staff help you navigate through the various models of our rope trainers. Our expertly trained staff can assist you in selecting the right piece equipment that will custom fit your needs as well as your budget! Call us ANYTIME at 1-800-875-9145.