Keiser Fitness
---
---
Keiser Indoor Cycles

The unique M Series cardio line features Keiser's innovative magnetic resistance system. Designed, engineered and manufactured in the U.S. to strict quality standards and test procedures, which guarantees an extremely durable and effective machine. You can also outfit Keiser M Series equipment with our intuitive M Series computer. Motivate and empower by accurately tracking and measuring: Workload (watts), Heart Rate (Polar™ compatible), Time, Distance and Cadence.

BE POWERFUL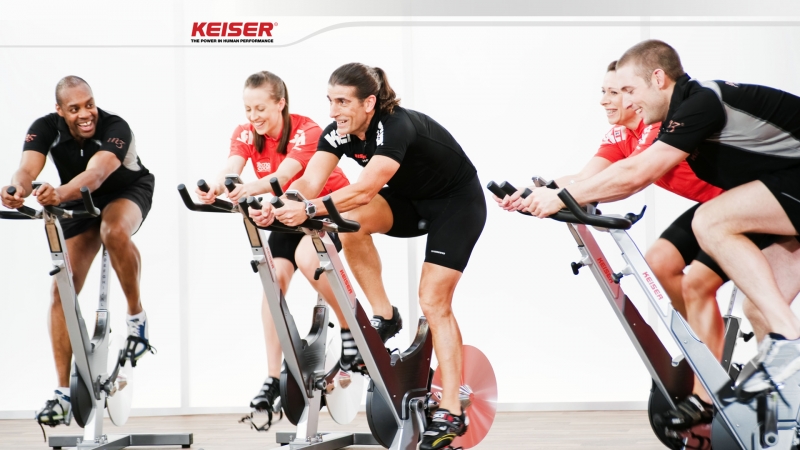 FitnessZone® is the premier fitness superstore on the Internet for indoor cycles. We carry a wide selection of top quality and reliable home indoor cycles or commercial indoor cycles. The FitnessZone® superstore offers the largest selection of self-powered, plug-in, dual body workout, walk through, wireless heart rate monitoring, and programmable exercise cycles at the best prices on the Internet. Keiser Indoor Cycles are sometimes called stationary bikes because they do not have to move in your home. For a high-intensity workout, you may want to consider an indoor cycle bike better known as a group cycle. We offer a huge selection of indoor cycles at the best prices so you won't have to waste time searching for a lower price.
In the Fitness Industry, indoor cycles have become a very useful part of person's home fitness center. FitnessZone® will be able to custom fit you on an indoor cycle that will help you obtain your fitness goals while meeting your budget or space requirements. We have service technicians on call 7 days a week throughout the World for our customer's service needs. Order your Keiser Indoor Cycle today at FitnessZone®. Com and pedal yourself to better Health!
| | | |
| --- | --- | --- |
| | | |
| Keiser M3X Indoor Cycle | Keiser M3 Indoor Cycle with Console | Keiser M3+ Inddoor Cycle with Console |
| | | |
| --- | --- | --- |
| | | |
| Keiser M3 Indoor Cycle | Keiser M5 Strider | Keiser M3 Total Body Trainer |
THE POWER IN HUMAN PERFORMANCE
Keiser M3 Indoor Cycle Resistance Design
An eddy current is an electric current in a conducting material that results from induction by a moving or varying magnetic field. On M Series equipment this is generated by two opposing magnets passing over the flywheel. The flywheel (a conductor) passes through the magnetic field generated by the two powerful magnets. By varying how much of the flywheel comes into contact with the magnetic field you can increase or decrease the amount of resistance for the rider. As no parts in the resistance system ever touch there is no wear on the system.

When the flywheel is turned in proximity of the magnetic field the eddy current is created. The flywheel acts like a conductor with closed circuits. The energy generated by turning the flywheel has nowhere to go, so as it resists it becomes more difficult for the rider to pedal. If the flywheel is in less contact with the magnetic field it's easier to ride. The more of the flywheel that comes in contact with the magnetic field (the higher the energy that is being generated with each turn) the more difficult it becomes to ride.

Fig. 1. At full resistance the flywheel is in most contact with the magnetic field. When you reduce the amount of contact to the field (move the magnets away) the resistance then decreases.
| | |
| --- | --- |
| | Keiser began more than 30 years ago in the training of world class athletes. Keiser began in sport because they recognized that there are two components to any human movement; 1. The force you produce, and 2. The speed at which you produce it. |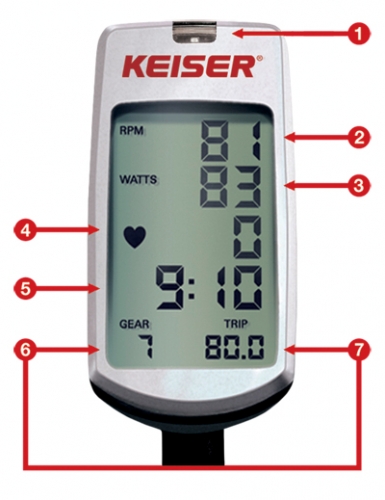 The M Series Computer
is a powerful teaching and programming tool. It can assist both the instructor and the participant by providing immediate feedback as well as the ability to track on-going improvement.
The M Series Computer displays
1 - Backlight Sensor - The Backlight Sensor automatically detects ambient light levels in the room and turns on the Backlit Display when needed.
2 - Cadence (RPM)
3 - Power Output (Watts/Kcal)
4 - Heart Rate (HR)
5 - Elapsed Time
6 - Current Gear (Resistance Level)
7 - Odometer / Trip Distance

The Computer gives accurate and precise information instantly, and automatically. It will also display average ride calculations and total distance that has been put on the machine. The Trip Distance feature was initially intended to be used by gyms and facilities to record how much an M3 was used for a given time frame. The odometer does not reflect distance in terms of miles or kilometers, rather something in between. For every 200 turns of the crank arm the distance will reflect as 1.0 on the display. In the future, we may revise the computer's algorithm to display a more recognizable distance, which will also be influenced by a rider's pedaling effort or Power.
KEISER FUNCTIONAL TRAINERS
Keiser Functional Trainer
Keiser Functional Trainer Specifications
| | |
| --- | --- |
| Height (With Base): | 93" / 2362 mm (Arms up) 62 " / 1574.8 mm (Arms down) |
| Width (With Base): | 94" / 2387.6 mm (Arms out) 84" / 2133.6 mm (Base width) |
| Depth: | 48" / 1219.2 mm |
| Weight (With Base): | 300 lbs / 136 kg |
| Weight (Floor Mounted): | 130 lbs / 59 kg |
| Resistance Range: | 0 - 106 lbs / 0 - 48 kg Bilaterally | 0 - 53 lbs Unilaterally |
| Cable Length: | 144" / 3658 mm (Unilaterally) |
| | 72" / 1829 mm (Bilaterally) |
Keiser Infinity Triple Trainer

POWER - 5 Window Display [ Optional Upgrade ]
Technical Information:
Height: 12" / 305 mm
Width: 4" / 102 mm
Length: 1" / 25 mm
Weight: 1 lb / 0.5 kg
Power Supply: 2 D Batteries

The five window power display offers the same features as the two window display plus: Chip system, Power Output, and Power Test. The Keiser eChip system is a simple to use electronic workout card that recalls the previous workout and settings and downloads the data easily into a personal computer without any extra equipment or wiring. The power output windows display your power per repetition in watts, as well as keeping track of your maximum power repetition for the set. The power test is an easy to use protocol that displays the optimal resistance for exercisers to use to achieve their maximum power.

Standard - 2 Window Display [ Standard Option on all Machines with Display ]
Technical Information:
Height: 12" / 305 mm
Width: 4" / 102 mm
Length: 1" / 25 mm
Weight: 1lbs / 0.5 kg
Power Supply: 2 D Batteries

This display discreetly provides both resistance information and repetitions performed in clear one inch numbers. The two window displays measure in either one pound or one kilogram increments for the single station units and 1/10 pound or 1/10 kilogram increments for the Infinity Series. This display is ideal for giving useful information to the user while allowing them to concentrate on their workout routine.
Confused?
Let the FitnessZone® sales staff help you navigate through the various models of Keiser Indoor Cycles. Our expertly trained staff can assist you in selecting the Indoor Cycle that will custom fit your needs as well as your budget! Call us ANYTIME at 1-800-875-9145.