Life Fitness C3 Upright Lifecycle Bike with Go Console
Life Fitness C3 Upright Lifecycle Bike with Go Console
Product Code: life-fitness-c3-upright-lifecycle-go-console
Price:
$1,899.00

Need Expert Advice? Our friendly and knowledgeable staff is ready to help you. Call us now at 1-800-875-9145!
Life Fitness C3 Upright Lifecycle Bike with Go Console
The Life Fitness C3 Upright Lifecycle Exercise Bike combines precise engineering with exceptional attention to detail. Not only does it deliver a natural upright riding position to ensure a safe, effective workout, but it is also remarkably quiet. All from the #1 brand in health clubs worldwide. Pair the C3 with the Go Console for tracking and entertainment features to keep you motivated and enhanced customization to better help you reach your fitness goals.
The Life Fitness C3 Upright Lifecycle Exercise Bike from Life Fitness was created to provide a #1 gym quality cardio and physical training machine for the home-gym environment. Engineers combined precision ergonomics, high-tech accouterments and online connections, and a long list of programming options to make the C3 a premier virtual trainer.
It's about bringing this into the home and never needing another model again. The Life Fitness C3 Upright Lifecycle Exercise Bike is built to last a lifetime and provide enough comfort, challenge, and features that people get to their goals, maintain them, and share their fitness journey with those they care about for many years to come.

Call 1-800-875-9145 chat with one of our friendly agents at FitnessZone and learn more about the Life Fitness C3 Upright Lifecycle Bike with Go Console. Order your Life Fitness C3 Upright Lifecycle Bike with Go Console from FitnessZone.com today!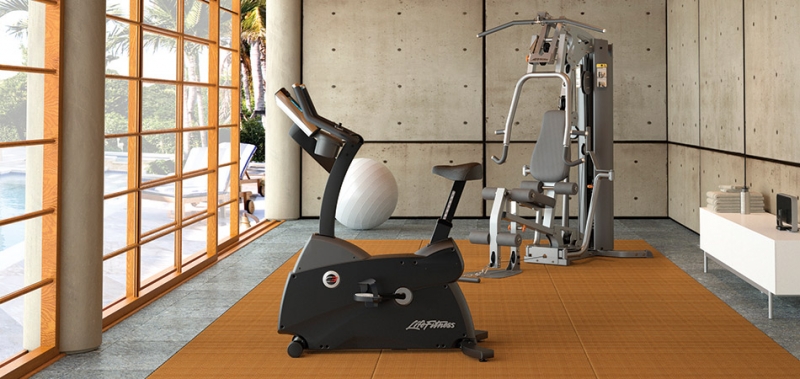 ---
Self-Powered & Quiet
These days reducing our carbon footprints have become a serious matter. With the Life Fitness C3 Upright Lifecycle Exercise Bike, there are zero cords to have to worry about, and not a single penny will be added to the monthly energy bill. Furthermore, this means that it can be placed anywhere and be completely effective.
Whether in the den, tucked aside in the living room, or in the home office, there's no mess, it's completely quiet, and there are no wires to trip over. Imagine peddling away profusely, and not using any home energy, or contributing to any noise pollution that keeps your mind distracted and unable to concentrate. This is home-gym exercise at its finest.
---
Extensive Programming Options
Life Fitness has a way of making cardio trainers that are absolutely brimming over with variability, but yet somehow still remain supremely user friendly. Here is a small taste of how many options are available to make sure people do not reach fitness plateaus or risk any injuries due to constant repetition.
Enhanced Fat Burn

- This is about being more than the traditional norm, and really accentuating caloric deficits and getting the metabolism burning tons of fat.

Extreme Heart Rate

- Most people, despite trying and being sincere, find it difficult to push themselves and their cardiovascular system at levels that bring on new adaptations. This program makes it much easier to get to those levels of energy output.

Goal-Orientated

- Set the goal, and go for it. This type of training is far more effective than the traditional norm of scripted and confining mechanical programs.

Customized

- Get creative, and boost your workout regiment according to your own pace. This is the essence of progressive style fitness and training.

Racing Mode

- Nothing gets adrenaline pumping like competition and sport.
---
Ergonomic and Health Driven
At the end of the day, the Life Fitness C3 Upright Lifecycle Exercise Bike comes together to be perhaps one of the most health driven machines on the market today. Every single detail is about providing a quality workout in an ergonomic fashion ensuring safety and efficiency.
Riders feel natural, and when they close their eyes feel like they're on a road bike getting in-shape riding around town, or up in the mountains. The C3 is premier, high-tech, gym quality equipment designed for the comfort of home.
Life Fitness C3 Upright Lifecycle Bike with Go Console Key Features
Contact heart rate hand sensors (Wireless heart rate monitoring system included with console)
Plug-in (all major voltage configurations); self-powered option available with Go Console
Upright seat with deluxe cushioning and upholstery
Ergonomically-designed handlebars.

iPod compatible on Track Console only (iPhone 4, iPhone 3GS, iPhone 3G, iPhone; iPod Touch 4th, 3rd, 2nd, 1st generation; iPod Classic, iPod with video; iPod Nano 6th, 5th, 4th, 3rd generation)

Life Fitness Virtual Trainer accessible on Track Console only. Create custom workouts and track results at www.virtualtrainer.lifefitness.com; connect to console via USB or Life Fitness Virtual Trainer app

Oversized, dual accessory tray and built-in reading rack
C3 Upright Lifecycle Bike Go Console Features
Programs:
Manual

Hill

Random

EZ Resistance

Sport Training

Fit Test

Fat Burn

Cardio

Heart Rate Hill™

Heart Rate Interval

Extreme Heart Rate™

Calorie Goal

Distance Goal

Heart Rate Goal

Custom Workouts (3 per user profile; unlimited through the Life Fitness Virtual Trainer website)

Quick Start

Cool Down Mode

Warm Up Mode

User Profiles (4)

Wireless chest strap included
Special Workouts
Goal Workouts: Determine your workout goal, including distance, calorie-burn, or target heart rate, and exercise until you reach it.
Custom Workouts (2): Create and replay a favorite program with specific speed, incline, level, and target heart rate changes. The ultimate customization.
Readouts:
Calories

Distance

Speed (mph/km/h)

Level

Time

Heart Rate

Target Heart Rate

METs

USB Connected Indicator

iPod Connected Indicator

Display Type: LCD with blue background and white characters

Workout Profile Display: 9 x 24 segments

LCD Display Size: 4" x 6" (10.2 cm x 15.2 cm)

Workout Feedback Display: 16-character message center
Life Fitness C3 Upright Lifecycle Bike with Go Console Specifications
| | |
| --- | --- |
| Resistance Levels | 20 |
| Seat Adjustments | 14 positions |
| Maximum User Weight | 400 lbs (180 kg) |
| Unit Length | 45" (114 cm) |
| Unit Width | 27" (69 cm) |
| Unit Height | 56" (142 cm) |
| Unit Weight | 118 lbs (53 kg) |
| Power Requirements | Self-powered |
| Safety | CE, CEN, CSA, TUV, UL |
| Warranty | Lifetime warranty on frame, 3-year on parts, 1-year on labor (warranties outside the U.S. may vary) |
| Pedals | Enhanced cushioning, non-slip, self-balancing pedals with straps |
| Resistance System | Generator |
Order your Life Fitness C3 Upright Lifecycle Bike with Go Console from FitnessZone.com today!
Customer Ratings & Reviews
Be the first to rate this item!
Related Products