Power Plate my5 Vibration Trainer
FREE Stuff & Assembly
Protective Floor Mat, Lumbar Support, Hand Straps, & Training Manual
FREE Assembly!
Power Plate my5 Vibration Trainer
Product Code: power-plate-my5-vibration-trainer
Price:
$4,795.00
Need Expert Advice? Our friendly and knowledgeable staff is ready to help you. Call us now at 1-800-875-9145!
Power Plate my5 Vibration Trainer
Need A Better Price?
Call 1-800-875-9145
We want your business!
When you want a revolutionary, low-stress exercise and rehabilitation solution at home, the Power Plate my5 delivers with Advanced Vibration Technology. This sleek and elegant vibration plate helps you maximize your health in as little as 30-minutes a day, three days a week. Three frequency options between 30-40Hz allow for more customization while the larger plate surface gives you more room to move. Additional features including pre-programmed quick start buttons, a remote control operating all exercise positions and a higher max load make it easy for anyone at any fitness level to live life at their full potential.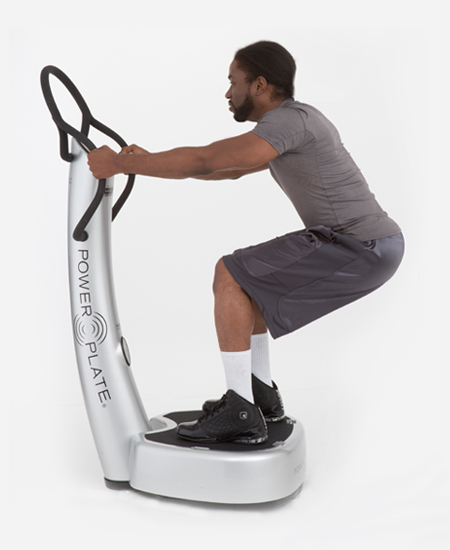 The Power Plate my5 Vibration Training Machine combines the award-winning whole body vibration technology from Power Plate with a stylish compact design. You can bring accerlated training into any sized home or apartment with Power Plate my5 trim and economical design, enabling you to make room for three 15-minute full-body workouts a week. The re-designed my5 model combines form and function, displaying a distinctly stylish edge.
The Power Plate my5 is a Triplanar machine and Triplanar machines are typically used in commercial settings because they are extremely robust and can be continuously run. There are less moving parts compared to that of oscillation vibration and are usually more reliable. Triplanar machine delivers higher frequency settings (vibrations per second) at a lower amplitude (vertical movement) and can provide an acceleration in excess of 10 Gs. Higher frequency forces your muscles and tissues to contract and relax extremely quickly, tiring them and "ripping" them as you would when you hit the gym pumping weights. Your body will heal and your muscles will become stronger and leaner. It is excellent if you want to use it as a weight loss equipment–and its a very good reason why these machines are typically found in fitness venues. However, because of the lower amplitude, it is not as effective, compared to oscillation or sonic vibration for stimulating the lymphatic system and clearing blockages, increasing blood circulation and blood flow, or pain reduction.
The motion is much faster then oscillation and is more of a high speed vibration. The vertical displacement (movement) is smaller. These vibration machines are usually found in fitness facilities and strength training gyms and are used by professional sports teams. Designed for users primarily focusing on building muscle strength and muscle tone and especially improving their bone density.
Whole body vibration, conversely, has been demonstrated to reduce hardening of the arteries in study after study, among populations ranging from men in their mid-twenties to postmenopausal women. And in each study, the subjects' blood pressure was lowered significantly.
High blood pressure, or hypertension, afflicts 68 million Americans age 18 and older, nearly 30 percent of the population. By age 60, that percentage increases to 65 percent. Hypertension is a direct consequence of atherosclerosis, and the primary risk factor for heart attack and stroke, the two leading causes of death in the developed world. As arteries lose their flexibility, they do not move as they should to accommodate blood flow. This raises blood pressure and makes the heart work harder, increasing the likelihood an individual will have a life-threatening cardiac incident.
Call 1-800-875-9145 to speak to one of our fitness advisors with any questions you may have. Go to FitnessZone.com today to order your Power Plate my5 Vibration Trainer.
Power Plate my5 Vibration Trainer

Full Body Results - Quick Start Buttons - Remote Control Included
ACESSORIES FOR POWER PLATE my5 VIBRATION TRAINER
my3/my5 Power Shield

The Power Plate Power Shield is low profile, unobtrusive, and sits underneath your my3 or my5 machine to reduce residual vibrations. It virtually eliminates all downward vibrations and minimizes noise to neighboring rooms. The device is perfect for use in apartments, offices, on upper levels of buildings or on wood flooring. Available in silver.

Compatible with these Power Plate machines: my3, my5
Lumbar Support Pillow

Compatible with all Power Plate models, this black lumbar support pillow is the ideal accessory to expand your training possibilities. Essential when performing any sort of core work, the pillow also provides comfort during massage and relaxation, while providing extra support just where you need it.
Support Cushion

Enhance your Power Plate massage and recovery experience with this soft support cushion. The interior core is EPS covered by a 5cm/2in of soft upholstery foam for a firm, yet comfortable feel. Designed to fit any model, this lightweight cushion has a curved end that fits perfectly with the base. Covered in textured black composite fabric and a subtle Power Plate emboss, this durable cushion resists wear, tears and sweat with ease. The Support Cushion weighs approximately 1kg/4lbs and is available in black only.
WHATS INCLUDED IN PACKAGE
Hand Straps (set of 2)

Rubber Mat Set (set of 3)

Remote Control

Instructions for Use

DVD

Exercise Poster

Dust Covers (column and platform)

Power Cord
Workouts that work for you
Power Plate is focused on helping you bring optimal physical performance, health and wellness into harmony. Delivering the next generation of fitness technology, this revolutionary training technique delivers harmonic vibration to the body, stimulating a natural reflex. It is high-efficiency training unlike anything you've ever experienced before, effectively burning fat, enhancing muscle tone, improving balance, and increasing strength. With the Power Plate my5 Vibration Trainer, you get a complete, full-body workout incorporating stretch, balance, core, strength and massage in as little as 30 minutes.
It's not fiction—it's science. More than 200 research studies conducted on whole body vibration have shown, when used regularly as part of a healthy lifestyle, Power Plate my5 Vibration Trainer can help provide numerous wellness and fitness benefits, including:
The Power Plate my5 Vibration Trainer is your key to a revitalizing the experience that's because Power Plate is an innovative, state-of-the-art service that brings benefits and variety by delivering vibrations that contract every muscle in the body, Power Plate dramatically increases circulation while stimulating lymphatic drainage to detoxify and revitalize. Increased circulation can also help alleviate pain and stress, making Power Plate my5 Vibration Trainer the perfect complement to your daily fitness regime by helping to bring body and mind into harmony.
Power Plate my5 Vibration Trainer whole body vibration technology gives you the benefits that keeps you motivated everyday.

Power Plate vibration stimulates reflexive muscle response and activates more muscle fibers. That means the effect of holding a pose or performing a stretch is enhanced—so shorter sessions yield faster results. You can see and feel results in as little as two or three short sessions a week, making it easier for you to achieve what's possible.
A technology first used to help Soviet cosmonauts in the 1960s to counteract negative effects caused by the zero gravity conditions they experienced while in space is now available to help you bring your body into harmony and reach your greatest potential.
Since the introduction of whole body vibration,more than 200 research studies have shown, when used regularly as part of a healthy lifestyle, Power Plate can help provide numerous wellness and fitness benefits, including:
Strength—
Improves muscle tone, builds explosive power and endurance.
Flexibility—
Increases range of motion, coordination, balance and stability.
Circulation—
Improves and increases blood flow to strengthen the cardiovascular system.
Weight Loss—
Reduces body fat and enhances metabolism.
Cellulite Reduction—
Diminishes the appearance of cellulite.
Alleviate Pain—
Promotes faster recovery of damaged muscles and tendons, decreases pain and improves joint function.
Power Plate my5 Vibration Trainer Features
Grade: Consumer

Color: Silver - additional colors available upon request (additional fee with a 12 week lead time)

Time Selections: 30 / 60 seconds

Frequency / Pre-set Frequencies: 30-40Hz / 5Hz increments

Vibration Energy Output (amplitude): Low / High

Operation: User-friendly interactive display

PrecisionWave™ Technology: High-fidelity harmonic vibration system that provides uncompromising performance for unsurpassed results

Dual Sync™ Twin Motor System: DualSync Twin Motor System maintains precise balance at any frequency and amplitude level, allowing perfect synchronization of vibration for maximum muscle response and efficiency
Power Plate my5 Vibration Trainer Specifications
Dimensions (WxDxH): 27in x 36in x 58in / 69cm x 91cm x 147cm

Platform Dimensions (WxD): 27in x 28in / 69cm x 71cm

Weight: 247lb / 112kg

Maximum Load: 300lb / 136kg

Power Supply: 100-240 VAC, 50/60Hz Universal Voltage

Nominal Power in Operation: 160-185W

Certifications:

CE and EMC

RoHS/WEEE

CB

NRTL

C-NRTL

PSE

MDD Certified

FDA Listed as Class 1 device, 510k exempt
Order your Power Plate my5 Vibration Trainer from FitnessZone.com today!
Customer Ratings & Reviews
Be the first to rate this item!
Related Products