Spirit Adjustable Total Body Recumbent Stepper MS300
Spirit Adjustable Total Body Recumbent Stepper MS300
Product Code: spirit-adjustable-recumbent-stepper-ms300
Price:
$6,599.00
Need Expert Advice? Our friendly and knowledgeable staff is ready to help you. Call us now at 1-800-875-9145!
Spirit Adjustable Total Body Recumbent Stepper MS300
The Spirit Medical Systems Group Semi-Recumbent Stepper is intended to be used in aiding in the physical rehabilitation process for patients with orthopedic and neurological problems. Also used in sports medicine, wellness and general conditioning programs.
The Spirit Adjustable Total Body Recumbent Stepper MS300 is greatly beneficial when patents suffer a traumatic event, such as surgery or an accident, cardiac rehab is generally part of a plan to make a full recovery. However, limiting factors like lowered stamina, weight issues, or degenerative joint conditions create a challenge for many adults when it comes time to complete a rehabilitation program. In fact, it's not uncommon for patients to be apprehensive or even resistant to a rehab regimen.
The MS300 recumbent stepper is designed specifically with elderly patients and those recovering from injury in mind, the MS300 makes exercise more enjoyable and beneficial through the use of a seated arrangement, taking unnecessary pressure off the joints, and making additional bodyweight and the impact of standing irrelevant. And at the same time, these patients are still receiving the strenuous exercise necessary to achieve the cardiac and pulmonary output.
Call 1-800-875-9145 to speak with one of our fitness advisors with any questions you may have.
Speciality: Orthopedics, Sports Medicine, Neurological and Cardiac Rehabilitation, Senior Rehab and Wellness Training
Accessorize your Spirit Adjustable Total Body Recumbent Stepper MS300 with the MA902 and MA906
MA902 Bi-Lateral Calf Support Set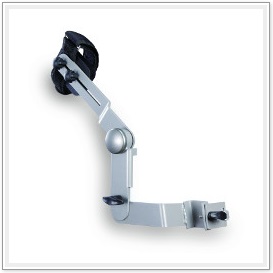 As a component of the MA902 Seated Stepper Calf/Hand accessories set, the bi-lateral calf support set offers advanced support for patients experiencing lower body deficiencies or weaknesses that require additional leg and foot alignment to achieve maximal results.
This newly designed lower limb stabilization set offers:
Minimized lower limb adduction or abduction
Easy attachment and removal on footplate assembly
Lightweight construction
Key Features
Attachment just below the knee eliminates any knee torque
Fully adjustable to keep the lower limb in proper alignment
Calf support pivoting which allows the ankle to move freely in its normal path
MA906 Hand/Wrist Stabilization Set
An additional component of the MA902, the Hand/Wrist Stabilization Set allows users with limited or no hand strength or control to enjoy the benefits of the Spirit MS300 Rehabilitation Seated Stepper. Patients with hand and wrist deficiencies will find comfort and security in maintaining a stable hand position throughout the exercise session.
This newly designed hand/wrist stabilization set offers:
Stable and correct hand position throughout the workout
Support for the wrist while minimizing wrist flexion
Reduction in pressure points
A full and natural range of motion for the upper body movement
The ability to keep the hands in place during exercise
Easy attachment and removal on the pivoting hand grips
Spirit Adjustable Total Body Recumbent Stepper MS300 Specifications:
| | |
| --- | --- |
| Net Weight: | 242 lbs (110 kg) |
| Max User Weight: | 440 lbs (200 kg) |
| Overall Dimensions: | 67" L x 30" W x 48" H |
| Power: | 90 to 240 volts AC |
Spirit Adjustable Total Body Recumbent Stepper MS300 Certifications:
TUV listed to UL 60601-1, CAN/CSA-C22.2 No. 60601-1:08, CE conformity to EN 60601-1 EMC, Compliance to EN 60601-1-2
Typical applications for the Spirit Adjustable Total Body Recumbent Stepper MS300 are:
Patient warm up before physical therapy session

Have the patient pedal to improve range of motion after knee / hip / ankle / shoulder or wrist surgery.

Allow patients to perform cardiovascular exercise
Unique uses for the Spirit MS300:
Self adjustable step length allows patients to pedal in smaller range of knee motion, from 5 degrees to full range.

Arms are linked with a 1 to 1 ratio to the foot pedals for ease of coordination. Arms can also be used alone without stepping with feet.

Symmetry program measures balance between left and right pedal and/or arm stroke.

Graphical Bio-feedback display motivates patients to maintain even power symmetry between left and right legs. If measuring arms only the graph and power readings will be reversed.
Other features of the MS300:
Work range up to 750 watts.

Indexed seat positioning accommodates users from 4' 10" to 6' 7"

Heart Rate monitoring using the hand grips or optional heart rate chest-strap.
Order your Spirit Adjustable Total Body Recumbent Stepper MS300 from FitnessZone.com today!
Customer Ratings & Reviews
Be the first to rate this item!