Spirit MU100 Upright Ergometer Bike
Spirit MU100 Upright Ergometer Bike
Product Code: spirit-upright-ergometer-bike-mu100
Price:
$2,999.00
Need Expert Advice? Our friendly and knowledgeable staff is ready to help you. Call us now at 1-800-875-9145!
Spirit MU100 Upright Ergometer Bike
The Spirit MU100 Upright Ergometer Bike is intended to be used in aiding in the physical rehabilitation process for patients with orthopedic and neurological problems. The MU100 is also used in sports medicine, wellness and general conditioning programs.
The Spirit MU100 Upright Ergometer Bike is very effective for exercising the thigh muscles.

The MU100 is good for the joints and do not put a lot of strain on the knees.

Well suited for endurance exercise

The MU100 has a large print display screen

You will not be dependant on the weather and the availability of bicycle routes.
The Spirit MU100 Upright Ergometer Bike is a great way to elevate your heart rate and burn calories and fat without the stress of a weight bearing exercise, while reducing the risk of developing overuse injuries. Using the MU100 Upright Ergometer Bike you can get off your feet and give your joints a break from impact activities, yet you can continue to train your cardiovascular system. Each activity you do works your muscles differently. The bike can also add variety to you workout routines.
Finally, if you are recovering from an injury or joint replacement, the bike can be an integral part of your recovery and help get you back on your feet doing what you love to do.
Other than training your cardiovascular system and burning calories, the single most significant benefit to using the MU100 ergometer bike is that it allows you to do those things without the pounding and impact of weight bearing exercises, you to train while giving your skeletal system and joints a break. So physiologically, you can see how it is useful to every type of exerciser.
Call 1-800-875-9145 to speak with one of our fitness advisors with any questions you may have.
| | |
| --- | --- |
| | Speciality: Patella Femoral Conditions, Total Knee Replacements, ACL, MCL, and PCL Repairs, Arthritic Conditions and Tendonitis |
Typical applications for this product are:
Patient warm up before physical therapy session
Have the patient pedal to improve range of motion after knee / hip / ankle surgery.
Allow patients to perform cardiovascular exercise
Unique uses for the Spirit MU100:
Adjustable crank allows patients to pedal in smaller range of knee motion, from 15 degrees to full range.
Symmetry program measures balance between left and right pedal stroke. Graphical Bio-feedback display motivates patients to maintain even power symmetry between left and right legs.
Other features of the MU100:
Work range up to 750 watts (60 rpm) when level settings are at 15 watts per level
Indexed seat positioning accommodates users from 4' 10" to 6' 7"
Heart Rate monitoring using the hand grips or optional heart rate chest-strap.
OPTIONAL PEDAL ACCESSORIES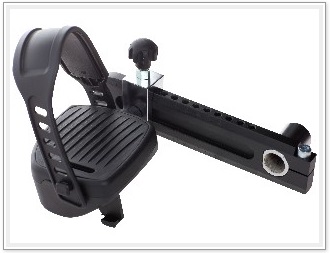 MA900 Rehabilitation Adjustable Crank
The MA900 flexibly accommodates patients by its incrementally adjustable cranks, from as little as 15 degrees. Smaller degrees render smaller circular lower body motions. As a result, patients with limited ROM can start therapy earlier than by using other rehab equipment. Ultimately, patients acquire passive and active mobilization for hips, knees and ankles.
Training merits with the MA900 include:
Isolated closed kinetic chain exercising for quads and hams.
Exercising in the pain-free parts of the body, thereby reducing patient's discomfort and fear.
The MA900 can replace most existing 9/16" threaded bike cranks. Your standard exercise bike becomes a clinically effective rehabilitation tool.
The MA900 benefits: total knee replacements, total hip replacements, ACL, MCL, & PCL repairs, ligamentous tears, patella femoral conditions, tibial stress injuries, tendonitis, and other arthritic, neurological, and muscular conditions.

MA901 Neurological Pedal Set
The MA901 enables patients with neurological dysfunctions to exercise in a closed kinetic chain environment. This is achieved by having patients' feet secured to the pedal with a heel cup and 2 straps.
Training merits with the MA901 include:
Motor learning, range of motion, strength exercises, and skill building are the results of hours of practice with this pedal set.
The adjustable tightness ensures that the feet do not move during closed kinetic chain exercise.
The MA901 can replace most existing 9/16" threaded bike cranks. Your standard exercise bike becomes a clinically effective rehabilitation tool.
The MA901 accommodates: patients with hemiparesis, cerebral palsy, and other neurological disorders.
Spirit MU100 Upright Ergometer Bike Specifications:

| | |
| --- | --- |
| Net Weight: | 136.5 lbs (62 kg) |
| Max User Weight: | 440 lbs (200 kg) |
| Overall Dimensions: | 57" L x 21.25" W x 53.25" H |
| Power: | 90 to 240 volts AC |
Spirit MU100 Upright Ergometer Bike Certificaitons:
TUV listed to UL 60601-1, CAN/CSA-C22.2 No. 60601-1:08, CE conformity to EN 60601-1 EMC, Compliance to EN 60601-1-2
Order your Spirit MU100 Upright Ergometer Bike from FitnessZone.com today!
Customer Ratings & Reviews
Be the first to rate this item!