Body Solid Multi-Press Rack GPR370
Body Solid Multi-Press Rack GPR370
Product Code: Body-Solid-GPR370-Multi-Press-Rack
Price:
$585.00

Need Expert Advice? Our friendly and knowledgeable staff is ready to help you. Call us now at 1-800-875-9145!
Body-Solid GP370 Multi-Press Rack GPR370

Fitness professional, coaches, and personal trainers agree that a heavy-duty rack with easy-to-use adjustments and a barbell set go a long way in the world of strength training. Freeweight training is most effective when the user feels safe enough to use heavy weight and push the envelope. Body-Solid 2" X 3" Multi-Press Rack is here to make sure you get the absolute most from your workout, the ability to push your limits, the room to excel. Our Full Commercial Multi-Press Rack is an industrial strength training partner that doesn't try to change how you workout, it works with you.

Designed with an extra-wide 4-point stance, the Body-Solid Multi-Press Rack (GPR370) is a rock-solid performer that features a 7° reverse pitch that accommodates your body's natural lifting path. Lift-off and safety positions are right where you want the so racking the bar is always comfortable and predictable. Perform squats, calf raises, lunges, dead-lifts, upright rows,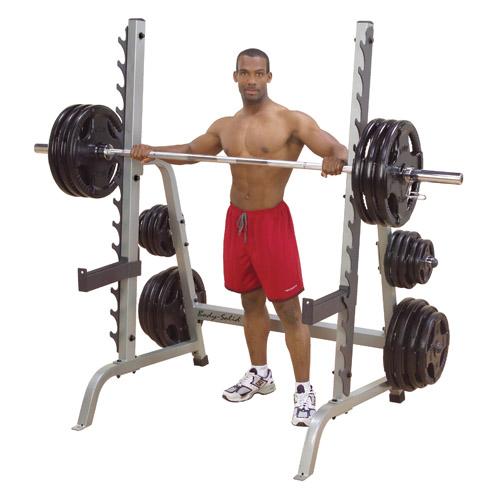 and many, many more power building exercises. For increased workout capacity, add any freeweight bench and do bench, incline, decline, and shoulder press routines. If you are looking to bulk up and build power, or simply to tone your muscles and increase performance, the Body-Solid Multi-Press Rack (GPR370) is definitely the foundation of the ultimate freeweight system.
When it's time for serious resistance training, the kind that packs on lean mass and drastically increases strength through the use of dynamic movement and free weight, the Multi-Press Rack is what the big boys turn to. The Body-Solid Multi-Press Rack (GPR370) is a phenomenal product and already in big-name gyms across the country.
Benefits of the Body Solid Multi-Press Rack
The Body-Solid Multi-Press Rack (GPR370) is perfect for the free weight room in any commercial gym because they look good, are made of the finest and most sturdy materials, and they come from a brand people trust. However, they're also perfect for the home gym as well. Let's face it, at the end of the day, all that's needed are a few accessories and maybe a set of dumbbells, and this is a one stop shop fitness wonderland.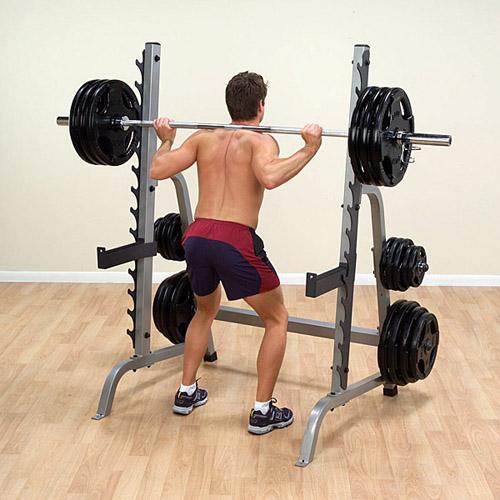 The Body-Solid Multi-Press Rack (GPR370) is not just a safe place to do squats; it's a place to store weight and the Olympic bar which can be used for lunges, military presses, curls, deadlifts, calf-raises, upright rows and power moves like snatches as well. This is what professional body builders have been training with since the inception of the American fitness industry!
The Body-Solid Multi-Press Rack (GPR370) was built to last and stay looking sharp for a lifetime. Furthermore, it's built for convenience and accommodation. The extra-wide four point stand gives plenty of room to maneuver, and with the optional protective rubber flooring, it's an extremely safe and structured training environment.
The seven degree reverse pitch is specially designed to complement the body's natural lifting path, rather than forcing it to work in a vertical line. It means that lift off areas are perfect, and it's always easy and comfortable to get it back up there. With the addition of a bench, well, then there's really no end to the amount of things that can be executed for a sculpted elite physique.
Optional Equipment for Body So

lid Multi-Press Rack
GPR370
Body Solid Multi-Press Rack Features and Specifications
Extra-heavy duty 2"x 3" high tensile strength steel mainframe with all-4-side welded construction.
14-position gunrack can handle over 1,000 lbs. and gives the user the ability to walk the bar up and down without removing plates.
Includes oversized 17" long safeties constructed from 2"x 3" 11-gauge steel.
Mainframe uprights are set to a 7° reverse pitch that accommodates the body's natural lifting path.
Features 4 Olympic storage posts that suspend weight plates for quick and easy access while keeping your workout area organized.
Ideal for home and commercial use.
74"H x 45"L x 64"W
Body Solid Multi-Press Rack In-Home Warranty
Lifetime Warranty on Everything Forever - Period.
Order your Body Solid Multi-Press Rack from FitnessZone.com today!
Customer Ratings & Reviews
Be the first to rate this item!
Related Products