First Degree Apollo Pro 2 Rower
First Degree Apollo Pro 2 Rower
Product Code: first-degree-apollo-pro-2-rower
Price:
$1,599.00
Need Expert Advice? Our friendly and knowledgeable staff is ready to help you. Call us now at 1-800-875-9145!
First Degree Apollo Pro 2 Rower
The Apollo Pro 2 Fluid Rower is an entry level commercial rowing machine from First Degree Fitness. Designed for light commercial settings and busy home gyms, it has a generous warranty and is built to accommodate all skill levels. Specs include a long ashwood and steel frame, a convenient 21" entry height, a wide range of manually adjustable resistance, and a computer console with USB port for expanded functionality.
The Apollo Pro 2 boasts a sleek, attractive steel frame supported by double-lacquered American ashwood. Its water drive provides up to 4.5 gallons of water for resistance. FDF advertises the resistance range as fitting everyone from "deconditioned seniors to competitive athletes." Riders can easily adjust the tension with a Min/Max dial.
The Apollo Pro 2 stroke cycle feels natural — there are no "dead zones" — and riders enjoy the tranquil sound of splashing water.
Session feedback is provided on the Apollo Pro's computer monitor. This includes heart rate if a wireless chest strap (not included) is used. The computer has basic programming, including interval training support, and can be used with FDF apps through its USB port. One of the most engaging apps sets the rower in a virtual reality environment for racing against other Internet-connected trainees.
The Apollo Pro 2 Fluid Rower measures approximately 84" L x 22" W x 21" H and has a maximum user weight capacity of 330 pounds. (These data are accurate despite some conflicting information seen on the First Degree Fitness website.) As part of its commercial warranty package, all mechanical parts are guaranteed for two years.
The Apollo Pro 2 Fluid Rower is designed to deliver variable water resistance. Its tank can hold up to 17 liters of water, but riders adjust a dial to control how much water is actually used against each stroke. Trainees get the sight, sound and feel of rowing on a body of water.

To accommodate riders with arthritis or other limitations on movement, the Apollo Pro's seat is at office chair height (21").
The computer monitor shows time, distance, 500 meter split time, strokes per minute, calories per hour, watts, interval training and heart rate (with a wireless chest strap, not included). A USB port allows for expanded functionality with workout apps. A popular example is NetAthlon 2 XF, which lets a person train solo or race against other Internet-connected rowers in a 3D virtual reality environment.
The Apollo Pro 2 water rower has a wireless heart rate receiver that's compatible with standard chest
The Apollo Pro 2 is one of few commercial rowing machines with a wooden frame. Ash hardwood is used for its long-term dimensional stability, but it also allows a bit of natural-feeling flex during exercise. This rower is double lacquered for durability in busy health clubs.
The Apollo Pro 2 has transport wheels and can be turned upright for storage.
This commercial rower has a maximum user weight capacity of 330 pounds.
The warranty provides five years of protection for the frame, three for the tank, two for mechanical parts and one for wear parts.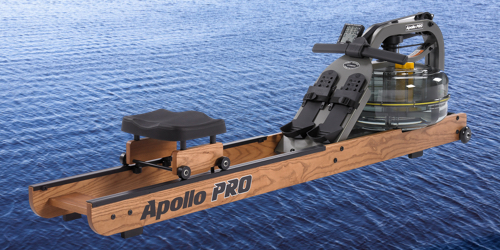 First Degree Apollo Pro 2 Rower Features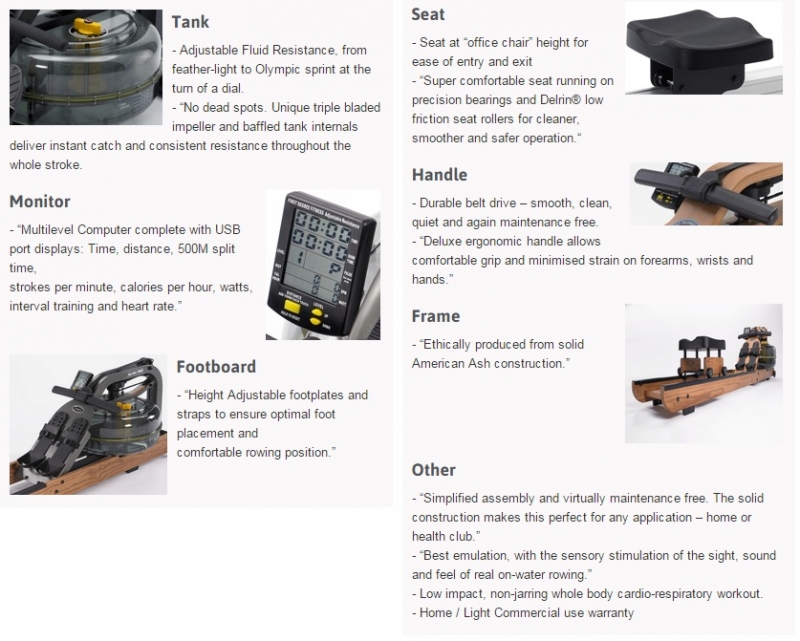 First Degree Apollo Pro 2 Rower Specifications
Upright Storage – 550 x 540mm (22 x 21″)
Product size – L 2135mm (84″) x W 550mm (22″) x H 540mm (21″)
Max User Weight – 150kg (330lb)

Box 1:

1010mmx560mmx585mm (39.76 x 22.04 x 23.03″)
Net Weight: 24.5kg (54.0lb)
Gross Weight: 28.1kg (61.9lb)
Cubic Metres 0.3392 (11.98 cubic feet)

Box 2:

2230x187x80mm (87.79 x 7.36 x 3.15″)
Nett Weight 9.3kg (20.5lb)
Gross Weight 10.3kg (22.7lb)
Order your First Degree Apollo Pro 2 Rower from FitnessZone.com today!
Customer Ratings & Reviews
Be the first to rate this item!