Cybex Functional Trainer
---
---
CYBEX BRAVO FUNCTIONAL TRAINERS
The Bravo Functional Training system is a truly innovative approach to functional training. The system combines unique technologies and the best aspects of selectorized and cable-based strength training equipment to offer simple, safe operation, expanded functionality and better results.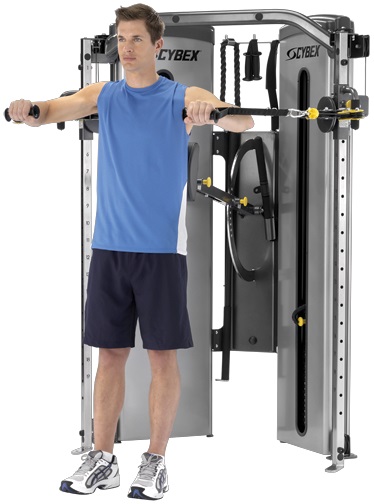 Cybex Wins Prestigious FIBO Innovation
Award 2012 for the Bravo series'
patented Progressive Stabilization
PROGRESSIVE STABILIZATION
The unique Progressive Stabilization system adjusts for height and horizontal position, offering maximum stabilization (like selectorized equipment) or free standing movement (like most functional trainers). The Bravo Advanced's Progressive Stabilization system can also be positioned for partial stability, introducing specific challenges for different functional tasks. Systematic destabilization allows trainers to create programming which builds strength and skills in a progressive, highly effective manner, offering new challenges as users' capabilities grow.
Solid. Sturdy. Rugged.
The same words that describe the fittest athletes also apply to our powerful functional trainers. One look at the Cybex Bravo Series tells you that they are built to handle the punishment dished out by a steady stream of users in a wide range of facilities — from compact corporate and hotel exercise rooms to firehouses, police stations, and school fitness centers.
Real simple. Real results.
The Cybex Bravo Trainers makes getting a complete, full-body workout simple. Illustrated instructional placards guide users through the basic exercises needed to develop strength, improve coordination, and learn specific movement patterns designed to enhance functional performance. No complex instructions necessary.
Designed and built by Cybex in the USA.
The Bravo Series Trainers are highly engineered, thoroughly tested workhorse machines— a direct result of research into biomechanics and human performance conducted at the Cybex Research Institute. They are designed to work with the natural movement of the body and produce outstanding results for everyone from first-time users to serious athletes. The Bravo delivers exactly what you expect from Cybex, the leader in high performance strength training and cardio equipment.
FitnessZone® will be able to custom fit you on a Cybex functional trainer that will help you obtain your fitness goals while meeting your budget or space requirements. We have service technicians on call 7 days a week throughout the World for our customer's service needs. Order your Cybex functional trainer at FitnessZone®.com and exercise your way to better Health.