Horizon Evolve 3 Folding Elliptical with ViaFit
In Stock-Shipping Same Day!
Horizon Evolve 3 Folding Elliptical with ViaFit
Product Code: horizon-evolve-3-folding-elliptical-viafit
Price:
$1,199.00
Ratings Snapshot
Would recommend this product.
Need Expert Advice? Our friendly and knowledgeable staff is ready to help you. Call us now at 1-800-875-9145!
Horizon Evolve 3 Folding Elliptical with ViaFit
Model # Evolve 3
Your workout should work with your life. That's the idea behind the Horizon Evolve 3 Folding Elliptical. Simple assembly, one-step folding, a compact footprint and the most comfortable feel make this elliptical one of the best moves you can make to improve your fitness.
The Evolve 3 is becoming an increasingly popular elliptical due to its cutting edge technology combined with an at-home feel that gym enthusiasts love. With various features built in like Cardio Compass™ and ViaFit©, the Evolve 3 is easy to assemble right in your personal home gym without a lot of struggle. With its advanced software and long stride, the Evolve 3 is ideal for every member of the family who wishes to get fit through elliptical work.
The Horizon Evolve 3 Folding Elliptical is an easy-to-use elliptical machine featuring simple assembly and one-step folding. With the space inconvenience removed from the equation, many are finding Horizon Fitness' Evolve line to be a winning choice. This elliptical is also sturdy enough to be used multiple times per day.
The Evolve 3 contains a frame that can be folded up in 1 easy step. Its three-step assembly makes it possible for families to start breaking in their favorite workout routines immediately. There's no need for professional assembly here – simply do it yourself and enjoy the great features included with this model.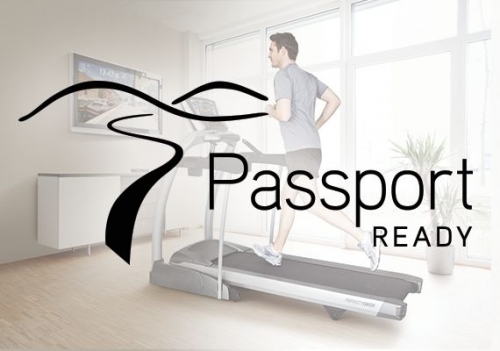 One-step folding for easy storage and making room at home

Passport Ready


Online workout tracking through ViaFit© technology

Workout feedback through Cardio Compass™

An incredibly comfortable feel, even with multiple uses.

Longer stride for a comfortable workout for all shapes and sizes.

Simple assembly

Reasonable price range

Durable enough for multiple daily uses

Best in class lifetime warranty on frame. 3 year parts and 1 year labor warranty.
HIIT TRAINING

When most people think about High Intensity Interval Training (or HIIT) workouts, they often associate them with the treadmill, bike or outdoor sprinting. But what about the elliptical? Sure, many people may hop on their elliptical for 30 minutes or so and vary the intensity, but very few take it to the full HIIT level. The elliptical can, in fact, be a great choice when it comes to getting in your interval sessions and offers a few benefits that the other options don't.

Low-impact Training
The elliptical allows your body to emulate a running motion without causing the strenuous impact on your joints that occurs on a treadmill.

Cross-training Ability
Most elliptical trainers are equipped with moveable handles which allow you to exercise your upper body and lower body simultaneously.

Reverse Stride
Most ellipticals allow you to stride in reverse which can activate different muscle groups and put more emphasis on your quads and offer an adjustable variety mid-workout. Power-incline ellipticals can also work different muscle groups for increased effectiveness.
| | |
| --- | --- |
| | |
| | |
| --- | --- |
| | |
| | |
| --- | --- |
| | |
| | | |
| --- | --- | --- |
| | | |
| You want a machine that folds and stores easily and won't cramp your living space or lifestyle | You want a full body workout, and to build strength by activating key muscle groups | You want a machine you can trust, that's proven and guaranteed by the manufacturer |
Horizon Evolve 3 Folding Elliptical with ViaFit Specifications:
| | |
| --- | --- |
| Overall Rating: | 4-stars |
| Compact / Folding: | Yes, patented front drive, rear-folding |
| Incline: | None |
| Stride Length: | 20 inches |
| Flywheel: | 18 LBS |
| Programs: | 32 programs |
| Fan: | No |
| Weight Capacity: | 300 LBS |
| Dimensions: | 69" L x 28" W x 69" H |
Order your Horizon Evolve 3 Folding Elliptical with ViaFit from FitnessZone.com today!
Customer Ratings & Reviews
Ratings Snapshot
Would recommend this product.
Would recommend this product.
Solid machine
Hank
Location: California
Date: November 21, 2019
We have enjoyed our Horizon elliptical. It's solid and feels like a gym machine. Would give between 4-5 stars.
Related Products