Body-Solid 80-100 lb Grey Hex Dumbbell Set
Body-Solid 80-100 lb Grey Hex Dumbbell Set
Product Code: SDS900
Price:
$1,350.00
Need Expert Advice? Our friendly and knowledgeable staff is ready to help you. Call us now at 1-800-875-9145!
Body-Solid 80-100 lb Grey Hex Dumbbell Set
Ready to take your body to the ultimate level of muscularity? Nothing will do it faster, easier and more efficiently than these sets of Body-Solid 80-100 hex dumbbells. Cut your workout time in half while maximizing muscle growth.

The 80-100 Grey Hex Dumbbell Heads are cast completely around and through two high carbon Roll Pins permanently embedded in the steel handles. No matter how much they're abused, they won't break. Specially designed hexagonal shape prevents rolling and assures safer workouts. Raised silver numbers for easy readability and quick selection. All edges and corners are ground smooth for safe handling. Cast from ASTM grade 20, the highest quality gray iron casting available. 15 to 100 lb. dumbbells feature extra-thick, stress proof, knurled steel alloy handles.
Training with dumbbells provides a variety of advantages. Some of the advantages are practical and some are physiological, but without a doubt, dumbbells will be a good addition to your training program.
Practical Advantages of Dumbbells
Let's start by looking at the practical advantages. One significant benefit of training with dumbbells is their relative low cost and adaptability in comparison with other modes of training. Most exercise machines are expensive and typically can be used to perform only one exercise.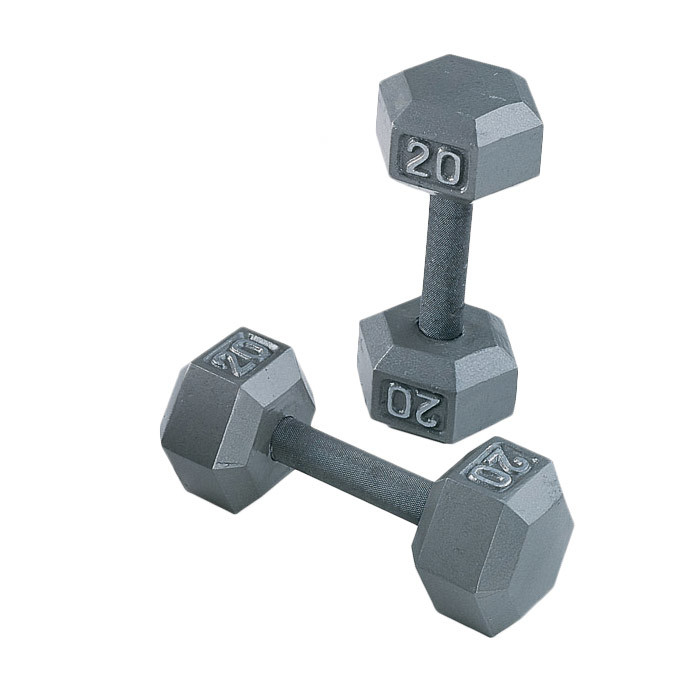 Dumbbells, on the other hand, provide a huge range of exercises. And nearly every barbell exercise you can think of can also be performed with dumbbells. But that is not the end of the list. Add all the exercise variations that are possible with dumbbells that are not possible with barbells (e.g., single-arm and alternating-arm exercises) and you quickly see that the number of potential dumbbell exercises is quite large.


Another benefit of dumbbell training over machine training is that most machines do not lend themselves well to explosive training. Dumbbells are well suited to explosive training, which is the focus of most of the dumbbell exercises athletes performs.


While barbells and weight plates are less expensive than exercise machines, they cost more than dumbbells. Further, many exercises performed with barbells require specialized equipment, such as a bench press or squat rack or, in the case of the Olympic lifts, an Olympic lifting bar, bumpers, and a platform that creates a safe area on which to perform the exercises. In contrast, most dumbbell exercises require only an open space for training, a rubber mat or piece of plywood to protect the floor, and an adjustable exercise bench.


Another practical benefit of dumbbell training is that little space is required, both for storing the dumbbells and for exercising with them. Compare this to machine training, where multiple machines are required to train the entire body, and barbell training, where training occurs with an 8-foot-long (2.4 m) barbell and a recommended 2-foot (61 cm) cushion of space on either end of the barbell. Because of their small size, dumbbells require very little space during training. While you do want a safe buffer around an athlete training with dumbbells, it is possible to train more athletes in a smaller area than could train on either machines or with barbells. Because of the small space requirement during dumbbell training, several athletes can train simultaneously and efficiently with minimal risk of injury. For example, it is possible to have 20 to 25 athletes training with dumbbells in a relatively small area (i.e., 500 square feet) during a training session (broken into groups of two, with one athlete lifting and a partner spotting while waiting to perform a set).
SDS550 set includes (2 each): 5, 10, 15, 20, 25, 30, 35, 40, 45, and 50 lb.

SDS650 set includes (2 each): 55, 60, 65, 70, and 75 lb.

SDS900 set includes (2 each): 80, 85, 90, 95 and 100 lb.

Does not include Dumbbell Rack

Order your Body-Solid 80-100 lb Grey Hex Dumbbell Set from FitnessZone.com today!
Customer Ratings & Reviews
Be the first to rate this item!