Life Fitness Club Series Plus Cross Trainer
Special Sale Today!
Call 1-800-875-9145
For Best Price!
Life Fitness Club Series Plus Cross Trainer
Product Code: life-fitness-club-series-plus-cross-trainer
Price:
$6,569.00
Need Expert Advice? Our friendly and knowledgeable staff is ready to help you. Call us now at 1-800-875-9145!
Life Fitness Club Series Plus Cross Trainer
FitnessZone Is An Authorized Dealer For Life Fitness Products Nationwide!

The Life Fitness Club Series Plus Cross Trainer is the home version of our durable and reliable commercial cardio series, offering advanced exercise feature like the oversized Flexform™ Pedals and multi-grip moving handles with integrated resistance control.
BENEFITS OF THE CLUB SERIES+ ELLIPTICAL CROSS-TRAINER
The Club Series+ Cross-Trainer is the home version of our durable and reliable commercial cardio series, offering advanced exercise feature like the oversized Flexform™ Pedals and multi-grip moving handles with integrated resistance control.
BRING THE CLUB EXPERIENCE HOME
The Life Fitness Club Series is rooted in more than 20 years of reliability, innovation and exerciser insight from gyms and health clubs across the world. This next-generation Club Series+ is now stronger and sleeker than ever - but retains the quality and durability you trust.
TOTAL BODY EXERCISE
The 20" (51 cm) stride creates a smooth and natural feel developed from years of research on the ellipse motion. Moving arms enhanced with our multi-grip design allow you to achieve a total-body, low-impact workout.
VERSATILE HANDLES
Integrated resistance controls on the moving handles allow you to change your workout with ease, and the multi-grip design allows for multiple hand positions, based on your preference. Plus, stationary handles provide exercise variety.
OVERSIZED FLEXFORM™ PEDALS
Large, 15" (38 cm) pedals have a curved design to enhance comfort. The non-slip surface of the pedals is easy to clean.
ADVANCED EXERCISE TECHNOLOGY
The intuitive touchscreen console creates a connected experience. Your last workout is automatically saved, so you can replay it and strive to improve your performance. Challenge yourself with our auto-refreshed trending workouts. And, track your progress over time and push workout data to your favorite apps through Bluetooth® and NFC connection.
DISCOVER SE3 HD - THE ULTIMATE HOME CONSOLE. ENTERTAIN YOURSELF.
The Discover SE3HD console is a premium digital experience that tracks your workout, offers exercise courses and provides a variety of entertainment options.
Wireless connection, iOS® and Android™ compatible. Includes media apps like Netflix, Pandora, RunSocial and more.
Screen Size - Treadmills 21 in (48 cm) Bikes/Cross-Trainers 16 in (47 cm)
LFConnect App Compatibility - Standard
Device Compatibility - Android TM, iPhone®, iPad®, iPod®
Entertainment - TV, Internet, Bluetooth, Interactive Courses, Integrated Apps
Number of Workouts - Up to 42
Custom Workouts - Up to 8
User Profiles - Limitless
ST Console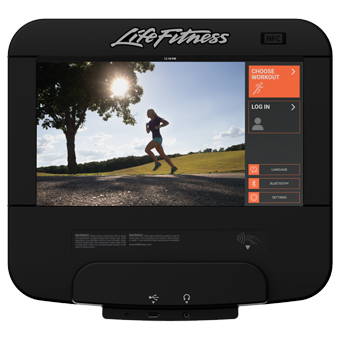 CONSOLE FEATURES

ST Treadmill: 21.5" (54.6 cm)
ST Non-Treadmill: 16" (47 cm)

Internet (wired or wireless), proximity login via Bluetooth® and NFC

Integrated high-definition TV, interactive workout options

Streaming Entertainment Apps1
C Console
The C Console brings simplicity to exercisers who just want to get on and go. The large LED and straightforward display provide easy navigation. The get on and go functionality consists of 4 essential workouts including Manual, Random, Hill, and Quick Start.
Dashboard Design
The contemporary dashboard makes it easy to discover everything from entertainment apps and courses to tracking and progress.
Entertainment Apps
Featuring streaming video and audio including Netflix™, Hulu™ and Pandora® Radio, we enhanced the most used features of our consoles to help exercisers stay engaged.
Courses
Featuring beautiful Lifescape™ courses and newly added RunSocial™, which allows exercisers to compete anywhere, anytime.
Easy Login Process
Proximity Bluetooth® and NFC login make the connection process easy, which encourages exercisers to explore the benefits of signing into an account
Auto Start

Yes

Cup Holders

1

Device Interactivity

QR Code, Bluetooth connectivity (device and HR strap), NFC (Near Field Communication)

Dimensions (LxWxH)

86"x29"x64" (218x73x163 cm)

Dynamic length

87" (222 cm)

Frame

Brushed stainless steel vents, rear wheels for mobility, adjustment levelers

Handles

Multi-grip moving handles with remote resistance controls and stationary handles

Other Features

Workout

replay (repeat a previous workout), Trending workouts (Trainer designed, auto-refresh workouts), Workout performance history (View performance trends on last 10 workouts)

Power Requirements

Plug

-in (all major voltages)

Screen Size

16

" (17.8 cm) LCD Touchscreen - ST. 21" 1080p Touchscreen - SE3HD

Screen type

LCD

touch screen

Stride Length

20" (51cm) Ergonomic fixed stride

Unit Weight

301 lbs. (137 kg)

Wireless connectivity

Yes

Workouts

Manual, Quick Start, Hill, Random, Time Goal, Distance Goal, Calories Goal, Heart Rate Goal, Rolling Hills, Speed Interval, Incline Interval

Integrated Accessory Tray

Yes

Pedals

Oversized 15" FlexForm Pedals

Resistance Levels

0-25

Heart Rate Monitoring

Polar

® Telemetry compatible (polar strap included), Lifepulse™ with DSP (Digital Signal Processing)

Max User Weight

400 lb. (181 kg)
ABOUT LIFE FITNESS
Those who know fitness, choose Life Fitness.
Life Fitness equipment is found in the training rooms of professional sports teams, in the athletic facilities of universities, and in the best health clubs around the world.
But you don't have to be an elite athlete to use Life Fitness products. Home exercisers benefit from the combination of expert engineering, state-of-the-art technology, attention to design, and extreme durability that has made Life Fitness the No. 1 brand of fitness equipment in the world.
For more than 50 years we've been creating effective, inviting and reliable fitness equipment—cardio and strength equipment that's built not only for elite athletes, but for exercisers of all abilities and fitness levels.
Life Fitness has been a pioneer in fitness equipment, innovating across cardio equipment, connected consoles, digital content and connected strength equipment.
From health clubs and gyms to pro sports teams and top colleges, fitness facilities in 165+ countries feature the strength and cardio equipment of Life Fitness.
Order your Life Fitness Club Series Plus Cross Trainer from FitnessZone.com Today!
Customer Ratings & Reviews
Be the first to rate this item!