Life Fitness Row HX Trainer
Life Fitness Row HX Trainer
Product Code: life-fitness-row-hx-trainer
Price:
$1,399.00

Need Expert Advice? Our friendly and knowledgeable staff is ready to help you. Call us now at 1-800-875-9145!
Life Fitness Row HX Trainer
The Row HX Trainer is perfect for a low-impact, total-body workout at home. Its beautiful design makes it a great addition to any room. Fluid Technology resistance delivers a smooth and natural feel. The Row HX accommodates the whole family and delivers premium performance from the convenience of your home.
Using the Life Fitness Row HX Trainer is an endurance exercise that increases heart function and uses carbohydrates to provide the energy required to exercise. Keeping the Row HX tension at a low level allows you to maintain a high rate of speed with little resistance in order to reach and maintain an aerobic state. Aerobic exercise improves lung, heart and circulation systems and is the cornerstone of an effective exercise routine, according to MayoClinic.com. Using the Life Fitness Row HX Trainer will allow you to burn calories rapidly, making it a suitable addition to your workout regimen if weight loss is your chief priority.
Your will use virtually every major muscle group in your body with this Life Fitness Row HX Trainer. With little pressure on the joints, due to the activity's low-impact nature, rowers work their legs, hips and buttocks with each stroke. You will also use upper-body muscles, strengthening the back, shoulders and arms. The trunk and core are engaged in the exercise as the rower performs each stroke. You can adjust the HX to create a tighter resistance to increase the rate at which you build muscle.
Call 1-800-875-9145 to speak with one of our fitness advisors with any quesitons you may have.
Life Fitness Row HX Trainer Features:
NATURAL FEEL

The unique Fluid Technology resistance system delivers a smooth and natural feel, and provides consistent resistance throughout each rowing stroke.

EASY RESISTANCE ADJUSTABILITY

Four resistance levels are available at the turn of a dial, without the hassle of adding or siphoning water. Easy adjustments accommodate several users and allow users to challenge themselves with a variety of intensity.

ATTENTION TO DESIGN

The natural wood and tempered steel frame strike a balance between elegance and durability. The Row HX fits any decor and is a piece of exercise equipment that you can be proud to display.

COMPACT AND EASY TO MOVE

Easy to move and has a small footprint to fit in any space. The rower is less than 7-feet (213 cm) tall when stored upright.Life Fitness Row HX Trainer
Life Fitness Row HX Trainer Specifications: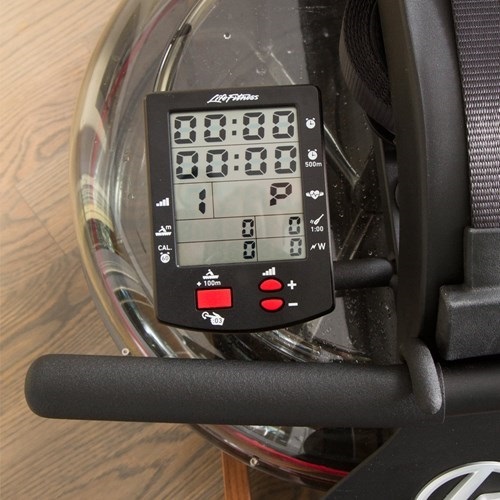 Box Dimension: main box (1 of 2)

39.76 x 22.04 x 23.0 in.(101 x 56 x 58.5 cm)

Box Dimension: rail box (2 of 2)

87.79 x 6.37 x 3.14 in.(223 x 16.2 x 8 cm)

Fluid Technology Resistance

Yes

Heart Rate Monitoring

Optional heart rate receiver

Product Size

83.85 x 20.47 x 22.04 in (213 x 52 x 56 cm)

Product Weight (assembled)

Without water: 70.99 lbs (32.2 kg). With water: 108.03 lbs (49.0 kg)

Seat to Floor Distance

11.5 in (29 cm)

Stored vertically height

83.85 in (213 cm)

Warranty (warranties outside the U.S. may vary)

Frame 5 years; Tank and Seals 3 years; Mechanical 2 years; Console 1 year; Labor 1 year

Max User Weight

330 lbs (150 kg)

Resistance Levels

4

Store Vertically

Yes

Power Requirements (voltage outside U.S. may vary)

2 AA Batteries
Order your Life Fitness Row HX Trainer from FitnessZone.com today!
Customer Ratings & Reviews
Be the first to rate this item!