Teeter Hang Ups Inversion Tables
Teeter Hang Ups Inversion Tables
---
---
What is Inversion Therapy?
Inversion is the pose in which you hold your heart higher than your head. Inversion therapy helps your body to recover from the compressive effects of gravity and daily activities. Scientifically, it has been proven to be quite advantageous for cardiovascular, lymphatic, endocrine and nervous systems. In fact, inversion is a perfect exercise for the body as a whole.
Benefits of Inversion Therapy
RELIEVE BACK PAIN




Relaxes muscles, rehydrates discs, realigns & reduces pressure
EASE STRESS




Releases tension in shoulders, neck & back

IMPROVE JOINT HEALTH




Decompresses, strengthens & enhances shock absorption

INCREASE FLEXIBILITY




Improves functional fitness for an active, healthy lifestyle

IMPROVE FITNESS AND BUILD CORE STRENGTH


Inverted exercises help build a strong core, which is essential to back health
| | | |
| --- | --- | --- |
| Back pain is a symptom of something else going on in your body. Find out the common scenatios & how inversion can help. | Sciatica is experienced in a wide range of symptoms. Learn more about combating sciatic pain with inversion therapy. | Did you know using a Teeter Hang Ups can improve your golf game & decrease your average strokes per round? |
Teeter Hang Ups Inversion Tables
Inversion tables may be best known as a method to relieve back pain, however using an in version table is also a successful method to reverse other negative effects that gravity has on the body. Over time, gravity can contribute to problems with circulation, height loss, prolapsed organs and general body functions. Inversion tables can also be used as a proactive approach to help maintain overall health. Hanging upside down on inversion tables can help to stretch and relax muscles, reduce stress and tension, and provide healthy movement for ligaments. If you have a bad back, an inversion table will help relieve back pain due to nerve or disc problems. Their are many types of Teeter Hang Ups Inversion Tables to choose from on FitnessZone.com. Teeter Hang Ups Inversion Tables is still our best seller on the site. If your budget is lower than $300.00 you may want to consider Stamina Inversion Tables. The Stamina Inversion Tables cost around $175.00 and up. All our inversion tables will ship FexEx Ground or UPS directly to your home. All the Teeter Hang Ups Inversion Tables that FitnessZone offers are also easy to assemble. If you need advice on selecting the right Teeter Hang Ups Inversion Table, please call us at 1-800-875-9145.
Using a Teeter Hang Ups Inversion Table is actually a form of traction that uses your body weight in combination with gravity to decompress weight-bearing joints. While the body is rotated and suspended, gravity's force applies traction, resulting in a customized stretch that elongates the spine, increasing the space between the vertebrae, which relieves the pressure on discs and nerve roots. Less pressure means less back pain. Inversion tables are designed to help lower the pressure that gravity puts on the spine. Since every nerve root leaves the spine through a space between the vertebrae, discs that are plump and contained in their ligament "wrappers" are necessary to keep the nerve roots free of pressure and your body free from pain. The Teeter Hang Ups Inversion Tables will offer a system of stretching and exercise that helps to slow or reverse the harmful compression of the body by gravity. Inversion Tables will also help strech out your muscles and may your body more flexible.
Teeter Hang Ups EP-560 Sport Inversion Table

Built for the Benefits – The EP-560 features precision balancing for ultimate control, a patent-pending ComforTrak Bed that flexes with the user for better joint mobilization and accommodates accessories to enhance the user experience, plus built-in Stretch Grips for added stretching and decompression.

Independent Quality-Assurance Tested to Highest Safety Standard: Voluntary compliance to UL's inverstion table saftey standard makes Teeter Hang Ups the only inversion brand with certified quality.

Rated #1 Inversion Table: Teeter Hang Ups outlasts and outperforms the competition in product evaluation tests. Rated by Dynamark Engineering as the best inversion table for endurance, strength, rotation control and ease of assembly.



Teeter Hang Ups EP-560 Inversion Table

---

| | |
| --- | --- |
| Shown with Optional Accessories | |

This inversion table also offers versatility in the form of the design in its track. Nodes used for the ancient art of acupressure can be used here. This means that you can take advantage of ancient Chinese wisdom while using this machine. Find the right points on your body and hit them with the proper pressure to get the maximum health benefits.

The Teeter Hang Ups EP-560 Inversion Table is also extremely safe and durable. Auto-locking hinges, cam locks, and heat-treated steel parts create a product that is secure and reliable All materials will not fade or look worn over the years, and a scratch-resistant powder coating and triple-plated chrome give it an attractive appearance. When not in use it easily folds and can be stored out of sight, and is also very easy to clean.
Teeter Hang Ups EP-950 Inversion Table w/Ergo-Embrace Ankle System

Ratchet Ankle Lock System: The extended handle for the ankle lock system provides an easy-to-reach solution in addition to its triple lock security feature.

Ergo-Embrace Ankle SystemTM: Pressure-reducing specialty foam cups surround the ankles while the patented ankle closure system distributes body weight comfortably around the foot and heel. This design greatly reduces ankle discomfort to allow for a relaxing and secure user experience.

EZ StretchTM Traction Handles: With the muscles in your lower back relaxed, pushing on the handles can help to increase traction and enhance your stretching experience. The handles can also be used as a tool for intermittent traction and oscillation.

Over EZTM Handles: Larger padded support handles assist during inversion and ascent.

Pre-set Rotation Control: The EZ AngleTM Tether Strap is a unique feature that allows pre-set angles at 20, 40 or 60 degrees and provides an easy guide to where the benefits of inversion begin and are fully realized.
Teeter Hang Ups EP-960 Inversion Table
1. NEW ComforTrak™ Bed

accommodates up-sell accessories:

a) NEW

Better Back Adjustable Accupressure Nodes

can be placed along
the bed tracks, targeting muscle trigger
points to help

release tension.

b) NEW Better Back Lumbar Bridge
fits within in the horizontal bed tracks,
positioned to enhance the stretch for
the lower back.

2. NEW Grip-and-Stretch Handles,

with gripping points built into the table bed and A-frame that allow additional decompression and stretching, as well as hand holds for full inversion release.

3. EZ-Stretch™ Traction Handles

provide added benefit for inverted stretching and decompression, as well as an effective tool for oscillation.

4. Stretch Max™ Handles

with angle guide offer greater user assistance while becoming familiar with inversion and enhanced stretching options for experienced inverters.

5. EZ-Reach™ Ankle System

with extended handle provides an easy-to-reach solution in addition to its triple lock security feature.

Teeter is proud to announce the EP-960

Inversion Table

, with deluxe features ideal for back pain sufferers.

In addition to the features of the best-rated EP-560, the EP-960 boasts the

EZ-Reach Ankle Lock System

,

Stretch Max Handles

and

EZ-Stretch Traction Handles!






Teeter Hang Ups DFM: Decompression & Function Mvmt Table
This Teeter inversion table provides progressive decompression, helping to reduce nerve pressure and hydrate discs for the natural relief of back pain and restoration of functional movement. Motorized function enables smooth and accurate rotation to any angle. Interlocking gears in the motor enable bed stabilization at any angle for hassle-free treatment. Removable face piece, arm supports and knee bolsters create a unique table which allows the user to invert in either a supine or prone position.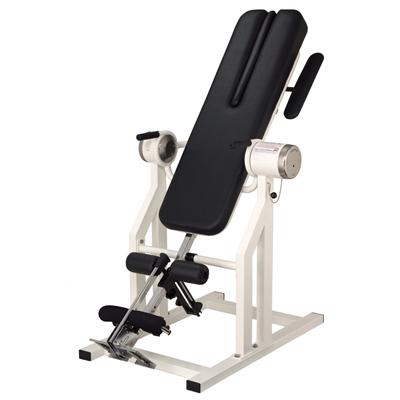 Teeter Hang Ups Inversion Tables Accessories
| | | |
| --- | --- | --- |
| Teeter Hang Ups Vibration Cushion for EP-series Tables | Teeter Hang Ups EZ-Up Inversion System | Teeter Hang Ups Better Back Lumbar Bridge |
| | | |
| --- | --- | --- |
| Teeter Hang Ups Adjustable Acupressure Nodes | Teeter Hang Ups EZ Inversion & Chin Up Rack | Teeter Hang Ups XL Gravity Boots |
In the Fitness Industry, inversion tables have become a very useful part of person's home fitness center. Here at FitnessZone®, we will be able to custom fit you on an inversion table that will help you obtain your fitness goals while meeting your budget or space requirements. We carry such brands as: Health Mark Inversion Tables, Stamina Inversion Tables, Teeter Hang Ups Inversion Tables and many more. We have service technicians on call 7 days a week throughout the U.S. for our customer's service needs. Order your inversion table today at FitnessZone®. Com and invert your way to better Health!!
Confused? Let Us Help You Select The Right Teeter Hang Ups Inversion Table!
Let the FitnessZone® sales staff help you navigate through the various models of Teeter Hang Ups Inversion Tables. Our expertly trained staff can assist you in selecting the Teeter Hang Ups Inversion Table that will custom fit your needs as well as your budget! Call us ANYTIME at 1-800-875-9145 to go over the different types of Teeter Hang Ups Inversion Tables that we offer. We ship all Teeter Hang Ups Inversion Tables for FREE!!
Teeter Hang Ups Inversion Table Testimonials
Just got mine, Love it! Best thing that's happened to my back since being young. Has done more than the two surgeries for my sciatica problem. -Robert Booker

I have used an inversion table for over 20 years. The last model I purchased over 10 years ago is still working just as good as the day I got it. As an auto mechanic I have to get into some very awkward positions that will leave my back sore and in pain. With the Teeter Hang Ups Inversion Table I have been able to relieve the work related pain..., strengthen weak areas, and maintain a higher degree of flexibility that other people my age don't have. -Doc Humphreys

I just got a Teeter Hang Ups EP-950 Inversion Table from FitnessZone.com. I have used the inversion table for a few days and it seems to help my back pain. I like this inversion table model because I don't have to reach my feet to adjust and get out of it! -Mike B
Unlike surgery, mechanical traction, and other invasive forms of treatment, using a Teeter is a gentle, passive way to target pain at the source and care for all weight-bearing joints. This progressive form of traction allows each joint to be decompressed by the same weight that compresses it while upright. Reverse loading stimulates fluid and nutrition to the soft tissue of the joints, enhancing shock absorption and lubrication. Inverted movement encourages realignment and improves flexibility. To put it simply, inverted decompression creates an ideal stretch that targets back pain by helping to 1) rehydrate discs, 2) reduce nerve pressure, 3) realign the spine and 4) relax tense muscles.Using a Teeter helps in the relief of back pain in four ways:
Rehydrate discs: Clinical studies show that when inverted the separation between the vertebrae increases, this allows for moisture to be absorbed into the soft tissue of the discs, increasing the nutrient content as well as plumping the discs for better shock absorption and flexibility.

Reduce nerve pressure: The height of the discs relates to the size of the passageway for the nerve roots to exit from the spinal column, so a plump hydrated disc creates maximum clearance, helping to alleviate any pressure or pinching of the nerve root.

Realign the spine: The traction applied also decompresses the spine to create an environment where misalignments can naturally fall back into place.

Relax tense muscles:

Muscles are gently stretched as circulation is increased, helping to reduce tension.