Body-Solid Gyms
---
---

Body Solid Home Gyms

feature materials and components of the highest quality and durability available. They are all backed by the best warranty in the industry, the

Lifetime Warranty that covers Everything Forever

.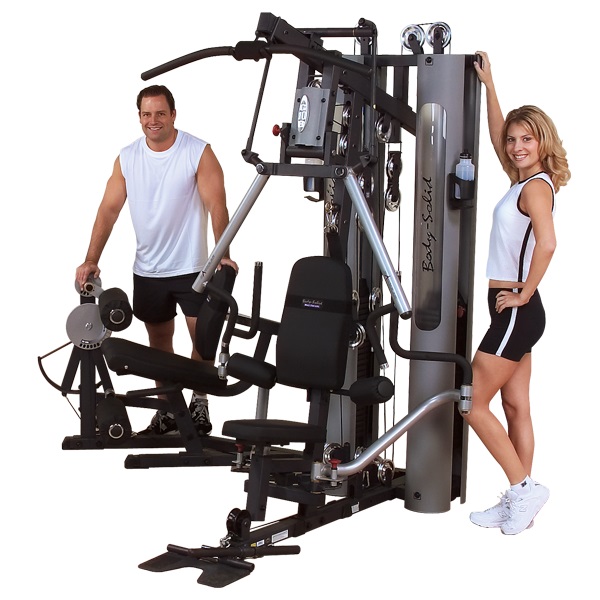 All Body-Solid Home Gyms Features:
Thick DuraFirm™ pads with lumbar support

Heavy duty 12-gauge steel construction

Easy to use, space saving, no-cable-change design.

Telescoping, chrome plated seat post

Tough, durable, electrostatically applied powder coat

2,200lb. tension strength steel aircraft cables

4½" pulleys are impact resistant fiberglass

All stations feature self-lubricating bronze bushings

Body-Solid In-Home Life Warranty. Cover everything forever. The Best Warranty in the Industry.

Body Solid Home Gyms are packed with the features you want at a price you can afford.
YOUR BODY SOLID HOME GYMS SUPERSTOR

E

Body-Solid Home Gym EXM2500S

A leading Consumer Magazine's #1 Home Gym!, simple design, maximum performance, minimum price

Loaded with 210 Lbs. of finely machined cast iron resistance, the EXM2500S can perform your most demanding strength training routines. Muscular growth and definition are rapidly achieved throughout each of the precision built, biomechanically designed stations. Scan the details of the machine and you'll see an impressive array of mechanical and ergonomic features. Most impressive is the feeling you'll get when you work out on this machine. After all, it was developed with the user as the focal point. Featuring a Chest Press, Perfect Pec Station, Leg Extension/Leg Curl, Lat Pull Down, Seated Row, Ab Crunch, the EXM2500S offers more features, more stations, and more value than any other gym manufactured today!
Body Solid EXM4000S Selectorized Home Gym

The EXM4000S is Body-Solid's ultimate gym package, offering total body workouts for three users simultaneously




The Body Solid EXM4000 SSelectorized Home Gym is designed for those who demand the ultimate gym package. Body Solid EXM4000S Home Gym offers an enormous range of upper and lower body exercises for maximum muscular strength, total body conditioning and superior endurance. Up to four people can work out simultaneously with the optional leg press/calf press station. Body Solid EXM4000S Selectorized Home Gym fits comfortably against a wall or on display in the center of the room.



The Body-Solid D-Gym 4-Stack Multistation System feature materials and components of the highest quality and durability available. The are all backed by the best warranty in the industry, the Lifetime Warranty that covers Everything Forever
The anchor of the multi-station system is the 4 Stack Weight Tower. With positions for 3 or 4 stations, the space saving 4 Stack Tower provides a solid foundation for any of the 10 different Pro Dual stations.
4 independent weight stations.

4 universal upper and lower station mounts

4 universal upper and lower pulley stations

4 easy mount chrome guide rods

210lb and 310lb weight stack option
BODY-SOLID FUSION 600 PERSONAL TRAINER

Bi-Angular

The Bi-Angular press arms of the Fusion 600 guide you through the optimal natural range-of-motion while applying resistance from two directions simulaneously. This smooth, fluid, multi-directional resistance system automatically produces 25% more muscle interaction by eliminating the ability to rest your chest muscles. Thus, you increase the exercise intensity through a full range of safe, convergent, multi-joint, multi-plane movement patterns.
G3S 5 STATION GYM
Powered by a 160 Lb. AlloyWeight Stack: Advanced alloy weight stack plates are machine drilled to exact specifications and employ state of- the-art nylon bushings for super smooth and quiet operation.
Body-Solid G6B 25th Anniversary Edition G6B25YR
Body-Solid G9S Selectorized Home Gym

This multi-station workhorse provides health club quality strength training for up to three people simultaneously.
| | |
| --- | --- |
| The G9S Includes a Pec Dec Station that feature computer designed, dual-overhead variable resistance cams that allow each arm to operate independantly providing unilateral and bilateral chest, back and shoulder conditioning. Pop-pin adjustable seat elevates vertically to properly align your hands and elbows with the swiveling hand grips for proper alignment. Perform | |
Advanced engineering has resulted in exceptional range of motion and full adjustability for any size user. The multi-grip press arm system delivers deep and effective muscle interaction for chest, incline and shoulder press movements.

No need to sit on the floor to perform rowing exercises with the G9S, simply grasp the mid row handles for an exhilarating mid and lower back workout that will increase flexibility, build strength and relieve lower back stress.
| | |
| --- | --- |
| The G9S includes a powerfule Leg Press & Calf Press attachment that operates on a 2:1 ratio turning the 210 lb. weight stack into 420 pounds of leg-blasting workouts. Advanced design reduces spinal compression while allowing full range-of-motion in a natural, biomechanical movement. Fully adjustable back pad and an ergonomically designed, pivoting foot plate accomodates all size users for a complete leg and calf workout. | |
HEXAGON RIGS
FitnessZone® is the premier fitness superstore on the Internet for home gyms. We carry a wide selection of top quality and reliable home gyms. The FitnessZone® superstore offers the largest selection of home gyms with features such as: adjustable press arm, leg press option, pec dec option, adds on weight stack, custom colors, and many more. Picking out a home gym can become a frustrating event, but at FitnessZone®, we carry only quality home gyms to help you with your decision process. We offer such an impressive selection of home gyms such as: Body Solid Home Gyms, BodyCraft Home Gyms, Inspire Fitness Home Gyms, Stamina Home Gyms, Powertec Home Gyms and many more at the best prices so you don;t have to waste time searching for a lower price. Call FitnessZone at 1-800-875-9145 to dicuss all of the home gyms. We also can arrange for your home gym to be assembled at your home or business. We will try to beat any price on a home gym that is on the web!
FitnessZone® will be able to custom fit you on a home gym that will help you obtain your fitness goals while meeting your budget or space requirements. We carry such brands as: BodyCraft Home Gyms, Body Solid Home Gyms, Inspire Fitness Home Gyms, Life Fitness Home Gyms, Gyrotonic Home Gyms, Powertec Home Gyms, Powerline Fitness Home Gyms and many more. The BodyCraft Xpress Pro Home Gym has been on of our best sellers on the web site because of it's exercises that it offers. We have service technicians on call 7 days a week throughout the World for our customer's service needs. Order your home gym at FitnessZone.com and exercise your way to better Health.
At FitnessZone we believe in taking a balanced lifestyle approach to exercise, activity, and nutrition. We help educate our customers to empower them. We endeavor to help our clients understand the 'why' behind their choices, and break down as many barriers to success as possible. We've found that by helping our customer they are more successful at creating lasting lifestyles that will continue well beyond short-term goals.