Body-Solid Free Weight Systems
Body-Solid Free Weight Systems
---
---
BODY-SOLID BUILT FOR YOU... BUILT FOR LIFE
Having a high quality home gym that best suits your needs is an incredibly important element in keeping you focused on your goals. Body-Solid home gyms are engineered to accommodate your size, your fitness level, your goals, and your environment.
POWER RACK SYSTEMS

FREEDOM OF MOVEMENT WITHOUT COMPROMISE


Created to allow weight lifters to workout safely and effectively without the need for a spotter, the Power Rack has a proven track record of success with top athletes, bodybuilders and powerlifters everywhere.
Welcome to FitnessZone, where you can find Health Club Quality fitness equipment at a fraction of the price of retail stores. We are deeply committed to helping you achieve your fitness goals with the best home gym equipment, treadmill fitness equipment, elliptical fitness equipment, and home exercise equipment, so you can live life to the fullest by looking and feeling your best!
Choosing the right piece of exercise equipment is an important investment in your health and should not be taken lightly. Body-Solid, Pro-Dual, Powerline, ProClubLine, Body Craft and Best Fitness are just a few brands FitnessZone has to offer that will give you the ultimate fitness experience. Call FitnessZone today at 1-800-875-9145 to talk with one of our fitness advisors and let them help you achieve a rapid path to good health, physical fitness and the body you want. Order your fitness equipment from FitnessZone.com today! We are committed to servicing our customers with all their fitness needs.
FUNCTIONAL TRAINERS - CABLE CROSSOVERS - POWER RACKS - SMITH MACHINES AND MUCH MORE
Our Free Weight Systems are created to allow weight lifters to workout safely and effectively without the need for a spotter, the Power Rack has a proven track record of success with top athletes, bodybuilders and powerlifters.
Reasons for Choosing Body-Solid
Body-Solid fitness equipment features materials and component parts of only the highest quality and durability.
Frames
All Body-Solid frames feature continuous, four side welded construction instead of the typical 2-side welds that have become common in the industry. We use heavy-gauge 2"x2", 2"x3" and 2"x4" 11-gauge, high tensile strength steel in our mainframes.
DuraFirm™ Pads
Our exclusive DuraFirm Pads are tear-resistant, extra-thick and ultra comfortable. We use the highest density foam in the industry for a lifetime of support without bottoming out.
Finish
An electrostatically applied powder coat finish protects all Body-Solid fitness equipment. This is the same process used on industrial machinery because of its durability. It resists cracking, chipping and corrosion and makes cleaning a breeze.
Pulleys & Cables
Fiberglass reinforced nylon pulleys are precision-matched to our cable diameter and revolve on seated ball bearings that never need maintenance and provide a lifetime of friction-free performance.
GDCC210 Functional Trainer

The Body-Solid GDCC210 Functional Trainer provides the ultimate fitness experience that will take you to a new level of workout motivation. The Body-Solid GDCC210 Functional Trainer will allow you to strengthen every part of your body for the way you want to live. Call 1-800-875-9145 to chat with one of our agents with any questions you may have. Order your Body-Solid GDCC210 Functional Trainer from FitnessZone.com and get where you want to be.


Core stability training can lead to improved balance, coordination and stability. By efficiently working your body's stabilizer muscles though a limitless number of exercises, this incrediable machine offers strength-building results to users of all sizes.



Body-Solid GDCC200 Functional Trainer

Whether you are are a marathon runner improving your timie, an athlete looking to improve your game, or simply a parent that wants to carry their children without injury, functional training can improve your performance.

Functional training allows you to adapt and develop exercises which are designed to specifically improve performance of both sports specific and everyday activities. Functional Training emphasizes the body's natural ability to move in six degrees of freedom which can lead to better muscular balance and joint stability, decreasing the possibility of injuries.
In comparison, freeweights and resistance machines can restrict movements to a single plane of motion, which is an unnatural form of movement for the body. Recent studies have shown very substantial gains and benefits in the functional training group over fixed training equipment.The Body-Solid GDCC200 Functional Trainer puts core stability within your grasp by offering a limitless variety of balance-improving, coordination-enhancing, user-defined workout regimens.

From cable crossovers and shoulder presses to pull-ups, leg kickbacks and everything in between, make a motion to improve your core, build your strength and increase your endurance with the Body-Solid GDCC200 Functional Trainer.
Body-Solid Cable Crossover GDCC250
Body-Solid is recognized worldwide as a leader in home gyms and commercial strength training equipment. Over 5 million customers are enjoying the results of strength training in their everyday lives. Our equipment is designed to fit a wide variety of lifestyles, space requirements and user sizes. The Body-Solid GDCC250 Selectorized Deluxe Cable Center puts you in position to perform hundreds of strength-efficient exercises including cable crossovers, one-arm rows, leg kickbacks and inclined fly.
The Selectorized Deluxe Cable Crossover's unique pull-up station offers multiple grip positions, and dual independent carriages have been ergonomically designed to offer twice as many height adjustments as previous Body-Solid crossover stations.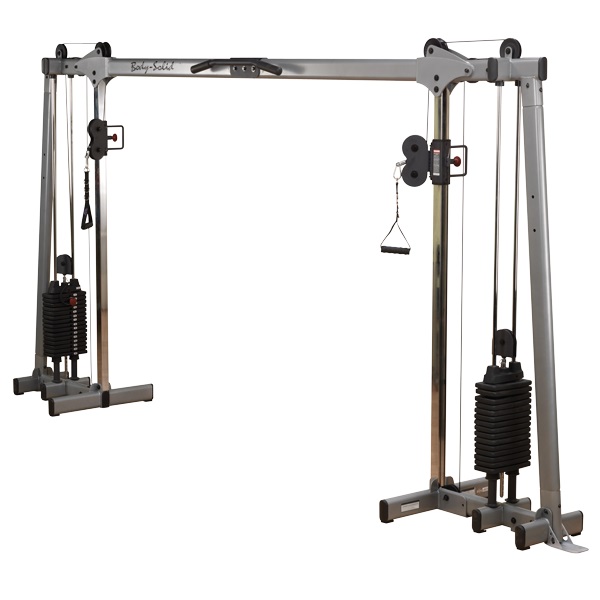 Body-Solid GPR378 Pro Power Rack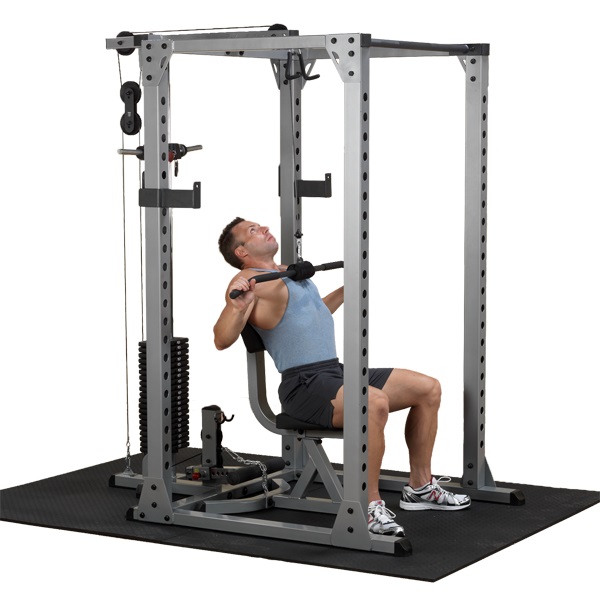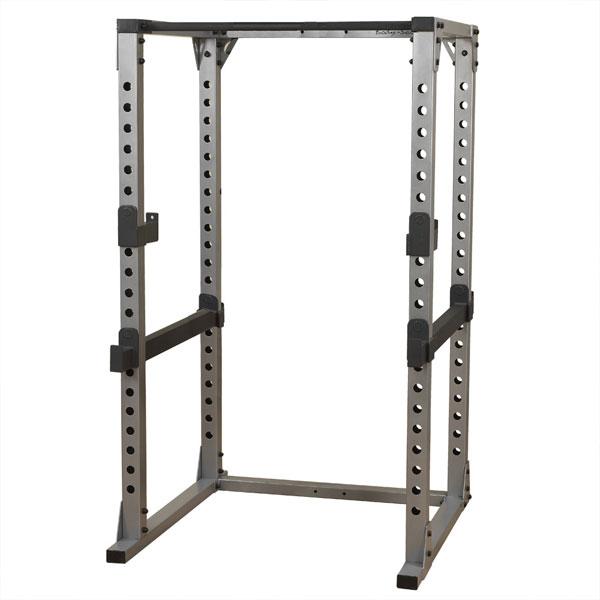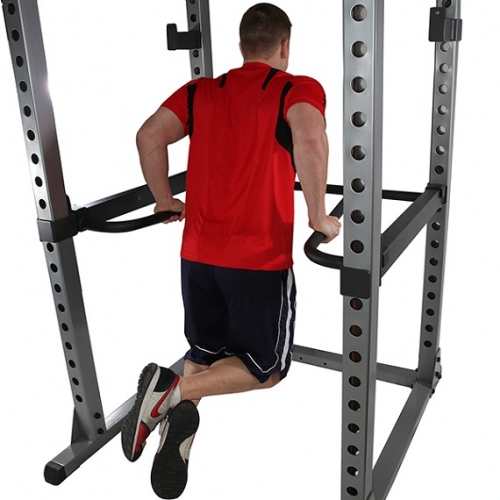 Freedom of movement combined with adjustable racking and safety positions make the Body-Solid GPR378 Pro Power Rack a must-have for those who want to strength train without compromise. The Body-Solid GPR378 Pro Power Rack is designed to work with all types of benches and engineered for extreme workouts. Heavy-duty 11-gauge high tensile strength steel frames feature all-4-side welded construction and oversized industrial strength hardware.
Powerline Power Rack PPR200X
Bench Press

Incline Press

Decline Press

Upright Row

Deltoid Raise

Shoulder Press

Standing Military Press

Wide Grip Front Lat Pullup

Close Grip Front Lat Pullup

Wide Grip Front Lat Pulldown

Close Grip Front Lat Pulldown

Bent Over Row

Shown with optional Lat Attachment and Flat/Incline/Decline Bench

Seated Row

Shoulder Shrug

Biceps Curl (standing)

Tricep Press Down

Tricep Extension

Squat

Glute Kick

Outer Thigh Abduction

Inner Thigh Adduction

Calf Press

Barbell Thruster
Body-Solid Series 7 Smith Machine GS348QP4
| | | |
| --- | --- | --- |
| | | |
| BENCH PRESS | LAT PULLDOWN | 6 ROLLER LEG DEVELOPER |
| | | |
| LUNG | PEC FLY | PREACHER CURL |
Body-Solid Pro Club Line Multi Squat Rack SMR1000

1000 lb. capacity

Integrated chinning bar and strength band pegs

Extended frame for spotter access

¼" solid steel gun rack liftoffs, 2x3 11-gauge steel safeties and mainframe, Plate storage is included

Commercial warranty, lifetime on frame and welds
Confused?
Let the FitnessZone® sales staff help you navigate through the various models of smith machines and power racks. Our expertly trained staff can assist you in selecting the Smith machine or power rack that will custom fit your needs as well as your budget! Call us ANYTIME at 1-800-875-9145.
| | | |
| --- | --- | --- |
| | WHERE QUALITY EXCEEDS OUR NAME | |