First Degree Fitness UBE- Upper Arm Rehab Bikes- Upper Arm Bike- PT Rehab Bikes
First Degree Fitness UBE- Upper Arm Rehab Bikes- Upper Arm Bike- PT Rehab Bikes
---
---

How It Works:
Two chambers are contained within one tank.
The inner (passive) chamber stores water.
Resistance is created by impeller blades churning water in the outer (active) chamber.
Moving the level indicator varies the level of water in each chamber.
Maximum resistance occurs when the greatest volume of water is in the outer (active) chamber.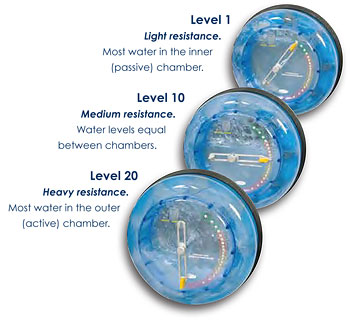 Level 1: Light resistance. Most water in the inner (passive) chamber.
Level 10: Medium resistance. Water levels equal between chambers.
Level 20: Heavy resistance. Most water in the outer (active) chamber.
First Degree Fitness UBE- Upper Arm Rehab Bikes- Upper Arm Bike- PT Rehab Bikes
First Degree E-920 Upper Body Ergometer

Our Professional First Degree E-920 Upper Body Ergometer operates in both forward & reverse directions for maximum muscle engagement.


Whether you climb mountains, throw a ball in any sport, run, lift at home or at work, dig that hole…and a myriad of other daily upper body strength requirements, the need to have upper body strength seems to be a benefit to all. There are many quality ways to achieve upper body strength and now fluid resistance technology just became one worthy of your attention.




Revolutionized the Way People Exercise
The new, unique and technologically advanced First Degree E-920 Upper Body Ergometer is one of a family of superb exercise machines that has revolutionized the way people exercise all over the World. This First Degree E-920 Upper Body Ergometer is a fabulous exercise machine that effectively engages almost every muscles in the human body.
First Degree E-820 Upper Body Ergometer
At the heart of any type of fitness equipment is its resistance system. Without resistance, the user would in effect, be merely "pushing and pulling a door", and the simple fact is that all the energy expended by the user during a workout needs to be ultimately dissipated by some means. We saw that full and instant adjustability was essential to achieving our goals, and uniquely in this industry we believed that exploring the realm of fluid technology would hold the key.
The First Degree E-820 Upper Body Ergometer machine operates as a standing or seated Upper Body Ergometer. With adjustment to only the resistance, height of handles and seat position, the First Degree E-820 Upper Body Ergometer is ideally suited to high use facilities.

The First Degree E-820 Upper Body Ergometer fixed crank arm length and self-levelling ergo handles ensure instant adaptability. The seat adjusts easily at the touch of a lever and can be moved to the rear of the platform for standing usage (no need to remove seat from base).

The First Degree E-820 Upper Body Ergometer has a patented Variable Fluid Resistance that offers 20 levels, across a huge range, moving in either forward or reverse direction for total muscle engagement. Challenge your members today with this highly motivating, functional apparatus designed for compound exercise of the upper body and core stability in standing mode.
An Upper Body Ergometer (UBE) engages virtually every muscle in the upper body. As a warm-up for resistance training, it provides better activation of the upper torso than traditional alternatives. As a cardio-vascular tool, the results are exceptional. When used in the standing position, the UBE engages all core muscles of the mid section. It is also used in the rehabilitation of many injuries and as a general exercise apparatus for those in wheelchairs.
First Degree E-720 Fluid Cycle XT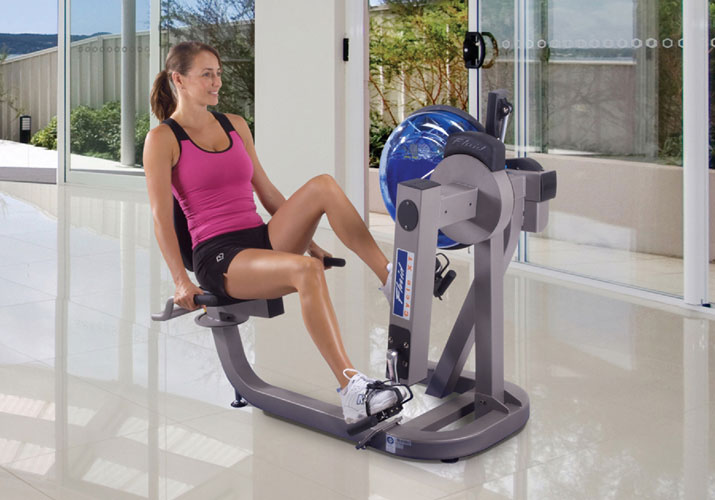 From group exercise to wheelchair bound medical rehabilitation First Degree E-720 Fluid Cycle XT is adjustable to give the user the maximum ergonomic benefit and safety during their workouts.
360 Degree Rotational Arm
First Degree E-620 Seated Fluid UBE
- Perfect for clients with hip or knee replacements who want a cardio workout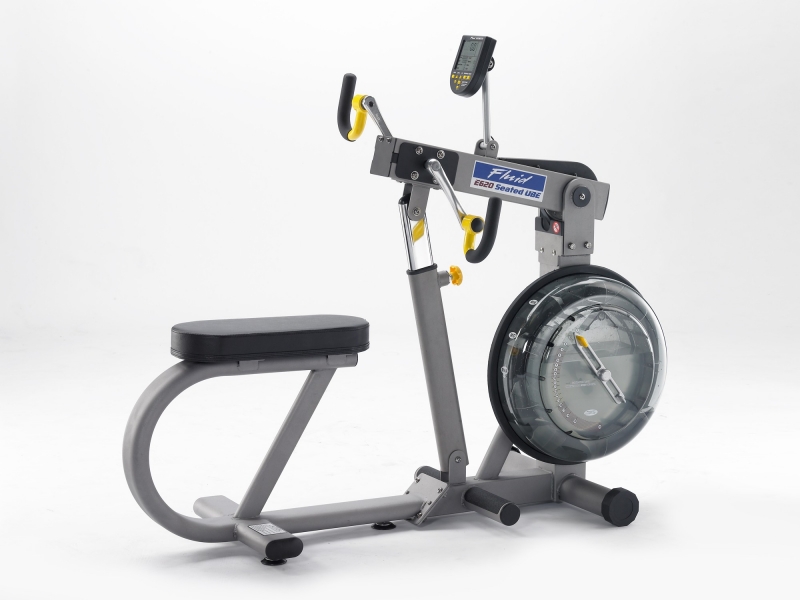 ---
The Fluid E620 Seated UBE has a "Step-through" design allowing for easy in and out access, "soft touch" comfortable bench-style seat, 20 levels of patented Adjustable Resistance to assure you will start easily and never plateau; plus easily adjust power-assisted arm to your preferred workout height. A lower height setting concentrates the workout on core muscles and higher focuses on chest, traps, biceps and triceps. Or set it in the middle and get the best of both worlds. Great for rehab patients.
First Degree E-520 Fluid Rower
Our High-End Rower for Professional Health Clubs
The First Degree E-520 Fluid Rower is the epitome of all indoor rowers, bar none. It represents the highest quality indoor rowing experience and is the top of an already hard to beat line of fluid rowers from First Degree Fitness. It offers an industry-best on-water rowing emulation with a natural catch and resistance through the stroke along with unmatched durability and an unprecedented 20 levels of patented variable resistance. Many clubs or wellness center's use it as their key go to equipment when trying to demonstrate innovation in fitness or a real sensitivity to user needs. The First Degree Fitness E520 Fluid Rower is a great product!
Status quo solutions do not engage and sustain the attention of a sedentary population. Nor do many equipment options offer the flexibility to engage a person regardless of sex, size, age, fitness level, and sustain that engagement over time as well as the First Degree E-520 Rower does. As a club owner, your loyalty to members is demonstrated when you add innovation, comfort, convenience and results, like those delivered by the First Degree Fitness E-520 Rower, to your mix.
HCI Fitness PhysioTrainer UBE
The

HCI Fitness PhysioTrainer UBE

has an easy to read display that is self-powered. The display panel has a tilt feature that allows the user to clearly see the readouts whether the unit is being used on a tabletop or on the floor as a leg exerciser. The display shows your current speed (mph or kph), distance, calories burned, elapsed time and scan mode.
FitnessZone® is the premier fitness superstore on the Internet for upper arm bikes or ube bikes. We carry a wide selection of top quality and reliable home or commercial upper arm bikes. The FitnessZone® superstore offers the largest selection of self-powered, manual, electric, wireless heart rate monitored, programmable, portable, table top, and compact upper arm bikes at the best prices on the Internet. Upper Arm Bikes or better-called UBE's are used in physical therapy or rehabilitation clinics for exercising the upper arms or lower legs of a patient. We are able to offer a home or commercial UBE for the patient that wants to exercise at the house. We offer such a huge selection of upper arm bikes at the best prices so you don't have to waste time searching for a lower price.
FitnessZone® will be able to custom fit you on a UBE that will help you obtain your fitness goals while meeting your budget or space requirements. We carry such brands as: Cateye, Chattanooga, First Degree Fitness, Hudson, Monark, Stridewell, and more. We have service technicians on call 7 days a week throughout the World for our customer's service needs. Order your upper arm bike at FitnessZone®. Com and exercise yourself to better Health.
Confused?
Let the FitnessZone® sales staff help you navigate through the various models of upper arm bikes or ube bikes. Our expertly trained staff can assist you in selecting the UBE Arm Bike or Upper Arm Ergometer that will custom fit your needs as well as your budget! Call us ANYTIME at 1-800-875-9145.